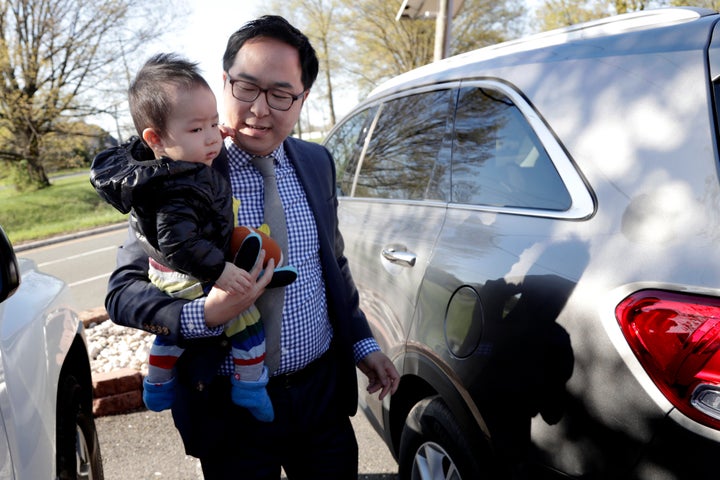 MOUNT LAUREL, N.J. ― Andy Kim really wants you to know he's from New Jersey.
The man he's trying to unseat, Rep. Tom MacArthur (R-N.J.), is trying to convince voters otherwise. MacArthur and his allies have attacked Kim, a son of South Korean immigrants and a former national security aide to President Barack Obama, as a D.C. elitist and an outsider. The New Jersey Republican Party described him in campaign mailers as "Real Fishy" ― the text printed in a typeface called Chop Suey ― next to a photo of dead fish on ice.
So Kim makes sure to remind voters in the state's sprawling, largely white 3rd Congressional District that he's a South Jersey resident at heart. His family dined at the Friendly's by the old Marlton Circle, the traffic-clogged intersection of Route 70 and Route 73. His first job was across the way, at the cafe in the Barnes & Noble. He used to ride his bike over to the Tunes music store by the AMC Marlton 8 to buy used CDs, which his toddler son now thinks of as shiny Frisbees. He went to his senior prom at a suburban hotel with a highway view, and he's a fan of Wawa, the nation's best convenience store.
Kim, 36, is part of a slate of young, diverse Democratic political newcomers nationwide who need to both fire up the Democratic base and win over a few conservatives and Trump supporters to turn their districts — and Congress — blue.
He just has to convince voters in New Jersey's 3rd that he's one of them.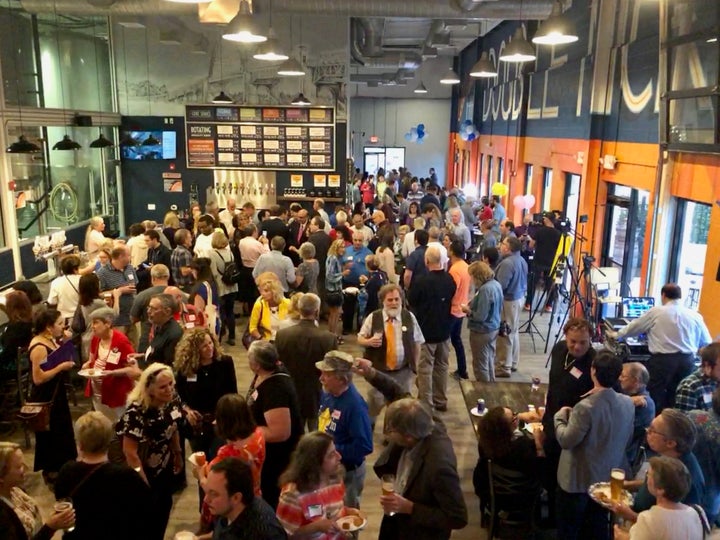 In some ways, that should be easy. Kim is the classic local boy who made good. He won a Rhodes Scholarship to study at Oxford, where he met his future wife Kammy Lai. He worked at the State Department, served in Afghanistan as a civilian adviser to Gen. David Petraeus and John Allen, and wound up working as a national security adviser at the White House. If he wins, he'll be the first Democrat of Korean descent elected to Congress.
But MacArthur has tried to turn Kim's time outside the Garden State against him. At the root of the attacks on Kim is the fact that he's spent his adult life outside of New Jersey. Kim moved back to his home district a couple of months into the Trump era, trading his role running an organization that monitored the Trump administration, and a duplex in northeast D.C., for a home surrounded by orchards in Bordentown, a town of 4,000 that borders the Delaware River. His family is living only on his wife's salary. Raising his kids back near his parents, Kim says, allows him "a little bit more sleep than I would have otherwise," though he said the campaign has "consumed every aspect of our life, and it's probably the hardest thing we've ever done together."
MacArthur's strategy is to portray Kim as an out-of-touch outsider, a somewhat incongruous plan for a man with an estimated net worth of $53 million who was initially tied to the district through his vacation home, spent $5 million of his own money on his first race, and recently dumped $1.4 million into his own re-election campaign. At a recent debate, the Republican claimed that Kim's "wife and children live in Washington, D.C." Kim countered that he'd dropped his kids off at day care that morning.
MacArthur says he doesn't control ads from outside groups, and has parried questions about the racial subtext of the attacks by bringing up his two adopted Asian-American children. "Does he think he loves his Korean children more than I love mine?" MacArthur said. "Does he have something against adoptive parents? Because my children are the world to me."
To suggest the GOP mailer featuring raw fish and the Chop Suey font was racist "is race baiting at its worse, and as a father of two Korean children, I think it's offensive," MacArthur told The Philadelphia Inquirer's editorial board in an interview published last week. "Some fish on a piece of paper is suddenly racist? What is racist about a picture of fish? Now we're politicizing fonts? It's not a racist font, it's a font meant to stand out."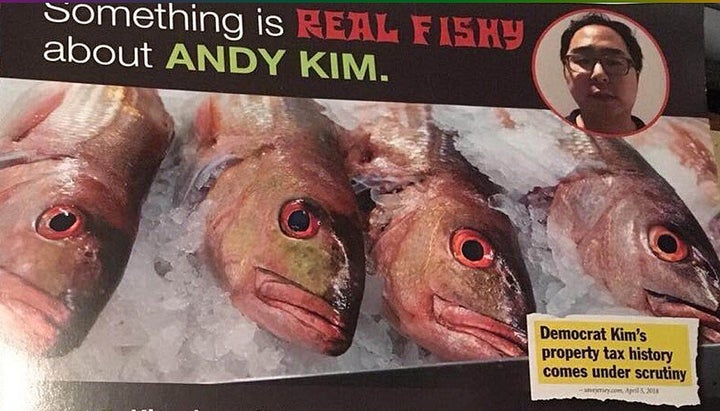 But recent ads have dug in on the attempt to otherize Kim, painting the mild-mannered former bureaucrat as some sort of Antifa extremist. MacArthur's own campaign has ads that declare Kim a "Radical Resistance Group Founder" over footage of black-clad protesters. The ads make a weak attempt to associate Kim with Mumia Abu-Jamal, the black activist convicted of murdering a white Philadelphia police officer in 1981, and Bill Ayers, the Weather Underground domestic terrorist whom Republicans tied to Obama during his first campaign a decade ago. A Republican super PAC ad warns voters that Kim is "not one of us."

In the face of the personal attacks from MacArthur supporters, Kim has tried to stay focused on policy issues. He doesn't want to put race or racism at the center of his campaign in a mostly white, Republican-leaning district, and his response to the overtly racist mailer has been muted. "Certainly as the father of two Asian-American baby boys, it's disappointing," he said, adding the caveat, "if that was the intention."
Opposition to President Donald Trump is animating a lot of Kim's base, and helping him build what he describes as "the largest get-out-the-vote operation that this district has ever seen." Anti-Trump sentiment is invigorating volunteers like Barbara Newman, a 71-year-old retiree living in Ocean County who says she hadn't done any political work since she was 20. "I had to do something with the energy I've been feeling and concern I've been feeling," she said.
But despite the president's dominance of the news cycle, Kim doesn't end up speaking much about Trump in a district so closely divided. Polling suggests the district is dead evenly split on Trump: Forty-nine percent approve of the president, and 49 percent disapprove.

"I can't control how voters feel about Donald Trump on Nov. 6. I can't control how they feel about the economy, I can't control a lot of this stuff," Kim said aboard a bus after revving up supporters at Double Nickel Brewing Co., a craft beer company whose name is a reference to the Tacony-Palmyra Bridge into northeast Philly. "The best I can do is try to define who I am to the voters and define my opponent."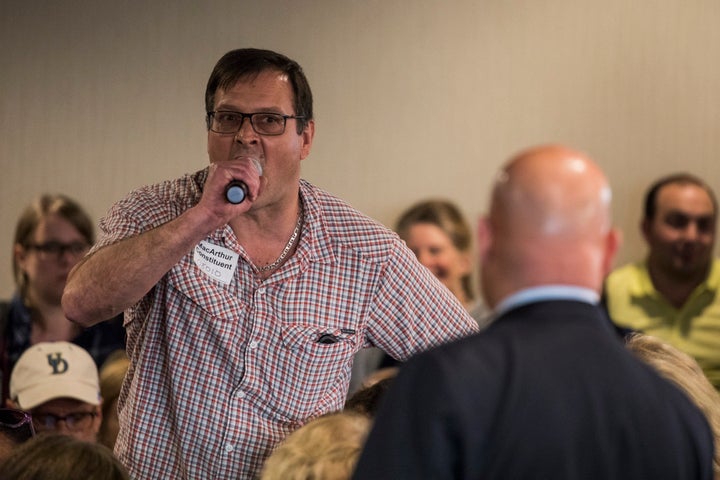 What defines MacArthur, Kim argues, is his vote for the Republican tax bill and his support of GOP efforts to repeal the Affordable Care Act. Kim is hoping this message will carry him in both Burlington County, a blueish area that nearly quadrupled its population over a few decades as developers lured white baby boomers from Philadelphia, and Ocean County, the Republican stronghold that MacArthur and a lot of retirees call home.
Property taxes are high in New Jersey, and that makes them a big deal politically. New Jersey Democrats and Republicans disagree over the GOP's overhaul of the tax code last year, which will cost state homeowners who deducted large amounts of property taxes from their federal tax bill.
MacArthur says that his involvement in the process secured a $10,000 allowance on the state and local tax deduction. That limited the negative effects of the tax code changes on his constituents' property tax bills, he said, arguing that the law has spurred economic growth.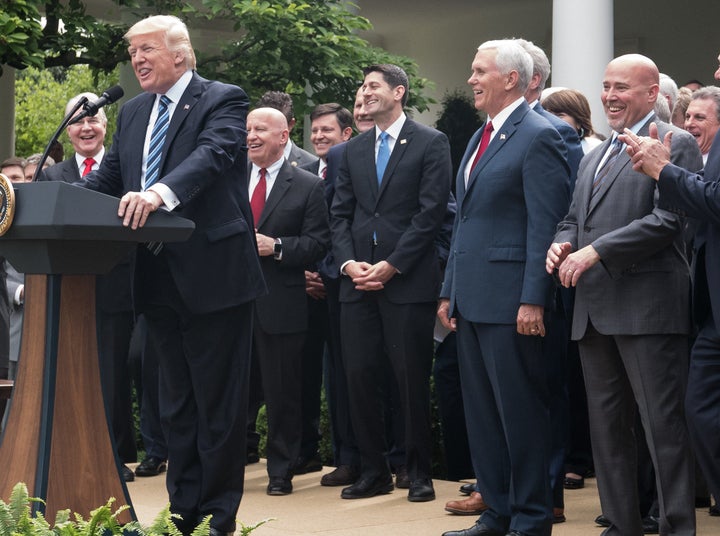 "I'm the only Republican in New Jersey who supported it, and I'm not running away from it at all, I'm leaning into it," MacArthur recently told HuffPost reporter Matt Fuller. "It's creating terrific growth and lower unemployment."
Health care is another focal point in the race. MacArthur personally revived the Republican bill to repeal Obamacare in April 2017 with his introduction of the MacArthur Amendment, a crucial maneuver that gave the bill enough support to pass the House. The bill would have left 23 million more Americans uninsured, according to the Congressional Budget Office. MacArthur celebrated the House passage of the bill at a White House press conference alongside Trump.
MacArthur's key role in nearly ending the Affordable Care Act got a number of New Jersey voters fired up, and footage of MacArthur being confronted by constituents at a town hall briefly filled cable news feeds in the spring of 2017. Kim used the footage of angry voters confronting MacArthur in his own launch video, and said MacArthur's vote played a big part in his decision to run for office.
Kim's campaign is benefiting from that anger. He's raised nearly $2.3 million in three months, a staggering amount compared to the grand total of $600 the Democrat running against MacArthur last time collected. Polls have generally found Kim running neck and neck with MacArthur, and the most recent Monmouth University poll gave Kim a "statistically insignificant 48% to 46% edge over MacArthur."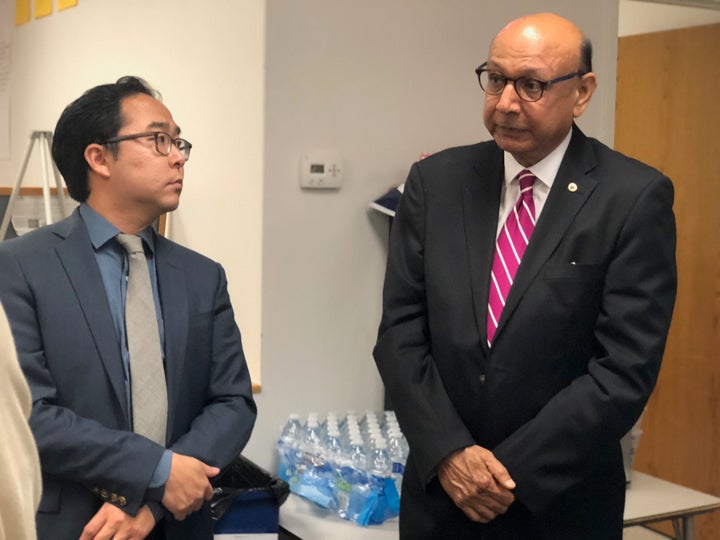 The incumbent and his allies could be overestimating the power of their attacks. Not everyone in the district sees Kim's heritage as a liability. Donna Osborne, a Kim backer from Toms River who says she often feels like she's surrounded by "old white Republicans," was thrilled when Kim held an event at Rinn Duin Brewing in Ocean County earlier this month with Khizr Khan, the Gold Star father who spoke out against Trump at the 2016 Democratic National Convention.
"You gotta love being a Democrat, where an Indian guy stumps for an Asian guy," Osborne said, referring to the Pakistani-born Khan, as Kim supporters sipped suds and ate mini Philly soft pretzels, the region's ubiquitous snack. "You just gotta love the inclusion."
Ryan Reilly is HuffPost's senior justice reporter covering the Justice Department, federal law enforcement, criminal justice and legal affairs. Have a tip? Reach him at ryan.reilly@huffpost.com or on Signal at 202-527-9261.
Popular in the Community