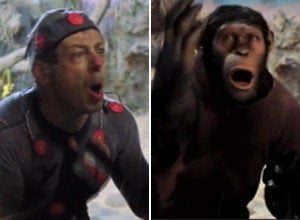 As the next step in its push to net "Rise of the Planet of the Apes" star Andy Serkis an Oscar nomination for his motion capture-aided work as lead ape Caesar, 20th Century Fox has released an un-enhanced video of the actor to add a human touch to the campaign.
Serkis, the world's pre-eminent expert on acting using the motion capture technology that completely transforms one's appearance on screen, reached new heights of acclaim with his role in "Rise." Instead of playing a talking creature, as he did in the "Lord of the Rings" films, or an animated human, as he did in "Tin Tin," Serkis gave a starkly realistic and affecting performance as the ape, teaming with technology to play perhaps the most convincing simian in big screen history.
Still, some may find it hard to get behind the Oscar candidacy of a guy who played a computerized ape; it's hard, after all, to give trophies based solely on the endorsement of someone else. And so they hope that this video, with its stripped down display of Serkis playing an ape juxtaposed against the final product can make the argument than an editorial cannot.
WATCH
(via
and
):
Popular in the Community