Having been an Asian-American my entire life, I totally get it; we're underrepresented in the media. Our lives and stories should definitely be reflected beyond Sandra Oh on Grey's Anatomy and the little Vietnamese girl on Modern Family. And our plight was apparently made even more difficult with the dismissal of Ann Curry as co-host of Today.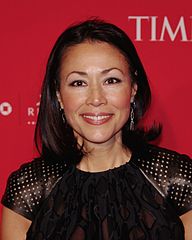 Prof. Larry Attkins said, "[Curry's] ouster brings attention to the fact that Asian-Americans continue to be nearly invisible in the media and as public figures," but concluded, "It's hard to describe Ann Curry's firing as blatant racial discrimination."
That's because it wasn't... Like, at all. Curry's half-Japanese background probably doesn't even register with most Today viewers, except, of course, for the blatant racists. What a vast majority see is a talented journalist; a class act who doesn't have an easy, breezy morning-show cohost personality. It's a compliment, really. Still, the Asian American Journalists Association found her "departure from such a high-profile role... disappointing." Sure, the status was nice, but it's not like her ethnicity came into play when she was interviewing Justin Bieber on Rockefeller Plaza.
Now in her new role -- remember, she's still an employee of NBC News -- Curry has the ability to fully show she is a journalist with diverse experiences that will help her report on stories that matter to the viewers of Today. (But just in case, AAJA is "ready to assist NBC/Universal in finding journalists with diverse experiences to help report on stories that matter to the viewers of Today.")
What Curry's ouster really brings attention to is the fact that Asian-American journalists are not token members of a news team, but individuals with certain skill sets that are better served by not sitting next to Matt Lauer every morning.
Popular in the Community