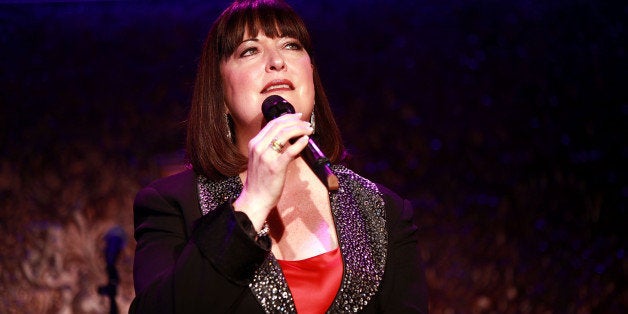 This week, celebrated performer, Ann Hampton Callaway will release her latest album, From Sassy to Divine: The Sarah Vaughan Project, her 14th solo and/or duet album and first live recording. One of the world's leading jazz singers and composers, Callaway recorded this latest project during one of her many concert appearances -- at Jazz at Lincoln Center's Dizzy's Club Coca-Cola.
An addition to her already prolific body of work, Callaway explained in a recent interview, "I'm really grateful that I've had the opportunity to celebrate the people who have inspired me so much through the years."
"Part of my passion [for music] is celebrating our country's great legacy, our legacy of songwriters and singers, the poets of our heart... the greatest jazz singers of the 20th century."
Callaway's appreciation for Sarah Vaughan has deep roots that have helped inspire this latest show. She credits Vaughan as "one of the first voices in [her] life." As a baby, Callaway's parents would slow dance to Vaughan's records and occasionally her mother would perform for the Callaway family (which includes sister, Broadway actress, Liz Callaway) one of Vaughan's most recognizable hits, "Misty."
Fast forward to years later where Callaway herself was in attendance at the legend's final performance -- at the NYC jazz club, "Blue Note" -- before Vaughan passed away from terminal lung cancer at the age of 66.
"There's certain voices that have just such an incredible sound to them, that they get to your guts right away," Callaway describes of Vaughan's talent. "The beauty of her instrument and her tremendous freedom as a jazz singer and the great songs she covered, were just part of the equation. I loved her spontaneity and sense of humor [too]."
In addition to being a celebration of Vaughan, Callaway saw this project as a way to honor her late father (Chicago TV and radio personality, John Callaway), who would draw parallels between the operatic quality of Vaughan's voice and that of Ann's.
As much as Callaway celebrates the great masters of the 20th century, she's also keenly aware that as a leading contemporary jazz performer, she cannot just emulate these artists, but must shine through with her own talent and musicianship. She explained that, "to try and measure up to these wonderful artists and maintain my individuality is a tremendous act of courage, audacity and an earnest attempt to become a better artist."
"Whenever I'm doing a tribute to a legend, I always insist on making sure that every arrangement I do is unique to me... it has to have my stamp and my read on the song."

Ann Hampton Callaway's latest album, From Sassy to Divine: The Sarah Vaughan Project will be available in stores, online and for digital download beginning Tuesday, September 16. Additionally, Callaway will be touring her tribute to Sarah Vaughan to cities around the country including Boston, Palm Beach, Washington, DC and Seattle. For more information and show dates visit www.annhamptoncallaway.com.
Related
Popular in the Community