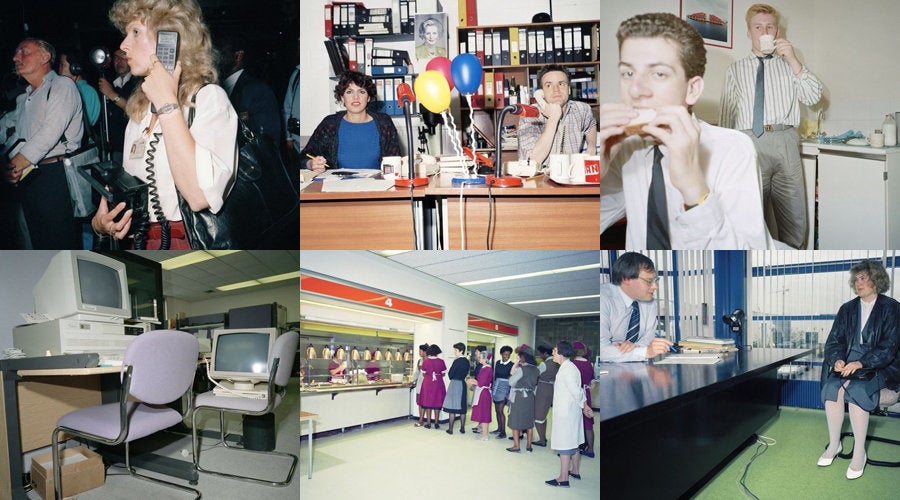 A woman wearing pantyhose sits uncomfortably in an uncomfortable-looking chair. She's listening to a man behind a desk, who's leaning in confidently as he speaks. The photo's caption: "Head Hunting."
The image is part of Anna Fox's 1987 photo series "Work Stations," a commissioned project meant to convey the aggressive nature of office culture in Britain at the time. Each photo depicts crowded, suited chaos, and is accompanied by a snarky -- and sometimes unsettling -- snippet showcasing the rally-cry word choice of salesmen.  
A tweed-suited, literally fist-pumping man is accompanied by the text, "We're on a pirate ship at sea! We're going to go and raid all the other ships on the ocean."
In other photos that seem plucked straight from "The Wolf of Wall Street," a roomful of employees rejoices a recent success by jumping, smoking, playing with telephone wires and waving around what looks to be a drumstick. 
"Strength, precision and stamina had kept him on top," reads the caption for a photo of a man and a woman sharing a cluttered desk, sitting beneath a framed image of Margaret Thatcher. 
"I wanted to reflect the sense of aggression, competition and greed that Thatcher's Britain had laid the foundations for," Fox said in an interview with The Huffington Post. "Her famous phrase was: 'There is no such thing as society, just individuals,' and then off we all went on a mad pursuit to gain money for ourselves and buy things we just couldn't afford and forget about the communities that surrounded us and that we grew up in."
Fox shot office life in wide format, using a strong and apparent flash, and from low angles so that her subjects towered over her, occupying most of the frame. The desired effect: to highlight the intense, masculine environment most workspaces were at the time. The women in her images are either portrayed as playing second fiddle as secretaries or as striving to match their male counterparts.
Though the series confronts serious themes, Fox manages to employ a sense of humor with many of the photos. In one, a man stuffs his face with meat and ketchup on a quick lunch break. In another, a woman stands solemnly in a doorway, a mannequin's high-socked leg hung next to her.
"Humor is a great tool for engaging a viewer," Fox said. "It works in most mediums but in photography it has a particular power because of the reality factor that photography has; its indexical relationship to the world means that we read it more factually rather than as fiction."
And, although she currently works wherever she's taking photos, Fox is optimistic that workplaces have improved since the '80s, with movements against screen saturation gaining traction. 
"I mean there were conferences about the hazards of working too long in front of screens and bullying was also quite nasty in some places," Fox said. "These things must have changed a bit."
Still, she thinks revisiting contemporary office spaces would be a fun and worthy update on the project.
PHOTO GALLERY
World Photography Awards
Calling all HuffPost superfans!
Sign up for membership to become a founding member and help shape HuffPost's next chapter