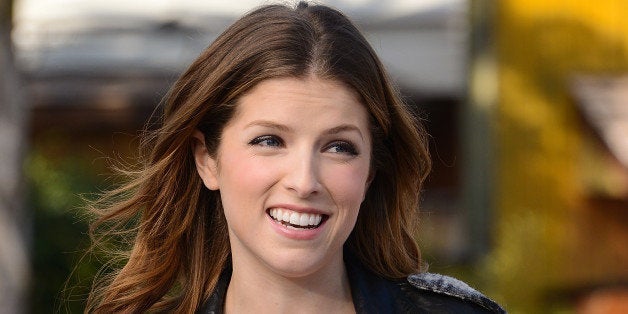 These days, our knowledge of celebrities too often originates with paparazzi images and snarky quotes by anonymous "insiders." After a while, it's easy to forget that stars are real people. That's why HuffPost Celebrity decided to launch the all-new #nofilter, a quick-fire question-and-answer series. Because how well do you know someone until they've shared their guiltiest pleasures?
On Twitter, Anna Kendrick describes herself as "pale, awkward and very very small," but in a new "non-Super Bowl" ad for Newcastle Brown Ale, she's a "beer commercial babe." (Although the ad won't actually air during the Big Game, Kendrick pretty much nails the whole "scorned actress who didn't actually get to star in a beer commercial" bit.)
While promoting the "If We Made It" campaign, which pokes fun at the ridiculous excess and over-the-top antics found in traditional Super Bowl commercials, the hilarious and pint-sized actress took the time out to take HuffPost Celebrity's #nofilter challenge and proved she really should be the awkward, yet approachable hot babe in a beer commercial.
You just had a huge weekend at the Grammys. How was it meeting Beyonce and Katy Perry?
Really crazy, really fun! I don't really know why I'm invited to these things lately, but because I had a song out this year, I've been invited to stuff like the Grammys, which is a total priviledge and the most random thing possible.
But seriously, Beyonce or Katy, who would you want to go to dinner with?
Who would you pick? That's a hard question! How could you choose?
When's the last time you cried?
When we wrapped "Into The Woods." Whenever anybody says something nice to me, I'm kind of a blubbering mess. And when we wrapped, [director] Rob Marshall said goodbye to everybody, because he's like the world's kindest human being, and I was trying to hold it together and I lost it.
What's your guiltiest pleasure?
Well, I've been getting back into the Kraft Macaroni and Cheese. Easy Mac, especially. Whatever.
What's the silliest thing you've ever lied about?
Earlier today, somebody asked me the craziest thing that Beyonce said and kept asking me like, "What was something crazy that she said?" So, I started saying that she's actually an alien. They really wanted to know something crazy that she said, so, sorry about that.
If you could commit a crime and get away with it, what would it be?
I … I would kill a man, for sure. Or a woman, whatever. I would hunt them down, like, on an island.
What's one thing you do when you're alone that you wouldn't do in front of someone else?
Ummm, shower?
What happens in your recurring dream?
I don't know my lines for a role that I did in my last stage performance.
What's the working title of your autobiography?
"Vertically Challenged." [Kendrick is 5'2"]
Is it okay to recline your seat on an airplane?
Is it not okay? I mean, who doesn't recline their seat on an airplane?! You mean, like, out of politeness? I have really small legs, so I don't really think about it because somebody could recline their seat all the way back and it doesn't affect me.
When do you feel most anxious?
Doing interviews.
They make you nervous?
Mmm, hmm!

What or who is overrated right now?
Paisley. I'm over paisley.
Brad Paisley?!
No, I mean like the design paisley. I think Brad Paisley is a national treasure. Design paisley is garbage.
Is a good friend hard to come by?
Yeah, because if they're going to hang with me ... [laughs]
Describe one time you thought, "This is harder than it looks."
Oh, I used to ice skate on a pond when I was a kid and I thought it would be like riding a bike. But I tried to ice skate again a couple of years ago and my ankles were SORE. So kudos to all the people who can ice skate really well.
Tell us a joke.
I can tell you a joke that would offend everyone in this room and in your room. So, I probably shouldn't!
What are you most afraid of?
I guess, clowns. I feel like I just heard that most children are afraid of clowns. Like 60 percent of children don't like clowns, or something like that. I don't know why they're still around.
When do you feel most at peace?
When I'm on a Netflix binge and I am full of carbs.
Check out Anna's hilarious "commercial" for Newcastle Brown Ale below:
"It's a shame Newcastle didn't have the budget to actually produce and air this ad. I was really looking forward to a huge paycheck for doing no real work at all," she said. "Indie cred from award-winning films is great and all, but I can't buy a new car with indie cred."
Calling all HuffPost superfans!
Sign up for membership to become a founding member and help shape HuffPost's next chapter
BEFORE YOU GO
PHOTO GALLERY
They said WHAT? #nofilter