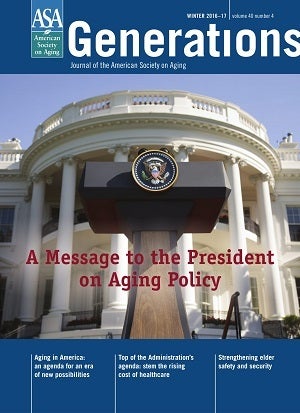 President Trump faces incredible challenges as he enters office—climate change, a divided citizenship, ongoing wars and terrorist threats, ever-increasing domestic economic inequality, and escalating racial tensions. The aging of the American populace is another challenge he needs to address head on. Within this challenge lie many opportunities—opportunities for him to lead by advancing policies that promote productive aging for individuals and communities, such as promoting prevention and wellness and strengthening our economy with the help of older adults.
Here are a few facts on where we stand as an aging society:
Between 2015 and 2040, the ages 65 and older population is expected to increase 72 percent, from 47.8 million to 82.3 million.
As President Trump's term begins, nearly 52 million retired workers and their survivors will be receiving Social Security benefits totaling $800 billion.
By the end of President Trump's first term, beneficiaries will have grown to more than 59 million and benefits will exceed $1 trillion, as revenues shrink due to a declining labor force.
The number of Medicare beneficiaries will grow by 10 million in the next four years to nearly 67 million.
In 2017, federal and state expenditures for Medicare and Medicaid will exceed $1.3 trillion and, by the end of President Trump's first term, that number will jump to $1.9 trillion.
Another hard fact, and one of which most Americans are unaware: Medicare does not pay for assisted living or nursing home care. Assisted living facilities in America now run about $80,000 per year, and nursing homes can cost up to $125,000 annually—all paid for out-of-pocket, unless families have already bankrupted themselves caring for their elders.
And, due to our aging populace, we are looking at a labor shortage to care for these older adults, one in three of whom will die of Alzheimer's disease or another dementia, requiring intensive care. Family caregivers in the U.S. provided an estimated 18.1 billion hours of unpaid care in 2015 alone.
"The aging of our population presents our most significant challenge to the quality of life for older Americans and continued growth and economic prosperity for the country as a whole," says G. Lawrence Atkins, guest editor of the just-released Winter 2016–17 issue of the American Society on Aging's Generations journal, "A Message to the President on Aging Policy." The issue features expert authors providing solid, action-worthy policy plans addressing a path forward through this substantial demographic shift.
Some of the fundamental challenges of an aging population lie in the efforts to sustain the government programs that provide economic security in old age such as Medicare and Social Security, ensure promised benefits are delivered, and restore public confidence for younger generations in these programs' sustainability.
The Generations issue authors provide ideas to solve these challenges and more, such as a five-point plan to restore public confidence and predictability in our retirement system; a step-by-step approach to lower existing and future healthcare costs; a comprehensive policy blueprint to pay for long-term care; a realistic way to foster healthy aging, reducing the need for such care; a federal strategy to address elder abuse, neglect, and exploitation; methods for strengthening the caregiving workforce; and how best to invest in our next generation of older adults.
ASA stands ready to provide expert sources, information, and education to the new Administration, to the press, and to the private sector—in short, to anyone who would like to help us solve these looming issues. This issue of Generations is available for reading here. Visit ASA's website at asaging.org for more information.
Donald Trump, as one of America's oldest presidents, must face the reality of America's aging, offer solutions to the challenges, and advance the opportunities. It should be front and center on his agenda.
Robert Blancato serves as chair of ASA's Board of Directors.
Calling all HuffPost superfans!
Sign up for membership to become a founding member and help shape HuffPost's next chapter
This post was published on the now-closed HuffPost Contributor platform. Contributors control their own work and posted freely to our site. If you need to flag this entry as abusive,
send us an email
.