NEW YORK -- It couldn't have been how Democratic mayoral candidate Anthony Weiner envisioned the end of his campaign.
The day of the New York City primary election began with Weiner seemingly brimming with optimism as he greeted voters in open defiance of polls that placed him at the rear of a packed Democratic field.
But hours after his fifth-place finish was announced Tuesday evening, he slinked away from his own post-election party to avoid his publicity-seeking former sexting partner. The last, emblematic photo op of the candidate ended with Weiner flipping the bird to a reporter as his car drove off into the dark Manhattan night.
His ignominious departure capped off a day of contretemps large and small, among them a small, technical snafu as he tried to vote, and the arrival outside his campaign headquarters of Sydney Leathers, the woman to whom he sent graphic self-portraits.
Tuesday began with a short interview with DJs on New York hip-hop station Hot 97, followed by an appearance in Harlem to pose for photos and solicit voters for their support. His trademark sarcasm was on display early.
"Today is primary day, unless you're not voting for me," he said.
Even so, passersby were eager to meet Weiner and ask about his policy positions on schools and affordable housing. But even the personal touch and appeal to middle-class values were no guarantee that he was going to win their votes.
"I wanted to meet him, but he probably won't get my vote," Louis Lane, an IT specialist from the Bronx, told HuffPost. "Interesting character. He's been through a lot," Lane said after getting his picture taken with Weiner on the corner of 125th Street and Lenox Avenue.
Weiner described the location as his "good luck corner," the spot where he made his final mayoral campaign appearance back in 2005 and officially launched his 2013 run.
"I feel good. It's Primary Day. It's like the Super Bowl for politicians," Weiner told reporters.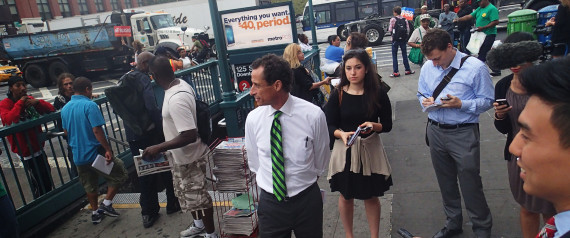 But any charm or luck the location held didn't follow the 49-year-old through the rest of the city.
His next stop after the Harlem pep rally should have been a quick photo op of him voting with his wife, Huma Abedin, near their Manhattan apartment. A horde of news media members crowded the small voting site at Baruch College, hoping to capture the standard voting booth photo.
A glitch in the Board of Elections record-keeping, however, delayed Weiner's moment in the booth. Although his name appeared in the registration book, according to coordinator Valerie Grant, his signature was missing. (To verify a voter's identity, election workers check signatures against the copies they have on file.)
Eventually, Weiner was permitted to vote in his own race.
"Apparently, I'm Anthony Weiner," he said after the mixup was sorted out.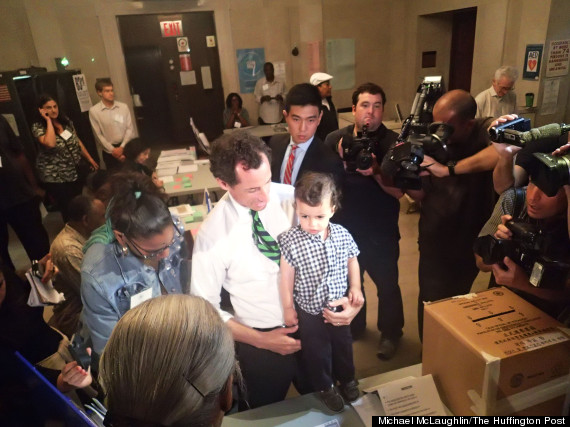 His toddler, Jordan, accompanied him to vote. The delay threw off his wife's schedule, though, he said, and she was not seen in public with Weiner the entire day. Even at his concession speech later that night, Abedin was out of sight -- a detail that did not go unremarked by the press.
Everywhere Weiner went, the vast majority of strangers who spoke to him were supportive. But stray hecklers hurling expletives at him also materialized from time to time.
Next on his schedule was an early afternoon appointment at his campaign's Midtown headquarters to call voters and remind them to vote. But the planned calls never happened. Instead, his itinerary was hastily revised as Weiner chose to canvass along a commercial stretch of sleepy Floral Park, Queens. Campaign spokeswoman Barbara Morgan said the change of plans was meant to capitalize on the "great response" that workers had been getting in the field.
Coincidentally, one unexpected response -- about which the campaign was less enthusiastic -- was the appearance of Leathers outside of Weiner HQ, in what would be her first attempt to ambush the candidate that day.
As he strolled Hillside Avenue in Floral Park, Weiner said he didn't know the reason for the sudden change of plans.
"I'm running the show the way a cowboy rides a bucking bronco: I'm nominally on it," he said, adding that "I'm happy to be here" in Queens.
From 3 p.m. until the polls closed at 9 p.m., Weiner retreated from public sight. The early exit polls were not favorable, and it didn't seem likely he would emerge higher than fourth or fifth place. But that didn't stop a boisterous crowd from filling an Irish pub in Manhattan where Weiner had scheduled his "victory party."
Leathers surfaced again, causing a commotion outside the bar in a revealing red dress and predicting weak results for Weiner.
"I think he's going to do terrible," she told HuffPost, which she said made her feel good. "He has impulse control problems. I don't think he can handle a city as large as New York. He can't even handle meeting up with me."
Leathers and a companion were admitted to the bar's first floor, but not to the private event upstairs for Weiner's crowd. To avoid bumping into her, Weiner entered through the back door at a neighboring McDonald's.
Although the crowd for Weiner was large and youthful, several attendees told HuffPost that they were not Weiner supporters but were there because they had friends who'd worked on the race.
He took the stage around 10:40 p.m., thanked many aides by name -- but did not mention his wife, who wasn't seen in attendance. (Morgan declined to say whether or not Abedin did in fact attend.)
"I could not be more proud of the campaign we ran. I could not be more proud than all of you," he told the rowdy audience. His 10-minute concession speech also touted the policies about which he had spoken on the campaign trail: creating affordable housing and eliminating childhood hunger and other social ills. "There's no doubt about it, we had the best ideas. Sadly, I was an imperfect messenger."
Despite the sexting scandal that forced him to resign from Congress in 2011 and the second round of revelations this summer, hardcore supporters sympathized with Weiner's message and stuck with him.
"He's an average guy and for the common man," said Rita Miller of Brooklyn Heights, who had volunteered with the campaign. "I felt like the press gave him a very rough time."
Although his resounding defeat would suggest that he is unlikely ever to regain public office, Weiner closed his speech with a cryptic nod to his future plans.
"If you keep fighting, I'm going to keep fighting."
The bold words were undercut by the events that transpired shortly afterward.
Rather than use the main staircase and risk an encounter with Leathers, Weiner did a lap around the bar and slipped out a back door.
Outside, when asked by a NBC4 reporter "what he'd do next," Weiner responded by shooting his middle finger back at the crowd of reporters through a car window. Shimon Prokupecz told other reporters, "He just gave me the finger."
There would be no chance to get Weiner to reflect upon the campaign after the results came in. Earlier in the afternoon, before things started going off the rails, Weiner had been at his most contemplative. He was more bitter about the media coverage than about the voters who were rejecting him by a wide margin.
"There's times when there are so many TV crews shouting questions about the scandal, and every once in a while a voter would literally, physically squeeze between the camera crews and come up and say something about housing, schools, their taxes," he said. "That's been the challenge I face. That's kind of an unusual thing to deal with. I don't think other campaigns had that."
Weiner, who was first elected to office as a 27-year-old city councilman, has long been known for his confrontational personality. It was little wonder that he considered the highlight of his campaign to be a spontaneous argument that erupted around him at a subway station earlier this summer.
The cacophony had begun when a man on the Upper West Side berated Weiner over something about the Iraq War, for which Weiner had voted as a U.S. congressman. A woman came to Weiner's defense and yelled at the other man. Soon enough, the argument had spread throughout the 72nd Street subway stop.
"There must have been 100 people gathered around having 30 conversations. I remember thinking two things: I don't think that kind of thing happens in Minneapolis," said Weiner. "It's a New York kind of thing, the way we get in each other's grill and like to argue. We like to talk about stuff."
"And the other thing was: I couldn't imagine Mike Bloomberg being there," he said.
"This is what campaigns should be about. This is what democracy should be about. This is what New York is all about. I had everything but a soap box in the crowd of people. It was a great New York moment."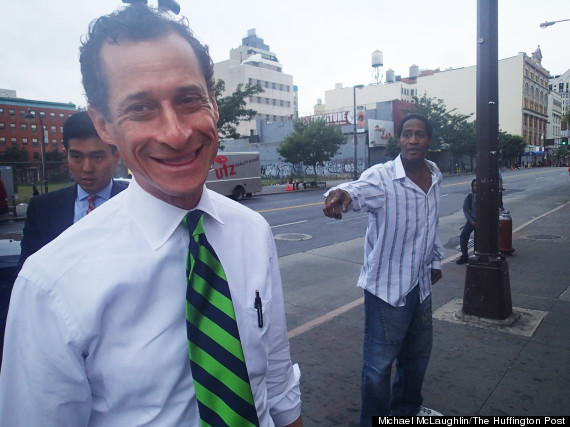 REAL LIFE. REAL NEWS. REAL VOICES.
Help us tell more of the stories that matter from voices that too often remain unheard.