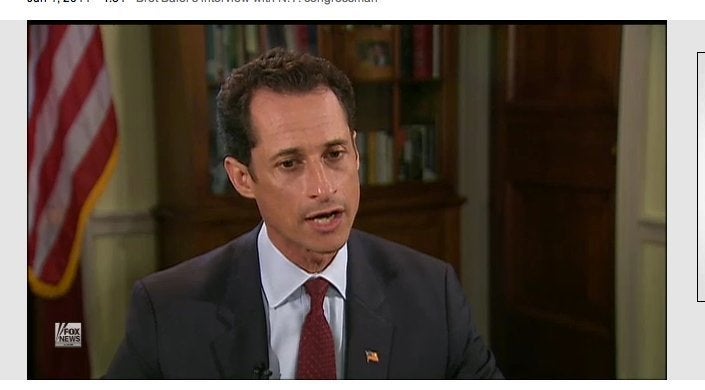 Rep. Anthony Weiner (D-N.Y.) sought to do damage control on Wednesday in the wake of an inappropriate picture being sent from his Twitter account.
Reuters relays background on the image in question:
Weiner has said his account was hacked when a lewd photo of a man in bulging boxer briefs was tweeted to a 21-year-old female college student in Washington state over the weekend.
The New York congressman has repeatedly denied passing along the photo. During an interview on Fox News' "Special Report with Bret Baier," however, he would not confirm that it was not himself captured in the picture.
"We're trying to get to the bottom of where the picture came from, and we're trying to get to the bottom of what it's of and who it's of," explained Weiner when asked about the matter. "We're concerned about saying anything definitively. Pictures get manipulated, pictures get dropped into accounts. We've asked an internet security firm and a law firm to take a hard look at this to come up with a conclusion about what happened and to make sure it doesn't happen again."
Baier pressed Weiner on the issue, asking him if he's concerned about an image already out there of him in his underwear.
"Here we have been sitting down for a brief moment and you are already asking me if there are pictures of me in my drawers," the congressman said. "In fairness, I answered questions about this on Saturday, I answered questions about this on Sunday, I answered questions about this on Monday. On Tuesday...I admit this, I was pretty contentious with reporters who wanted to talk about an Internet prank."
After expressing a bit of frustration with reporters on Tuesday when asked to address the social media controversy, Weiner apologized earlier on Wednesday for having been "a little stiff" in his handling of the situation. "It was a big mistake I made yesterday when I said I was bound and determined not to let this become a story for four more days," he reportedly said.
"When your name is Weiner, you get a lot of people who are doing mischievous things, making jokes about your name," the congressman said on Fox News on Wednesday night. "That's what this was it appears. It was an intention to distract me, maybe make fun of me, maybe mock my name. It is now days later and the questions are becoming more and more about other things, so I am pleased to get a firm to try to get to the bottom of this so we can get back to work."
Popular in the Community