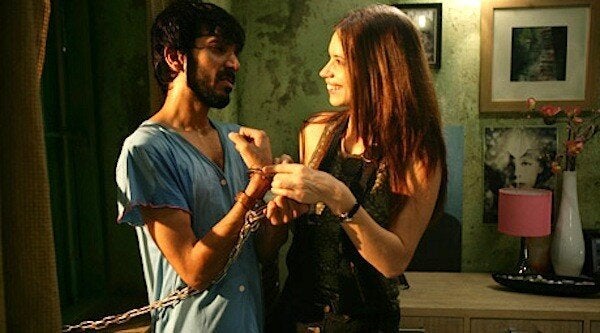 When director Anurag Kashyap and actress Kalki Koechlin introduced "That GIrl in Yellow Boots" at its New York premiere at the Asia Society, Kashyap nervously said, "I hope you feel the film, because you will not enjoy it."
It was an apt disclaimer. The film -- an unnervingly realistic portrait of unimaginable pain -- is one with an ending you'll wish you could forget.
It was also a perfect introduction, because "That Girl" -- which boldly takes on subjects as taboo as incest, and a very frank portrayal of drug addiction and withdrawal -- is indeed a movie you feel as much as one that you watch. Shot in just 13 days, the film is primarily framed in tight spaces -- apartments, seedy massage parlors, and rickshaws. There is a claustrophobic sense of unease that permeates the entire film. Combined with Kashyap's impeccable pacing, this creates a deeply unsettling thriller that never once relies on cliched horror music or slowed-to-a-halt scenes.
A thriller in the most existential sense, the film carries the viewer along the journeys of Ruth (played masterfully by Koechlin, who also co-wrote the film), a Brit combing India for the father that left her family years ago. Ineligible for work VISAs, Ruth finds employment giving men massages and dating a well-meaning but nonetheless pathetic drug addict named Prashant (played by Prashant Prakash, who makes his striking film debut here).
Kashyap (who also directed "Last Train to Mahakali," "Black Friday" and "Dev D") said he faced difficulty when finding funding for the film because it dealt so directly with controversial themes and differed so vastly from his previous work. "I wanted to break the formula that many directors and actors find themselves in," he said in a Q&A following the film.
The director also said some other potential funding partners wanted to bring more sex onto the screen, a decision that he felt was unnecessary and would have ultimately dulled the impact of the movie.
Koechlin, who is married to Kashyap, has a gentle demeanor that translates into an aching vulnerability on the screen. She said that she has "never seen [Kashyap] direct," adding that "he just lets you be. He only directs when he doesn't believe in his actors, then he gets panicked."
"I've never told any actor what to do," Kashyap agreed. "Only what not to do. You have to trust your actors, and I know mine inside and out."
Like Prakash, many actors in the film were making their big-screen debuts. A number of the castmembers were already well acquainted with each other, having performed on stage in numerous productions. Kashyap said this dynamic was the key to their being able to create such a layered, thickly emotive film in such a short period of time.
There is no doubt that Koechlin's performance will impress audiences. Though she was born and raised in India, the self-described "white-skinned" actress plays a young woman learning Hindi with admirable flair. She ably dominates her scenes with a balanced portrayal of a young woman who is at once immensely brave and possesses an incredibly poor sense of judgment.
The crowd at the Asia Society seemed to unanimously defend her character, but Kashyap was quick to temper the empathy Ruth attracts.
"I never pictured Ruth as a victim," he said. "She's not a victim of her circumstances, most of the things she does are brought on to her by herself, whether it's paying people off or falling into the wrong circles."
Aside from acting, Koechlin wrote full scenes in story form and handed them to the director to be transformed into a script.
"A lot of these characters were based loosely on figures that I had seen growing up in India," Koechlin noted. "Growing up as a white-skinned woman in India, I was always the odd one out -- there was a certain alienation that came with that, and you end up alienating yourself because everyone comes to you like the white girl, the easy, "Baywatch," loose-moraled white girl."
Kashyap also said he wanted to make the film to explore themes he had been struggling with for years. As an actor, he played a child abuser in "My Name Is Abhimanyu" and revealed the role was intensely personal, having himself been a victim of abuse for 11 years.
If you can stomach a film that churns your insides, "That Girl in Yellow Boots" is for you. And if you're unsure if you can handle such an emotional, well-paced thriller, you might as well try -- it's an experience you won't soon forget.
Popular in the Community