If you're looking for an apartment in Los Angeles right now, chances are you know that it can be a shark tank out there. Not only are there more renters crowding the water for a decent and affordable place, but prices seem to be creeping higher and higher.
Rental prices for one-bedroom units are, in fact, about 10 percent higher, according to the apartment listings site RadPad. With a little data analysis help from RentMetrics.com, RadPad looked at over 23,000 rents for a one-bedroom apartment in Aug. 2012 and Aug. 2013 and found that the typical LA apartment-dweller will pay almost $2,000 more in rent this year compared to last.
RadPad mapped Aug. 2013's average rental prices by neighborhood on a handy little infographic below.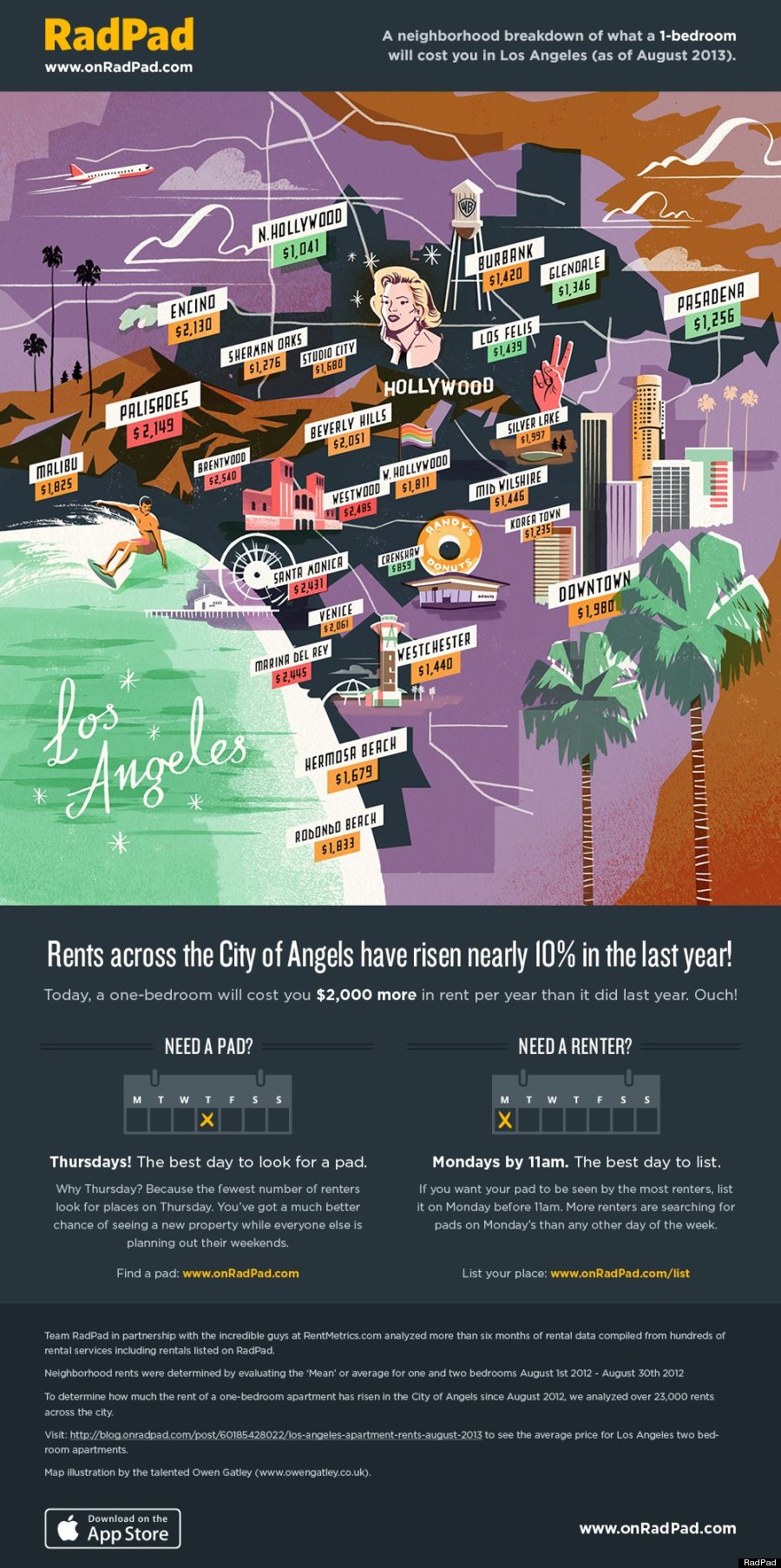 Of course, thanks to strong renters' rights laws in Los Angeles and other incorporated cities within the county, rates didn't increase 10 percent if you stayed put in your apartment. Instead, the infographic is more of a comparison of new apartment listings between 2012 and 2013.
RadPad's infographic is also a handy snapshot of the most and least expensive rentals by neighborhood within the county.
Most Expensive: As expected, the priciest rentals are located in the most upscale parts of Los Angeles County. Pacific Palisades, Santa Monica and Marina del Rey have access to the beach, the best weather, and in Santa Monica's case, walkable neighborhoods. Westwood, home to UCLA, is expensive because thousands of university students drive up the rental prices. And Brentwood, while landlocked, is still home to some of the highest median household incomes in the county.
1. Brentwood at $2,540/month 2. Westwood at $2,485/month 3. Marina del Rey at $2,445/month 4. Santa Monica at $2,430/month 5. Pacific Palisades at $2,150/month
Least Expensive: These areas are either buried deep within Los Angeles' core (Koreatown, Crenshaw) or on the outskirts of the county. What will be more interesting to watch is whether or not the high number of LA Metro train and bus terminals in North Hollywood, Koreatown and Pasadena will push rental prices higher in the future. Indeed, LA's Metropolitan Transportation Authority recently counted those three neighborhoods among the top 5 spots for living "car-free and car-lite" in Los Angeles.
1. Crenshaw at $860/month 2. North Hollywood at $1,040/month 3. Koreatown at $1,235/month 4. Pasadena at $1,260/month 5. Glendale at $1,350/month
However, the type of rental you sign up for seems to affect price fluctuations. The Los Angeles Times recently noted that rents are declining in the single-family home market. Rents in downtown Los Angeles are also down 5 percent over last year, the Times reports.
Calling all HuffPost superfans!
Sign up for membership to become a founding member and help shape HuffPost's next chapter