 PREVIOUSLY: Leaked photos of Apple's planned sale prices for the day after Thanksgiving are giving an initial indication that the computer and device company will be offering somewhat shallow, but nonetheless good, deals on some of their most popular products.
The photo below -- uncovered Tuesday by 9to5Mac -- appears to indicate Apple computers (Macbook Pro, Macbook Air, and iMac) will be offered at a $101 discount, iPad 2s will be $41 to $61 dollars off, iPods $21 to $41 off, and iPod Nanos will be discounted by $11.
Unfortunately, it looks like there's still no discount on the new iPhone 4S or its predecessor.
Apple is also offering discounts on accessories, all of which are posted on 9to5Mac.com. Those deals include discounts on official Apple accessories as well as those from third party manufacturers.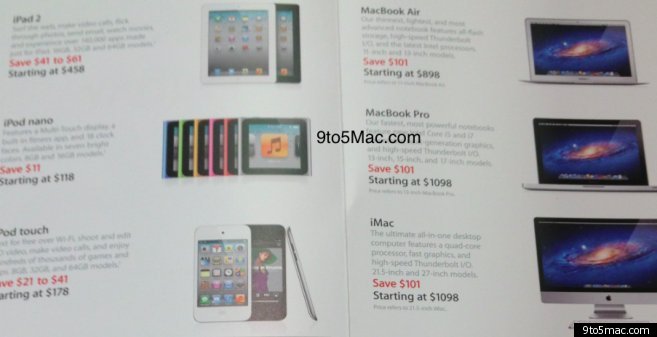 Popular in the Community