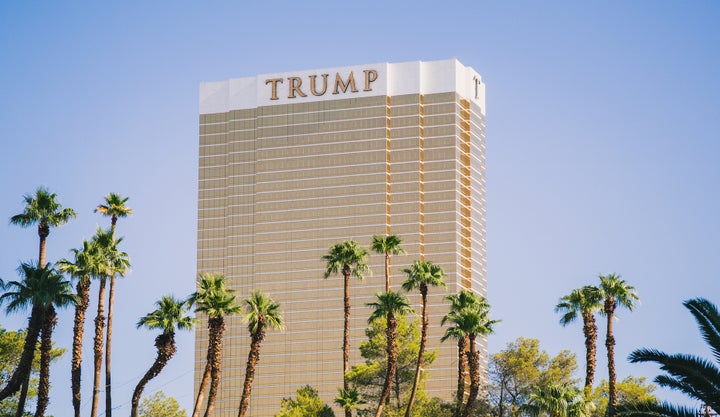 Donald Trump has solicited an onslaught of attention as a Republican presidential candidate and now the presumptive nominee. But before the 2016 election cycle he was most notable for his eponymous hotel properties. And so we couldn't help but wonder if and how all this attention impacted his business interests. Are bookings up or down? And how does that compare to the market overall?
The Trump brand is associated with a variety of hotels, apartments, and products. On one hand, a growing number of political supporters could boost sales of Trump products; on the other, a growing number political detractors could lead people to avoid his brand. So which of these two forces is stronger?
We set out to answer this question by comparing the number of bookings at Trump Hotels' most-booked locations this year on Hipmunk to bookings in the same locations the year prior (before he attracted national political attention).
The results? The share of bookings at Trump Hotels on Hipmunk as a percent of total hotel bookings are down, decreasing 59 percent compared to the same period last year.
While overall Hipmunk hotel bookings have been on the rise year-over-year, that has not been the case with bookings of Trump Hotels.
The chart below compares the percentage of bookings on Hipmunk for Trump Hotels' most popular locations in 2015 (before his campaign received much attention) to the percentage of bookings in 2016 (the campaign currently receives ample media attention).
It appears that the rise of Trump's presidential candidacy hasn't translated into a rise in Trump Hotel bookings, whose share fell 59.3 percent this year on Hipmunk.
In New York City and Vegas, Trump Hotels' share as a percentage of each city's total hotel bookings dropped more than 70 percent. Even Atlantic City, the location which claims the highest percentage of the city's total hotel bookings, took a major hit year-over-year, with the Trump Taj Mahal's share of bookings down 17 percent in the first quarter of this year.
Who knows what the Trump brand will glean from any of this, or if it will suffer any permanent damage from the Donald Trump candidacy. Granted, Hipmunk users tend to be urban millennials, and so our own demographics come into play here as well.
Tell us your thoughts in the comments below! Would you actively boycott Trump Hotels now that he's the presumptive nominee?
Methodology: Hipmunk and Priceonomics analyzed total US Trump Hotel property bookings made in the first quarter of both 2015 and 2016
A version of this article was originally published on Hipmunk's blog, Tailwind.