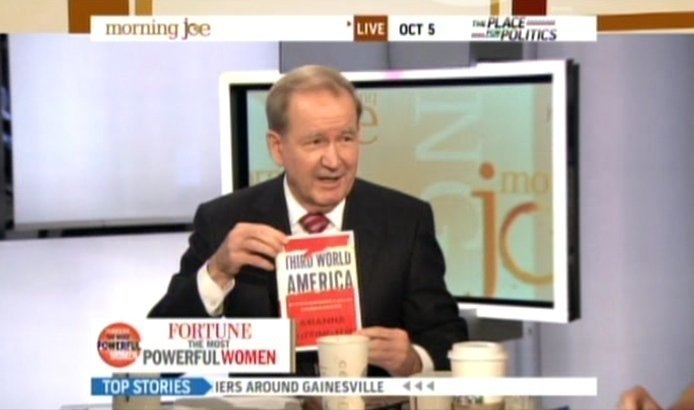 In appearances on CNBC's Squawk Box and MSNBC's Morning Joe Tuesday morning, Arianna pushed for community-based solutions to the country's economic crisis, emphasizing the importance of looking beyond political parties.
"Whether you're a conservative or a liberal, America is not America without a middle class," she said on Squawk Box at Fortune's Most Powerful Women Summit in Washington, DC, discussing the subject of her new book, Third World America, which is currently on the New York Times best-seller list.
The U.S., she said, now ranks tenth in the world in upward mobility, with 100 million people worse off than their parents. While she proposed government solutions to this problem, such as creating jobs to repair infrastructure, she said there's another, more immediate, resolution. As Seth Reams, founder of the community organizing website We've Got Time to Help, has said, Americans who have time on their hands can use it to help their neighbors.
WATCH Arianna's appearance on Squawk Box:
Arianna highlighted the charitable work of Susan Buffett, daughter of billionaire investor Warren Buffett, ranked number two on this year's Forbes list of wealthiest Americans. Buffett, Arianna said, has focused her foundation's resources on Omaha, her "backyard."
It's a message that spans both political parties. On Morning Joe, conservative commentator Pat Buchanan expressed his support of her ideas. "It sounds like the title of a Buchanan book," he said.
Arianna also criticized the influence of lobbyists on public policy. The financial sector, she said, now "makes things up" and has ceased to work for the larger economy -- and the financial reform legislation has been diluted by lobbyists. The "too big to fail" problem, she told CNBC, persists.
With special interests determining policy, it's up to the governed to bring about "community solutions."
'We have a surplus of talent and time that we need to tap into, that we are not using," Arianna said. "And that's beyond left and right."
Related
Popular in the Community