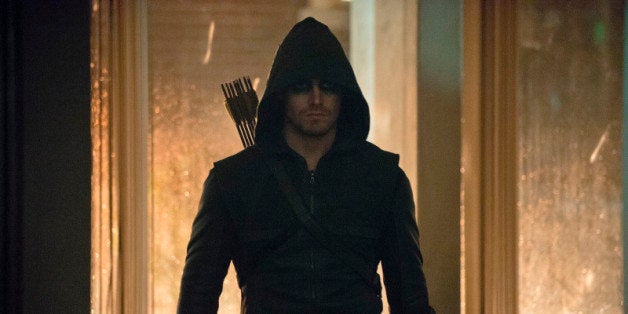 This week's episode of "Arrow" (Wed., Oct. 23 at 8 p.m. ET on The CW) is titled "Broken Dolls," and judging by the cliffhanger at the end of "Identity," things are likely going to get very messy in Starling City in tonight's installment.
We last saw the Arrow (Stephen Amell) surrounded by an entire SWAT team after walking into a trap set by Laurel (Katie Cassidy), and during a recent interview, Amell teased that when the episode begins, "there is no cut, it's the same scene, and it actually picks up with all the guns on Oliver, and him lowering his bow. That's his only move."
Oliver is now caught between a rock and a hard place, eager to make Starling City safer as the vigilante, but clearly still in love with Laurel, who now has a vendetta against his crime-fighting alter-ego in the wake of Tommy's (Colin Donnell) death.
Amell admitted that things will come to a head between Laurel and the vigilante fairly soon: "We do resolve Laurel's mission against the vigilante relatively early in the season, and this is something that Oliver says in the second episode -- and it's to a different character, but it rings true all over the place -- that he's willing to take these slings and arrows, no pun intended, as long as the city is becoming safer," he previewed. "I'm sure that he doesn't enjoy Laurel hunting the vigilante, but he's more concerned that she's not doing it to cover up something else that's bothering her."
Laurel will soon have other masked priorities, namely the Black Canary (Caity Lotz), who was first spotted by Roy (Colton Haynes) at the end of the season premiere. Comic book fans may know that Black Canary is Dinah "Laurel" Lance's costumed alter-ego in the DC Universe, leading some to wonder how the two can be separate people on the show.
Executive producer Andrew Kreisberg promised that all will be revealed in due time, hinting that fans should expect Laurel and the Canary to come face-to-face "sooner than people realize. We have a really great story arc for the Black Canary and Laurel that we're super excited for people to jump on board that ride, because it's really just the beginning," he said. "The show is about Green Arrow, but the Oliver that we met in the pilot wasn't anywhere near being the Green Arrow, and still isn't. And the same with Black Canary. So it's really the beginning of the Black Canary story, and she will begin to emerge as the season progresses."
Haynes said that the Black Canary will soon become "a main focal point" for both Roy and Laurel in upcoming episodes. "[Roy] knows that there's other [vigilantes] and he has a great scene in Episode 2 with Laurel, saying, 'you guys think you know everything, but I'm actually in the thick of it and I know what the deal is.' He says 'I've seen her,' and once we find out who the Black Canary is, it's going to really pique [Laurel's] interest."
In "Identity," Roy came one step closer to forging the kind of alliance with Arrow that he's been working towards since first encountering the vigilante in Season 1, but don't expect him to pick up a bow and become Oliver's sidekick any time soon.
"Oliver's certainly getting better at working with people, and if Roy is going to just keep going after people in the Glades, then at the very least, Oliver can try to control him a little bit, and there is something admirable about what he's doing," Amell noted. "I'm sure that Oliver sees a little bit of himself in Roy -- overeager, irresponsible, but again, there's something admirable about that. So this is a good way to control him, but I don't think there's been any consideration of revealing myself, or making him part of the team. If this makes him happy, then that's good."
While Haynes admitted that Roy "starts to resent Oliver, in a way" for his lectures while he's out of costume and playing the protective older brother for Thea (Willa Holland), Roy currently doesn't have any suspicions about Oliver's secret identity. "But if you notice in their scenes together, Roy with the Arrow, they're so far apart, and as the episodes go, they get a little closer," he teased. "So towards the middle of the season, they could have a little conflict there."
Roy's not the only one on Oliver's trail -- his relationship with Oliver also stands to drag girlfriend Thea into the mix. "Thea's gonna find herself in a lot of trouble … it's funny, Roy's on a path trying to find The Hood, and now Thea's going to be trying to find out if Roy's lying to her or not. So it really creates an amazing dynamic between the three of them," Haynes hinted.
But don't expect Roy and Oliver's dynamic to stay static for long. According to Kreisberg, "their 'arrangement' is going to come to a head fairly soon. We're never shy about burning through story, and Roy makes a good man on the street for a while, but you'll see in Episodes Eight and Nine, their relationship comes to a head in a surprising, exciting way."
"Arrow" airs Wednesdays at 8 p.m. ET on The CW.
Are you hoping Roy finds out Oliver's identity sooner rather than later? How do you think Laurel's vendetta against the vigilante will be resolved? Share your hopes and predictions below!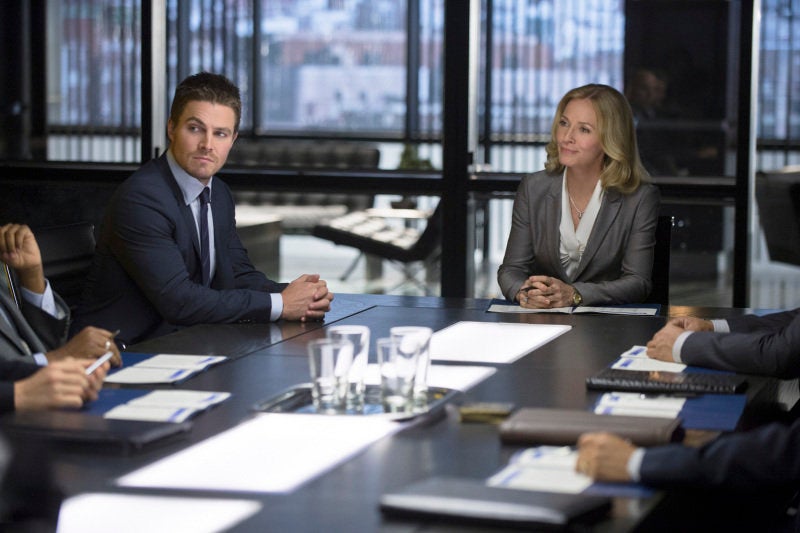 Arrow
Popular in the Community