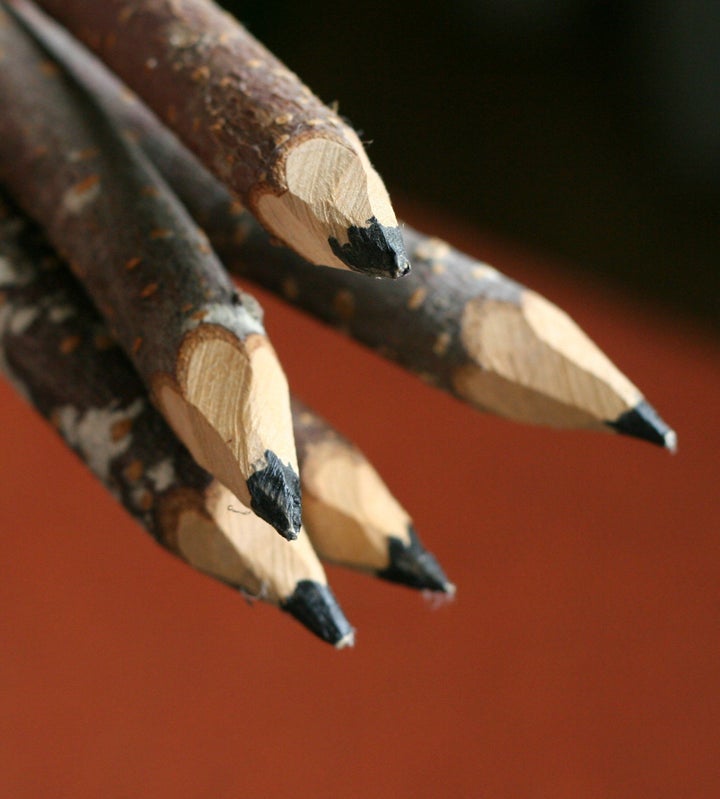 It's a time-honored joke: M.F.A. actually stands for Mother F%#king Attitude. I've had that outlook, and it's seen me through some rough and dispiriting times as an artist. But looking back on my early career, I've come to realize it's not an attitude that will sustain you, and even in the best of times, it can be detrimental to your artistic practice. I had a close brush with being expelled from Yale's MFA program when I painted Professor Mel Bochner being ravished by a female bull with a dildo strapped to her udder.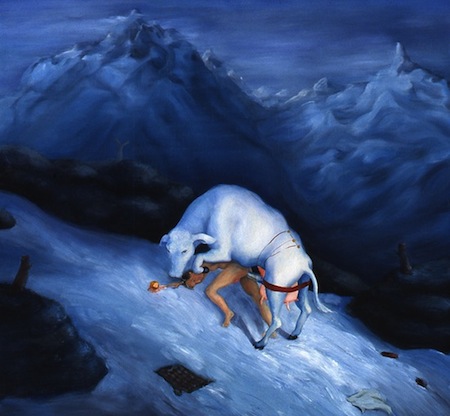 Funny? Yes. But with time, I've come to regret having hurt his feelings. The goal most of us share is to feel good about our practice, connect with other arts professionals, and get our work out there for people to enjoy. So what is the right mindset to cultivate to enable your success and fulfillment as an artist? Here are four techniques that may help.
You're in it for the work, not the glamour. Says painter Michael Berryhill, "Don't worry about trends, even if your work lines up with what's going on. Don't be moved by where the larger conversation goes -- just do what you're compelled to do. And do it a lot. Hard work is the key to getting anywhere." You can't control whether or not the marketplace embraces your work -- but you can control your enjoyment of the creative process.
It's not a test. Artists sometimes feel like their work or their process is being judged. But it's important to remember there's not one right answer. Says Al Miner, assistant curator for Contemporary Art at Boston's Museum of Fine Arts, "I don't ever go into an artist's studio knowing what I'm going to ask. I don't have pre-set questions. I just see what happens. I want to ask questions that will teach me how an artist's brain works... I like to let the artist show me what they want to show me. I don't necessarily say, show me more or show me that thing that's against the wall, because that's your process and I'm not going to interrupt your process. It's not a test or an interview, it's just a conversation between two people." Even when you're talking with a curator or a collector, the best thing to do is relax: they want to get to know the real you.
Don't push yourself. Be honest about where you are with your work, instead of contorting yourself to hit career milestones you're not ready for. Says Miner, "The worst studio visit I've ever done was with a photographer who said, "Well, that's wrong" to everything I said, whether it was a statement or a question about what he was interested in. I think he knew he should have a studio visit experience, but he didn't want one." If you're not ready for a studio visit, or a solo show, or a residency, don't force yourself or get paranoid if your peers are there already. Your process will unfold on its own timeline.
Keep it Simple. Patience is the best remedy for rejection. When one well-known colleague of mine wasn't chosen for a popular group show, she wisely remarked, "It's just another show." Two years later, she had a landmark solo show at a major museum. Sometimes flying under the radar keeps you in the best position for better things in the future. I moved to San Francisco after graduating from Yale and was rejected, again and again, by local galleries. If I had been able to break in to the San Francisco art scene, I might never have moved to New York City and found representation with the Mary Boone Gallery. You won't necessarily know when things are working out for the best, so don't get hung up on the details. Surfers wait for the right wave, and you should, too.
Building a career as an artist can be a challenging process -- and the myth of the cocky, sarcastic lone genius doesn't help. True success means appreciating and relishing the creative process, following your own path at your own pace, and staying true to your vision.
What are the mindsets you try to cultivate as an artist?
Related
Popular in the Community