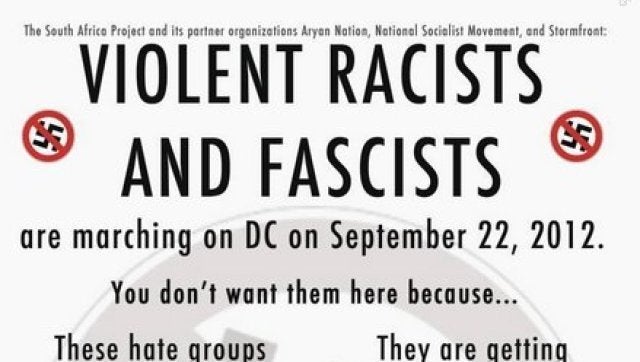 WASHINGTON -- White supremacists and those who oppose them will all be rallying in the nation's capital this weekend.
The Aryan Nations, also known as the Church of Jesus Christ Christian, will be holding a march on Saturday that leaves Lincoln Park on Capitol Hill at noon and will march toward the Capitol.
The group -- which according to its promotional materials is dedicated to establishing a "Racial Nation" in which only members of "The White Race" may hold citizenship, and is also committed to "Abolish[ing] the present fraudulent money system with its privately 'Jew-Owned' Federal reserve system" -- plans to walk about a mile and a half to the Capitol Reflecting Pool.
According to an event website and confirmed by Gulett, the purpose of the demonstration is to protest violence against white farmers in South Africa. Another website associated with the event adds that, in their view, "The only solution to the world's Jewish problem is the extermination of Judaism."
A group calling itself "Stay Awake In Friendship" is organizing a counter-demonstration, encouraging the community to make use of Lincoln Park on Saturday in peaceful ways. "Dispel ugliness with friendship WITHOUT IMPEDING ANYONE in exercise of rights," the group says on its Facebook event page.
Sep. 22 is also Shabbat Shuva -- a day set aside in the Jewish calendar to help prepare for the upcoming Day of Atonement. All interested in this observance are invited to pray and learn -- in the park or elsewhere -- with special attention to combating bigotry and hatred.
A group called Smash Racism DC is holding another, possibly more rowdy counter-protest on Saturday. Organizer Caty McClure told HuffPost that her group plans to be at Lincoln Park at noon.
"From there, plans vary," she said. "We're planning on a gathering of people from a wide variety of beliefs and backgrounds, so I imagine that much of the action will be decided upon organically by the people present."
"In the past, counter-demonstrations of this sort have involved silent protest, chanting, attempting to drown out their voices with anti-racist and anti-fascist chants, or more frivolous actions like an entire line of protesters mooning in the general direction of the Nazi-types," McClure said.
Gulett said on Wednesday he has "no idea" how many Aryan Nations members will be attending Saturday's white supremacy rally, which he said will be joined by "people from all around the country."
Organizers expect "at least 20 or so folks from our group, and then hopefully quite a few more from other groups and individuals around the area," McClure said. "The one common bond here is that all of us feel strongly about justice and peace, and we are all, for one reason or another, fiercely dedicated to proving to these people that D.C. is no place for their hateful rhetoric and often violent actions."
Calling all HuffPost superfans!
Sign up for membership to become a founding member and help shape HuffPost's next chapter
BEFORE YOU GO