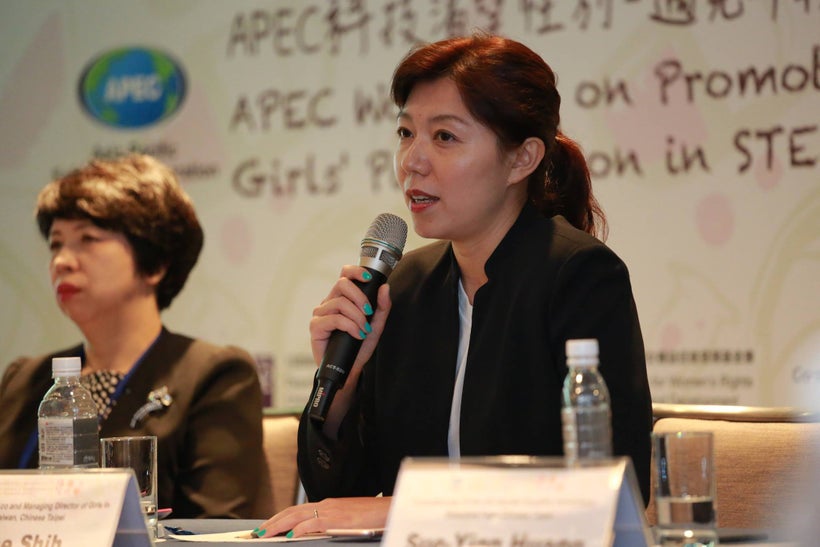 How can women around the world close the tech gender gap? What can women in Asia do to overcome obstacles to careers in science, technology, engineering and math (STEM)? What is the best way to create an ecosystem that supports women and retains them?
A consensus has emerged: Gender parity in tech is essential to economic growth, and there are specific ways to promote it — in Asia and elsewhere. This topic was was center stage last week at the APEC Workshop on Promoting Women and Girls' Participation in STEM hosted by Taiwan's Department of Gender Equality, and organized by the Foundation for Women's Rights Promotion and Development. The weeklong event brought together 60 women from 14 countries around the world. Sponsors included Girls in Tech Taiwan, Microsoft, Intel, PanSci, The National Taiwan Science Education Center, and The Society of Taiwan Women in Science and Technology.
— A goal is a dream with a timeline, said Catherine Mahugu, founder of Soko, a Kenyan-based jewelry company that provides a platform for global artisans. She urged women to work on their confidence level because they often sabotage themselves unknowingly, because they feel they need every single skill listed on a job description. In contrast, men apply, no matter what, confident enough they will still get the job. She also spoke about building a company: "The right kind of education is critical in molding the ultimate path of an entrepreneur — simply passing exams is not enough." She noted that her early education and entrepreneurship journey included courses in design thinking, and she added that the key is to be assertive and know your true north. She added that some people say she is stubborn, but she calls it decisive.
— Jane Shih, head of Girls in Tech Taiwan, said that when we grow women, they give back. She noted the importance of women helping others to stay in the workforce, as well as the need for measurements on progress of women, because, "What gets measured gets managed. As for the STEM, there is room for collaboration on data transparency and a need for continuous tracking to understand the growth of women in STEM. It is critical to build a foundation," she said.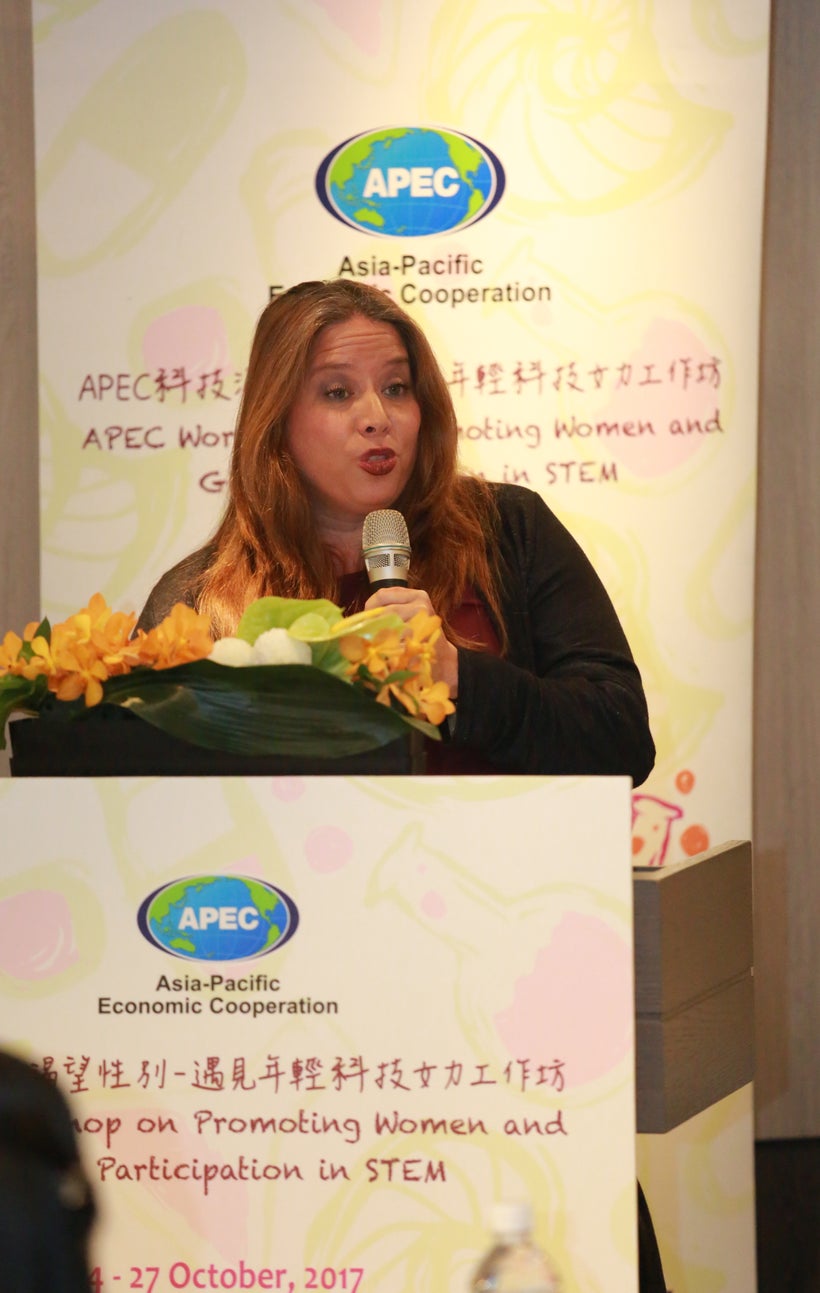 — Intel's Angela Taylor asked the question, "Why Diversity?" and added that it includes not just gender but also diverse ways of thought, life experience, age, and more. Citing the data-driven culture of Intel, she cited the following numbers: Firms with the highest level of racial diversity generated 15 times more sales; firms with females in the C-Suite generated $44 million more in revenue on average; diversity leads to a 57% increase in performance against goals.
— Helen Lee, researcher at Taiwan's Foundation of Women's Rights Promotion and Development, noted the importance of building a network of women that are role models for next steps. She added that "We would like to have more conclusions to help the public and private sector. In addition, changing culture and mindset is critical to advancing women," she said. Culture includes the environment girls are in, and thinking they have limited choices and opportunities. Culture can be changed, women can break the stereotypes, and have an opportunity in STEM.
— Jackie Chen, section chief the Department of Gender Equality said that, "I'm inspired by the commitment by women to inspire young women. We need to become the seed to go to each country and spread this concept, that people know how important it is to get women in STEM. We need greater resources to narrow down the occupational gender gap," she said, realizing how the critical the government is to this process of women in STEM, and that when government leaders are aware of what women can contribute, they can truly support growth in the field with policies and resources.
— Peggy Wang, Taiwan Ambassador for Women's Entrepreneurship Day (WED) on November 19th, celebrated in 144 countries around the world and at the United Nations, said that: "It is critical to support women around the world in STEM, and there is much more work to be done." WED has also launched #ChooseWomen, a grassroots movement that empowers, celebrates and supports women in business worldwide.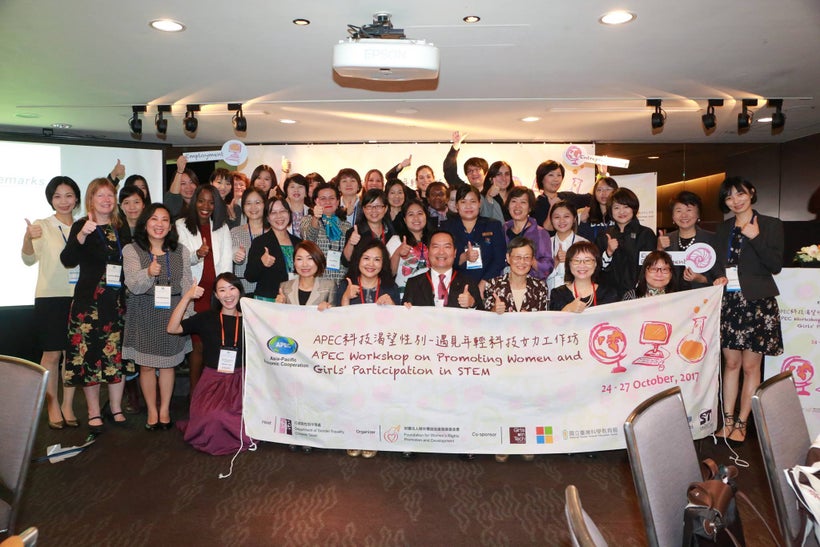 — Leonie Walsh, Director of management consulting firm Productive Management Solutions, spoke of building a foundation from early on, and the role that parents can play, as well as a global network that must be built on diversity and a broad demographic. "I'm impressed by the significant number of programs and how we are now being connected globally which will help increase impact," she said, adding that the next step is to engage parents, teachers and career advisers to create awareness of new and different career opportunities, as well as their daughters' interest and aptitude in STEM.
— Women are looking for a network, and want to learn from others, but they want specific skills, such as digital marketing and social media, said Clair Deevy, Head of Community Affairs for Facebook in Asia. Deevy runs She Means Business, a Facebook initiative that trains female entrepreneurs around the world. She noted the country-specific concerns of women in each country when starting a business: In Indonesia, it is about the forms and registration; in Korea, it is about finding out who else is out there; in Singapore, it is about celebrating the community as the government gives a lot of support. She asks: "What would be the impact be if women could all start their own business?" In Taiwan, she noted that half of women were interested in starting a business in the next six months. By 2021, that could equal 250,000 new businesses, 720,000 new jobs, if the women were successful.
— Leah Macatangay, Dean of Engineering at the Central Colleges of the Philippines, noted that to create an enabling environment, role models are key, something her country does not have a problem with. She noted that the Philippines has gender parity (46 percent of STEM jobs are held by women), and thus her country could potentially serve as a role model. What all engineering departments need she said, is to combine tech with courses on commercialization.
Calling all HuffPost superfans!
Sign up for membership to become a founding member and help shape HuffPost's next chapter
This post was published on the now-closed HuffPost Contributor platform. Contributors control their own work and posted freely to our site. If you need to flag this entry as abusive,
send us an email
.