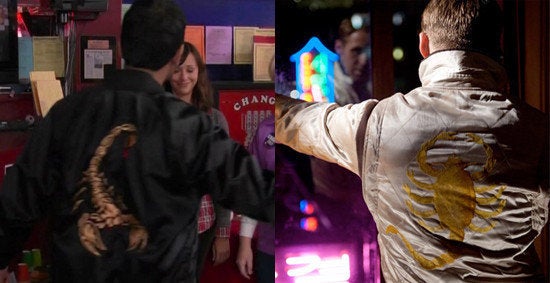 Aziz Ansari's "Parks and Recreation" character Tom Haverford is always looking to jump on the hottest trends in fashion. So who better than Haverford to channel what may be the coolest and most instantly iconic movie character of the year?
In Thursday night's episode of "Parks and Rec," Leslie Knope's campaign team hosts a bowling fundraiser to connect with the working-class voters of Pawnee. What Haverford lacks in bowling skill -- his between-the-legs approach infuriates Ron Swanson -- he makes up for in style. Fans of last fall's neo-noir film "Drive" will recognize Tom's jacket as a version of the satin number worn for the duration of the movie by Ryan Gosling's mysterious Driver character.
There are some differences: Haverford's jacket is black as opposed to Gosling's white, and the scorpion emblazoned on the back faces the opposite direction. But given that the "Drive" jacket garnered so much attention when the film came out last October, with a clothing company officially licensing it for sale and Gosling giving a black version of it to Conan O'Brien, it's hard to doubt that the "Parks and Rec" writers knew what they were doing when they slipped in the reference.
PHOTO: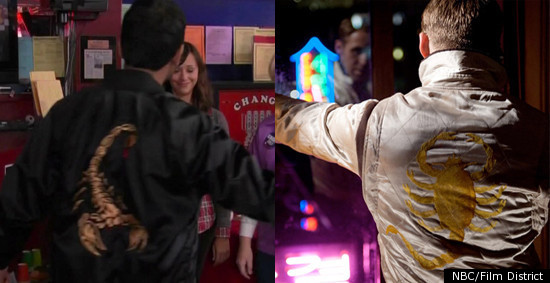 Related
Popular in the Community