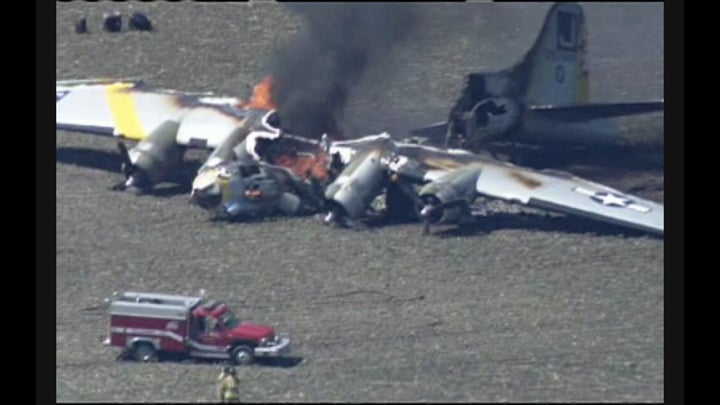 A World War II-era bomber has crashed in the Chicago suburbs, as authorities try to figure out what caused a damaging fire onboard the craft.
The B-17 bomber, known as a "Flying Fortress," is believed to be the Liberty Belle, a plane that was at the Aurora Municipal Airport 40 miles west of Chicago over the weekend. It was built in 1944, and saw active duty in the war: it was one of the few planes to survive a catastrophic attack on Dusseldorf, Germany in September 1944, and flew 64 combat missions before being salvaged in February 1945.
According to the Chicago Tribune, the plane had been restored by the Liberty Foundation of Miami, Florida. As of Monday morning, the Foundation's website was down due to an overload of traffic. But a cached version of the page showed that it was scheduled to be in Indianapolis next weekend, and Ohio the weekend following. The plane flies from 10 a.m. to 3 p.m. on weekend days, and is then available for ground tours.
Marty Kunkel, the fire chief in Sugar Grove, a small town near the crash site, explained that the pilot reported a fire on board shortly after takeoff. "He attempted to make a return to the airport, but couldn't make it so he put it down in a cornfield," the Chicago Sun-Times reports.
All seven people onboard were able to escape without injury.
Popular in the Community