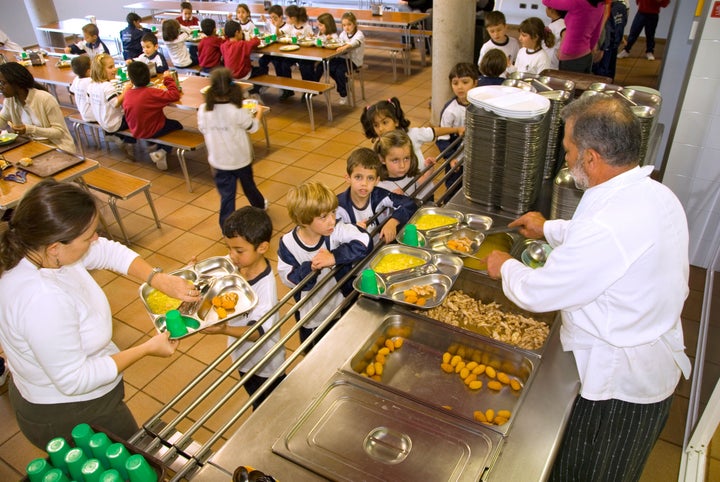 A Los Angeles-area school district accused of misspending $1.5 million in federal meal money for needy students is planning to meet with state administrators this week in an effort to stave off harsh penalties and a possible lawsuit.
Mark Skvarna, superintendent of the Baldwin Park Unified School District, said yesterday that he will be in Sacramento tomorrow to plead the district's case before a deputy superintendent of the state Department of Education.
The state education department has withheld the district's federal food money and is threatening to permanently cut funding to the district unless Baldwin Park repays the $1.5 million by Oct. 26. The state assists the U.S. Department of Agriculture in administering the school nutrition program, which allocates money for school breakfasts and lunches. The district near Los Angeles serves 20,379 students and has 13 elementary schools, four junior high schools and three high schools.
The state levied the sanctions after its reviewers found the district, from 2004 to 2008, used millions in food money for disadvantaged children to pay for banking fees and cleaning supplies. In addition, the district banked a large part of the funds, earning interest that has resulted in a $6.5 million reserve account, exceeding what is allowable under the law.
This is the second time in five years that state officials have found problems with Baldwin Park's handling of food money. State officials ordered repayment of $1.6 million in 2006 after discovering the district had taken food money and spent it on construction work at several school cafeterias. State and federal law bans the use of the food funds for such purposes. According to a June 2011 letter from the state education department:
CDE has provided Baldwin Park USD with technical assistance and allowed more than five years for Baldwin Park USD to take appropriate action to permanently correct the financial management findings from the March 2006 (action). As of the date of this letter, the CDE has not received documentation demonstrating that Baldwin Park USD has transferred $1,483,127 back to the Cafeteria Fund, taken action to prevent such transfers in the future, and implemented the approved 2007 Cafeteria Fund five-year spending plan.
Skvarna denies any wrongdoing. He blamed the surplus on a combination of inaccurate financial reports and underspending by the district's food services officials. He says the district's spending that was criticized by state reviewers was an attempt to repay years of district expenditures that should have been covered by its federal food funds.
He said such attempts to recoup spending are routine and believes the state action against Baldwin Park is unfair.
"I'm just trying to work this out. If I lose, I lose, but I've got to try," Skvarna said. "What's we're accused of, 90 percent of school districts do every day. Nothing unusual about it at all."
Skvarna says he is considering a lawsuit to fight the return of any money to the state but would like to avoid a legal battle. He says he is committed to reducing the current surplus and has hired an executive chef to improve the quality of the district's food. He also plans to share documents with state officials this week in hopes of persuading the state that the district has improved.
"If we have to give away food for free or reduce prices, we will," Skvarna said. "I'm not happy to have a huge amount of money in my bank account. I want kids to have the best."
Corey G. Johnson is an investigative reporter focusing on K-12 education for California Watch. For more California Watch stories, click here.
Related
Popular in the Community