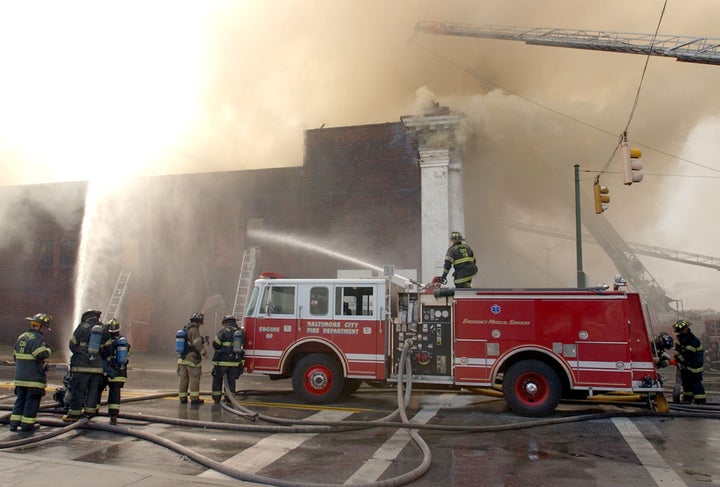 BALTIMORE, June 4 (Reuters) - Baltimore will allow the sale of ad space on fire trucks under a plan approved on Monday to help raise funds to keep three fire department companies from closing next month in the fiscally ailing city.
Councilman William "Pete" Welch, who introduced the measure that was approved by city council legislators, said advertising revenue could open up various financing options, such as using the money as collateral for loans.
"We're doing everything we can to save these three companies," said Welch, adding that a firm that runs two local hospitals has expressed interest in running ads.
Budget cuts in Baltimore, which faces an estimated $48 million shortfall, include closing three of the city's 36 engine companies and 19 ladder companies that operate out of 40 neighborhood fire stations.
Rick Hoffman, who heads the local firefighters' union, said he supports the idea, saying, "It's safe for Baltimore, it's good for Baltimore, and I'm okay with it."
He said his support comes even though firefighters tend to be traditionalists. "We've been riding on red fire trucks since they were invented," he said.
Resident Ianthia Darden, who has lived for decades next to one of the companies slated to close, said: "I think it would be great if it serves the purpose of keeping the truck here."
Welch said he was working to form a committee to oversee the ad sales process.
But local officials such as Fire Department Captain Ben Alder were pessimistic that such a plan would be enough to save the fire companies.
"Resolutions are feel-good items that the council puts forward. They have no bite to them," he said.
"I hope I'm wrong," he added. "I hope they can pull it off and keep the companies open. Do I think it's going to happen? No." (Editing By Ellen Wulfhorst, Cynthia Johnston and Vicki Allen)

Popular in the Community