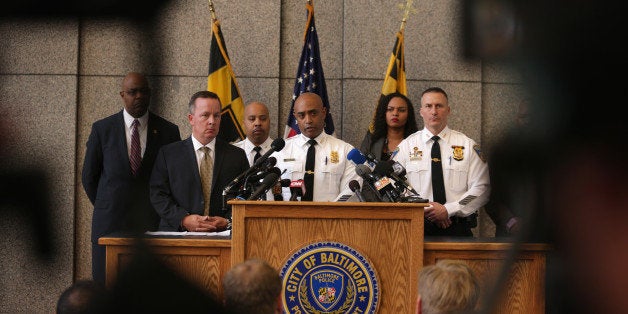 BALTIMORE -- Hundreds of people took to the streets here on Saturday to demonstrate against police brutality and call for accountability for the police officers involved in the arrest of Freddie Gray, a 25-year-old who died April 19 as the result of a severe spinal injury that occurred when he was taken into custody a week earlier.
Charles Thomas stood outside his apartment in the Gilmor Homes on Saturday and watched as the crowd gathered. Thomas, 63, remembered Freddie as "quiet" and said he would hang out in the Homes to "cut the fool with the fellas."
Thomas said he saw police officers drag Gray on the sidewalk. "Freddie was hollerin'," he said. "I just don't understand how they didn't know he was hurt."
Neighbor Richard Forman broke down in tears as he talked about what happened to Gray. Forman said he saw Gray on the street just three days before he was arrested, and Gray asked him about a neck injury Forman sustained when he was a corrections officer. Forman, who is now retired, said his neck was injured when he tried to protect an inmate from fellow officers.
"Freddie said, 'What's up ... how your back doing? You OK today?' I said, 'Yeah, Freddie,'" Forman said. "I loved Freddie like a son, and I hope this never happens to anybody else."
Demonstrators chanted "shut it down" and headed to the Western District police station, where officers were prepared for their arrival. Officials said on Friday that they would protect the rights of demonstrators, while The Washington Times reported earlier this week that officers were asked to show up with their riot gear.
"Baltimore is strong. We not like them other states, we not gonna hurt our town," Juan, Gray's brother-in-law, told the crowd on Saturday. "But we gonna stand up, and we're gonna fight for it." Juan declined to give his last name.
Tawanda Jones, whose brother Tyrone West died in an altercation with Baltimore police in 2013, took to the megaphone as marchers made their way around the city.
"We've been out here fighting for justice for 246 days!" said Jones, whose family has been protesting her brother's death. "They're not listening to us! If they listened to us, Freddie Gray would still be alive!"
Gray's funeral services are scheduled for Monday.
The exact circumstances of Gray's death are still a bit murky. Police say they chased and arrested Gray after he made eye contact with officers and ran from them. Gray asked for medical care multiple times during his arrest, police say. The officers loaded Gray into a police van, where his arms and legs were cuffed but he was not buckled in with a seat belt -- a violation of department policy.
At some point while he was in police custody, lawyers for Gray's family say, his spine was nearly severed. He died a week later.
"The reason we have the policy around seat belts in the police vans is because of an incident that happened previously," Rawlings-Blake said, referring to the 2005 death of Dondi Johnson. Johnson had been arrested for urinating in public, and was left paralyzed from the waist down after being transported in a police van without handcuffs. He died two weeks later.
A man who recorded video of Gray being taken into custody said police folded Gray like a "piece of origami." One speaker noted how important cell phone videos have been in calling attention to police misconduct.
"Now with these cell phones that you have, you're armed soldiers," Leon Purnell of the Southern Christian Leadership Conference told demonstrators. "None of those police officers would be called to anything if they didn't have these phones and people videoing what was going on."
At a media-saturated press conference here on Friday afternoon, officials said that Gray should have received medical attention at the location where he was arrested.
A smaller group of protesters gathered outside of Lexington Market near downtown on Friday evening, and protesters also marched around Camden Yards, where the Orioles were playing the Boston Red Sox.
Frank Sha Francois, an activist from New York who is with the New Black Panther Party, said on Friday that he came to Baltimore because he was "outraged" by what the police did to Gray.
"It's the same old story, the same old thing: they don't know what happened. Well, we know they murdered that brother," he said. "We're tired of the same old story."
Christopher Mathias and Ryan J. Reilly reported from Baltimore. Braden Goyette contributed reporting.
This article has been updated with additional information about the circumstances of Grays arrest.
Here are some photos and videos from protests on Friday and Saturday:
Calling all HuffPost superfans!
Sign up for membership to become a founding member and help shape HuffPost's next chapter
BEFORE YOU GO
PHOTO GALLERY
U.S. State Capitol Buildings