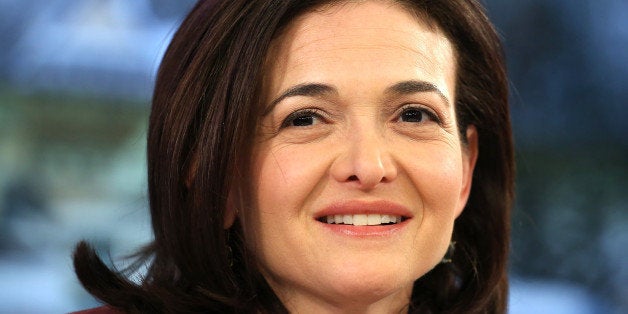 When Beyonce tells America to do something, we do it. (But not because she's bossy).
Just one day after the iconic pop star helped launch BanBossy.com, a campaign and website urging people to stop calling women "bossy," the site has racked up 1 million visits, according to internal data released to The Huffington Post.
More than 100,000 people have already signed a pledge on the website to stop saying the word and convince others to do the same. And others have taken the pledge on social media; "Ban Bossy" was a top trending topic on Twitter and Facebook on Monday.
The campaign grew out of a partnership between Girl Scouts USA and LeanIn.org, the organization spearheaded by Facebook Chief Operating Officer Sheryl Sandberg. It encourages women to raise their hands at work, demand recognition for their accomplishments and ultimately make strides in closing the pay and leadership gap between men and women in the workplace.
But sometimes the fear of being called "bossy" -- a word that carries a stigma, especially for women who first had it hurled at them as girls -- can keep ambitious women from taking the next step in their careers.
"We too were called bossy as girls. Decades later, the word still stings, and we remember the sentiments it evoked: Keep your voice down. Don't raise your hand. Don't take the lead. If you do, people won't like you," Sandberg and her co-founder Rachel Thomas write in a post on LinkedIn.
The idea that a forward woman is an unpleasant one also affects how women are perceived on the job. About one-third of Americans said they prefer a male boss in a Gallup poll released in November, compared to the 23 percent who said they'd prefer a female manager. When women do act decisively and assertively -- characteristics typically associated with leaders -- at work, employees tend to view them more negatively than their male colleagues.
"We expect boys to be assertive and confident, while we expect girls to be kind and nurturing. We encourage boys to lead and reward them when they do. When girls lead, however, we disapprove—and our language communicates that disapproval clearly," Sandberg and Thomas write.
If the studies aren't convincing enough, there are plenty of anecdotes out there, too. Take former Secretary of State Hillary Clinton, who faced outsized criticism during the 2008 presidential campaign for being too assertive. BanBossy.com collects similar stories from other impressive women, including actress Jennifer Garner, Girl Scouts CEO Anna Maria Chavez and former Secretary of State Condoleezza Rice.
But it is perhaps young girls who are hurt most by the label. As early as middle school, they become less interested in leading than their male classmates, in part because of the "bossy" stigma that can come with it, according to research cited by BanBossy.com.
"As girls become women, the childhood b-word — 'bossy' — is replaced by the b-word adult women face — along with 'aggressive,' 'angry," and 'too ambitious,' Thomas and Sandberg write. "The words change, but their impact doesn't. Women are less well liked when they lead, and all of us are affected."
Calling all HuffPost superfans!
Sign up for membership to become a founding member and help shape HuffPost's next chapter