Thailand is rightly famous for massage. On the street, on the beach, in the night markets -- massage is available everywhere. In touristy areas it is difficult to walk down the street without being accosted by Thai women desperate to manipulate your pressure points (in the nicest possible way).
In 1995 I went to Thailand for the first time, largely lured by the idea of unlimited green chicken curry. It was also when I discovered massage.
Thai massage, influenced by Indian, Chinese and Southeast Asian medicine, combines passive stretching and gentle -- or sometimes firm -- pressure to relieve muscular and joint tension, stimulate the internal organs and balance the body's energy system.
Traditional Thai massage is "dry" and can be vigorous -- masseurs have stood on me to get better leverage for stretching the shoulders. Clients usually lie on a mattress on the floor wearing loose clothing. First-timers with visions of being oiled and rubbed in a gentle way are probably thinking of Swedish massage.
On that first trip to Phuket my resort offered massage, and it seemed like a good thing to do on a tropical island. Basic by today's spa standards, I lay on a mat on a deck and this small woman prodded muscles and used her full body weight to swing me around like a gibbon she'd found in the rainforest canopy. It took being loosened up for me to realize to really how very stiff I was. I went back every day.
'Neck hard,' said the masseur, twisting my head around one afternoon. "Car accident?" No, just stressed. She tirelessly worked through paleolithic layers of tension and I was addicted. After that I investigated every massage type: deep tissue, shiatsu, tui na and more, in 17 countries.
In Asia most of the women in the massage shops have not had much formal training -- some are great, others can vary. Good spas in Bangkok today however are very sophisticated, offering a range of massage styles and treatments combining traditional Thai with aromatherapy, heated herb balls and body scrubs.
These spas are some of the city's best. Sightsee and shop in the morning, lunch lightly, and in the afternoon retreat to a spa for a perfect Bangkok day.
Breeze Spa
If you ever felt a treatment was not hitting your very precise spot, the Breeze signature "mood massage" offers an array of outcomes -- serene, dreamy, invigorated, rejuvenated or energized -- matched with music, while the client chooses pressure, oil and body areas to be concentrated on. Each choice and its benefits, (calming, lymphatic drainage, hot stones) is explained so the indecisive might allow themselves extra time to choose. As it name suggests, this spa (part of the Thai-owned Amari Watergate Hotel ) is light and contemporary with immaculate treatment rooms and very comfortable beds. There is even a Breeze-hued macaroon at the end so tastebuds leave on a high too. For sore, keyboard-stressed shoulders ask for Jidapa; her deep tissue work is excellent.

The Oasis Spa
As its name suggests, this spa is set in a fragment of colonial Bangkok with lawns and ponds and ancient trees. Ground-floor villas have outdoor rain showers. Drawing on Lanna (13th to 18th century northern Thai kingdom) traditions, the atmosphere is gracious and friendly. The "Queen of Oasis" treatment is a two-hour combination of oil and hot stone massage to balance the body and "help release metabolic waste products". Most massages skip over the stomach area, but special attention is given here. Designed to restore harmony to the digestive system, it could benefit a stressed gut, but don't have a large meal first. There is a free shuttle service to Phrom Phong BTS station.
Hapa Spa
Its distinctive round door has swung open to welcome guests for the past nine years. Hapa Spa uses local organic ingredients such as ginger and coffee in its body scrubs, and produces its own range of oils, balms and shampoo (no SLS) to take home. Located in a small soi opposite the Bumrungrad Hospital, the spa offers a range of massage -- Swedish, sport, Asian blend -- along with packages that are good value. "Rejuve" begins with an extremely thorough jasmine rice body scrub, priming the skin for the firm but relaxing sesame oil body massage to follow, with a hot oil hair and scalp treatment to finish. In the bright foyer there's space to have a drink with friends, sample something from the Thai menu or tend to other beauty needs.
So SPA
The funky Sofitel So Bangkok draws on French savoir faire and "urban design" to create a stylish environment based around the Five Elements -- Water, Earth, Wood, Metal and Fire -- and this concept is carried into the monochromatically contemporary So SPA. The Serenity of Five Elements treatment starts with tapping on acupressure points using a stick and mallet (wood), vibrating the body's meridians to "free stuck energy". The other elements are incorporated into the following massage using energizing ginger oil (water), hot herbal balls (earth and fire), and metal balls for balancing. With views of Lumpini Park, tres soft beds and great staff, So Spa is anything but so-so.

The Okura Spa
A recent addition to Bangkok's five-star scene, Holly Golightly would approve of the Okura Prestige. There's no jewellery lying about, but like Tiffany's, it's hard to believe anything bad could happen in the glossy spaces of this Japanese-owned hotel. Making the most of panoramic views, the nature-toned luxury of the Okura Spa is on the 25th floor. Drawing on principles of acupuncture, the Ta-ke Relief signature treatment is a deep tissue oil massage using heated Japanese bamboo rods, combining pressure and warmth to relieve muscular tension. Go early to enjoy the steam and sauna facilities before the attentive staff bring the flower tea.
The Spa by Mspa
Effortlessly tranquil in the city's centre, The Spa at The Four Seasons Hotel delivers a seamless blend of Thai and Western luxury, and the staff are alert and ensure treatments are tailored to requirements. Opting for deep tissue with special attention to shoulders and back, the therapist gave me a firm massage that tackled knottiness in the trapezius muscles (bane of those who hunch over keyboards). She found some big knots and I urged her untie them. Bliss. Treatment rooms are spacious and elegant.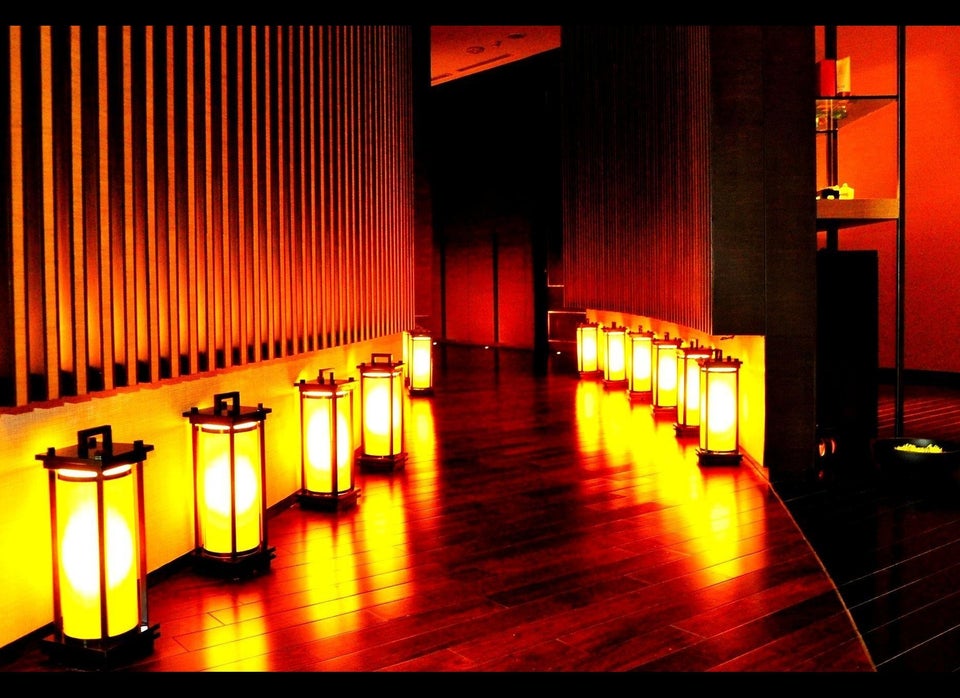 Rooms to Relax
Popular in the Community