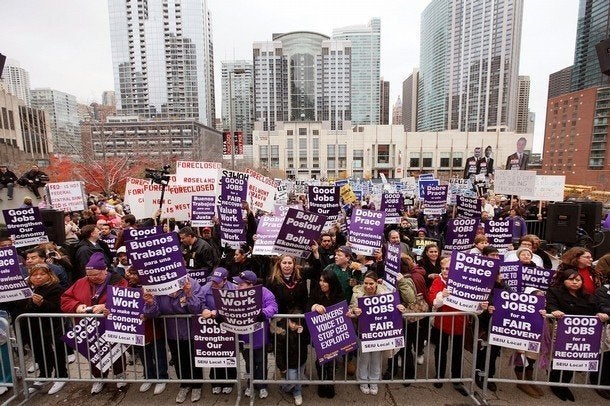 Yes, the Obama administration is pushing to dramatically increase the regulation of consumer and other financial transactions that have run amok, but there is widespread concern from across the political spectrum that the White House is neither going far enough nor fighting hard enough. And time and again -- most notably with the ongoing $700 billion bailout -- Obama administration policies have put the interests of bankers and Wall Street ahead of those of impoverished families, unemployed workers or underwater homeowners.
One reason -- which has never been directly addressed by Obama -- may be that many of his chief financial advisers have pocketed extraordinary amount of money from banks and Wall Street, and presumably intend to do so again. They are part of the banker class, and their loyalties have been bought and paid for.
Summers was paid $5.2 million for his part-time work for a massive hedge fund in 2008. He also took in more than $2.7 million in fees for speaking engagements at such places as Citigroup, Lehman Brothers, Merrill Lynch and Goldman Sachs -- including one visit alone that netted him $135,000 from Goldman Sachs.
That's right: $135,000 for one visit on one day. You can't pocket that kind of money and not be, on some level, corrupted.
Similarly, deputy national security adviser for international economic affairs Michael Froman received $7.4 million from Citigroup between January 2008 and January 2009 -- including a year-end bonus of $2.25 million that he received just days before coming to work at the White House for a man who was at that very moment calling just such bonuses "shameful".
And earlier this month, Bloomberg's Robert Schmidt significantly added to our understanding of just how co-opted Obama's financial team is by examining the financial disclosure forms of Treasury Secretary Timothy Geithner's closest aides.
The advisers include Gene Sperling, who last year took in $887,727 from Goldman Sachs and $158,000 for speeches mostly to financial companies, including the firm run by accused Ponzi scheme mastermind R. Allen Stanford.

Another top aide, Lee Sachs, reported more than $3 million in salary and partnership income from Mariner Investment Group, a New York hedge fund.
Sachs, who joined Treasury in January, reported in February that he was still owed a 2008 bonus whose value was "not ascertainable." I wonder how that one turned out.
Also in Geithner's inner circle, according to Schmidt: "counselor Lewis Alexander, the former chief economist at Citigroup; Chief of Staff Mark Patterson, who was a lobbyist at Goldman Sachs, and Matthew Kabaker, a deputy assistant secretary who worked at private equity firm."
Alexander was paid $2.4 million in 2008 and the first few months of 2009 by Citigroup; Kabaker earned $5.8 million working on private equity deals at Blackstone in 2008 and 2009.
Patterson, Geithner's chief of staff, was a registered lobbyist for Goldman Sachs before joining the Obama campaign, and took in what seemed at first glance to be a relatively modest-by-Goldman-standards salary of $637,230 in 2008. But it turns out that was only for three months' work -- he left Goldman in early April.
All this money makes Obama's top financial advisors veritable poster boys for the Wall Street culture that the president in his speeches has publicly decried as a "house of cards" and a "Ponzi scheme" in which "a relatively few do spectacularly well while the middle class loses ground".
I'm not doubting the smarts of Obama's financial team -- but I do feel that the vast majority of people who take the kind of money we're talking about here can't help but be warped by it, and that in choosing to cash in, they essentially disqualified themselves from public service.
Unless they are willing to assertively act in ways that redeem themselves and show that their allegiances have not been purchased, they should step down and make way for people who see the people's side of things a little more clearly.
* * * * * * * * * * * *
A message from Dan about how to find me: I'm not writing every day anymore -- I've now also Washington Bureau Chief for the Huffington Post. But there are lots of ways to keep track of me.
Popular in the Community