 The Consumer Product Safety Commission (CPSC) filed a lawsuit to halt the production and sale of Buckyball magnets, citing several injuries to children that swallowed the magnet pellets.
These magnets are marketed exclusively for adults. They are plastered with conspicuous labels warning of their danger to children:

Our e-tailer, 1SaleADay.com, decided to remove a slated listing of Buckyball magnets from our daily deal site until further notice. This measure was largely taken to avoid legal issues, not because these magnets are any more dangerous than common household products, bicycles, sports or even dogs. Other e-tailers such as Amazon.com and Brookstone.com have also decided to halt sales of Buckyballs as a result of the CPSC lawsuit.

Instead of sensationalizing individual injury cases, let's do the math on how dangerous these magnets really are when compared to other consumer products and activities.
CPSC indicates that approximately 22 children were injured from Buckyball magnets since their release in 2009. Not a single fatality was reported. There are approximately 2.2 million Buckyball magnet sets in circulation, and as each set has 216 magnets, there is a grand total of 475.2 million individual magnet pieces. This equals to approximately 1 injury per 100,000 Buckyball sets and less than 1 injury per 21.5 million individual magnet pieces.
Dogs are statistically over 120 times more dangerous than Buckyball magnet sets. According to the CDC, out of a population of 100,000 there were 129.3 dog bite related injuries treated in emergency hospital rooms.
Here is my crude graph showing the estimated numbers compiled from the CDC and other sources (the graph assumes Buckyball owners generally own one set):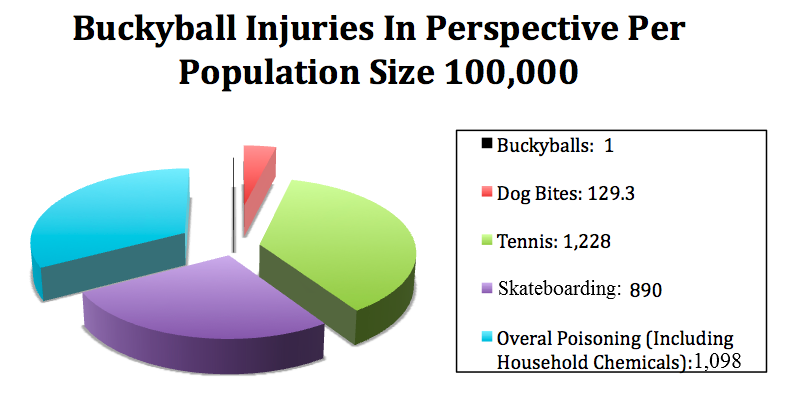 Certainly pools, cars, kitchen knives, firearms, and even balloons are all statistically more dangerous than Buckyball magnets.
Ingesting multiple Buckyballs can cause peculiar stomach-turning injuries. The magnets can attract one another through the stomach and intestinal walls, causing punctures in the stomach and intestinal walls. This may also cause misdiagnoses by medical professionals who are under the impression that the magnets will exit from the digestive system.
The sensational and widespread media coverage of the peculiar type of stomach injury caused by ingesting multiple magnets may be part of what's driving CPSC to selectively ban Buckyballs.
In order to get a sense of how average consumers felt about the attempt to ban Buckyballs, we posted the question on our Facebook fan page:
QUESTION: Do you think ball magnets should be banned because they are a hazard for children?
The dozens of comments were all unanimously opposed to the ban. Here is a representative comment from Kelsey Bowden, one of our 373,000+ Facebook followers:

Virtually all of the other comments echoed Kelsey's sentiment that plenty of other legal products are just as dangerous if not more dangerous, and that it is the responsibility of parents to safeguard their children.
Eleven years ago, CPSC sued Daisy Manufacturing Co., demanding that they recall 7.3 million BB guns. In the end Daisy settled with CPSC by agreeing to put more prominent safety warnings on their product. Perhaps a similar compromise is the answer with Buckyballs.
The CPSC's role in establishing mandatory consumer product safety standards serves a vital function in saving lives, preventing injuries and spreading awareness of consumer product risks. However, in their attempt to ban Buckyballs the CPSC is perhaps applying its standards unfairly and encroaching on what should be parental responsibility.
The author graduated law school in New York where he served as executive editor of law review. He is the senior vice president at 1SaleADay.com, the largest independently owned deal-a-day e-tailer. The opinions expressed here do not necessarily represent those of his current, prior, or future employer(s)
Popular in the Community