One of the great figures in modern libertarianism has died today: Barbara Branden. Barbara, 84, was born in Winnipeg, Canada. It was there that she met her husband, Nathaniel Branden. And, while the couple divorced, Barbara was close to Nathaniel her entire life.
Barbara and Nathaniel became friends because of their mutual admiration for Ayn Rand's novel The Fountainhead. While a student at the University of California, Los Angeles, Nathaniel wrote a fan letter to Rand, who worked as a scriptwriter in the area. Rand called him and invited him to visit her home. On the second visit he brought Barbara with him. They married in 1954.
During the writing of Atlas Shrugged, Barbara was one of the small circle of friends allowed to read the manuscript while it was in process. In 1958 she and Nathaniel organized the Nathaniel Branden Institute, to present systematic presentations of Rand's Objectivist philosophy. Barbara gave a series of lectures on Principles of Efficient Thinking.
She and Nathaniel divorced but remained friends for the rest of their lives. In 1984 she published a biography of Rand, The Passion of Ayn Rand, which was later made into a film with Helen Mirren and Eric Stoltz. Barbara was not entirely pleased with the film.
Barbara remained active in Objectivist and libertarian circles for her entire life. She offered a nuanced, always sympathetic perspective on Ayn Rand. While sometimes critical, she never lost her admiration for Ayn. Even though the Brandens had an acrimonious split with Rand, after a relationship between Ayn and Nathaniel ended, Barbara always told me that, knowing everything she knew then, she would do it all over again.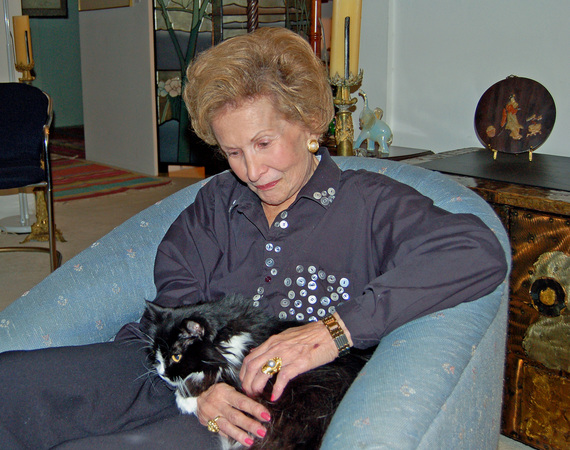 I first met Barbara at her apartment in West Hollywood in 1984, before her biography of Rand was published. She arranged for me to receive a copy of the typed manuscript, which I devoured when it arrived.
The purpose of the meeting was to interview her, but we became friends that day. I brought along the old NBI record set of her lectures on efficient thinking for her to sign for--something I still have and cherish. We were so deep in conversation that Barbara didn't realize she had signed the cover as "Barbara Barbara," instead of "Barbara Branden." I loved it! I pointed out that the great humor in signing her name wrote was that this was an album on efficient thinking!
Over the years I stayed in touch with Barbara, no matter where in the world I was at the time. I often had phone calls to her costing $100 or more when I was living in Africa. One night we were discussing the news from South Africa and I was filling in her in.
Years after we met, sitting in her home, she said to me: "You know, I've never asked you if you consider yourself an Objectivist or not." I told her that depends on how one defines it. If you mean what Ayn described in her lecture on "Objectivist Ethics" then I would agree. Barbara was not an inquisitor, nor did she set out to convert everyone to Ayn's idea, though she passionately embraced them.
One conversation I remember was when she told me how confusing Prop 8 was. To vote for marriage equality one had to vote against Prop 8. To vote for Prop 8 would be to vote against equality. She said that seemed intentionally confusing but that she made sure she had it right so she could support her gay friends win the right to marry.
Another afternoon she recounted a childhood experience. She and her mother had traveled to Minnesota and checked into a hotel where they had reservations. The hotel suddenly recognized their surname was Jewish and claimed to have no vacancies. Barbara said her mother realized precisely what was going on and informed the desk clerk that she had a confirmed reservation.
She made it clear that if the hotel did not honor the reservation it was her intention to call the local newspapers and inform them that this hotel had an anti-Semitic policy. It was clear, even seven decades later, this incident had a profound impact on Barbara. It gave her immense respect for her mother and drove home the importance of standing up to bigotry, which is what she did when she voted against Prop 8.
In 2008, due to Barbara's lobbying, Nathaniel Branden decided to publish his 20 lectures from NBI on Objectivism. I was in Phoenix when the phone rang and it was Nathaniel. He told me Barbara convinced him to publish his lectures and told him to speak to me about shepherding the lectures into print. In 2009 we released the lectures as The Vision of Ayn Rand: The Basic Principles of Objectivism. Barbara wrote the introduction for it.
After lectures I would witness her sit down with young students and take their criticisms seriously. She would patiently listen and gave them the same respect she expected in return.
She was a loyal and good friend to the end of her life. She is survived by Nathaniel, her former husband, and by many, many good friends -- all of whom will miss her greatly. In addition she is survived by tens of thousands of people whose lives were touched by her biography of Rand and by her many lectures.
I will miss Barbara immensely. While her death was not entirely surprising, I did not anticipate it would hurt as much as it does.
In The Fountainhead a young boy looks down on a town designed by Howard Roark and says to him, "Thank you." Rand writes, "He knew that the steady eyes looking at him understood everything these two words had to cover."
Thank you, Barbara, thank you.
Related
Popular in the Community