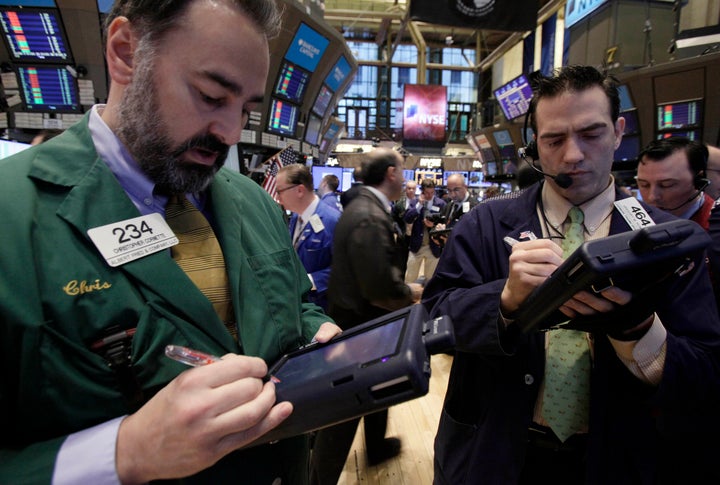 A bad day for leading high frequency trading exchange BATS just got much worse -- and high-speed trading may have been the culprit.
The third-biggest U.S. stock-exchange company, which made its initial public offering this morning only to see its stock pummeled by what it says were technical difficulties, said that it will be withdrawing its IPO after all.
The troubles for BATS, which is short for Better Alternative Trading System, started not too long after the opening bell when Apple stock -- which trades on BATS among many other stock exchanges -- lost 9.4 percent of its value in the course of about five minutes after an erroneous trade on the BATS system.
That was followed by an announcement from BATS that it was experiencing "system issues" with the stocks of companies alphabetically listed from the A to BF ticker symbol range, including both Apple and BATS itself.
BATS later announced that it would be halting all trades of its stock on its own exchange and cancelled all previous trades of its stock from earlier in the day.
Finally, this afternoon, BATS Chairman Joe Ratterman issued a statement canceling the public offering altogether.
"Although our affected market has reopened, in the wake of today's technical issues, which affected the trading of certain stocks, including that of BATS, we believe withdrawing the IPO is the appropriate action to take for our Company and our shareholders," Ratterman wrote.
It was a dark day for a company that hopes to cash in on the proliferation of high-frequency trading, which some critics say can lead to market disruptions such as flash crashes. BATS's motto is "Making Markets Better."
The unfortunate start to BATS's public offering today comes just as The Wall Street Journal reports that the SEC announced a new probe into high frequency trading, a principal activity on that exchange. In particular, the probe will be looking into whether high frequency traders used their close relationships with computerized stock exchanges like BATS to gain an unfair advantage in the stock market, according to the Journal.
It is fairly rare for a company to withdraw its IPO after it has priced. Data tracker Dealogic said it could find only one other recent instance, last July, with the IPO of a company called Jintai Mining Group Inc. Deal Journal found a couple of other past examples, including the IPO for Wilt Chamberlain Restaurants in 1993.
While it hasn't yet been determined what caused the technical troubles at BATS, one trader speculated to The Wall Street Journal's MarketBeat blog that BATS may have been overwhelmed by a significant uptick in trading volume.
There is still no evidence that computerized high-frequency trading was a culprit. But according to a separate post in the Journal's Deal Journal blog, trading in BATS shares swelled at lightning speed, with hundreds of trades hitting it in just the first two seconds. In its first nine seconds of trading, the stock fell from an opening price of $15.25 to four cents per share, at one point appearing to spike below one penny per share. And then it was halted.
Thus high-speed trades helped ruin the IPO of an exchange built around high-speed trading.
Related
Popular in the Community