This is the first installment in a series that elevates the work of up-and-coming queer individuals working in the fashion world. Check back at HuffPost Gay Voices regularly to learn more about some of the designers of tomorrow and the way their work in fashion intersects with their queer identity.
BCALLA is a queer fashion designer living and working in New York City whose work has been worn by stars like Azealia Banks and Lady Gaga. To quote the designer, his work is "built on collaborations with other dreamers who refuse to see the world the way it is." Read the interview below to learn more.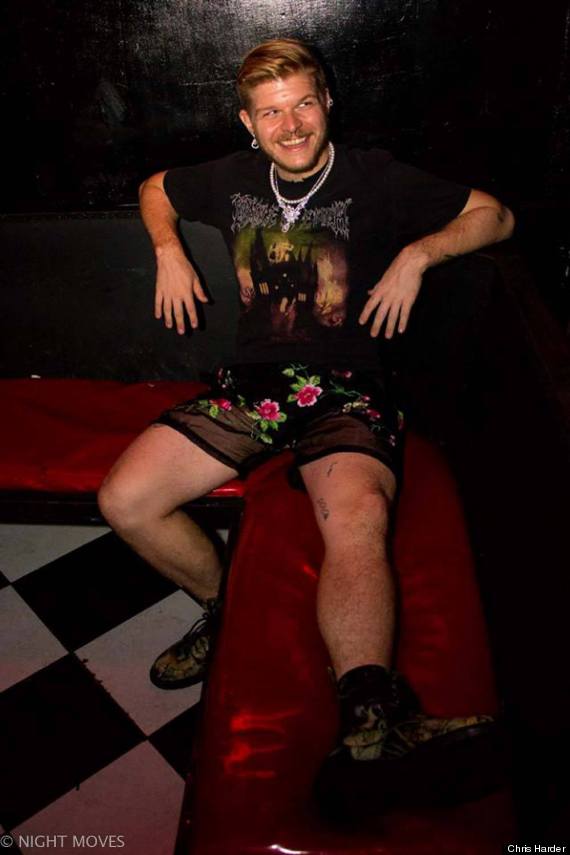 The Huffington Post: What has your journey as a queer fashion designer entailed?
BCALLA: My dad painted a picture of me at like four or five years old crying at my desk because I couldn't get my Barbie's clothes just right. When I got a bit older I started making comics with my brother where I would design the costumes and he would draw the comics. After graduating from the fashion program at School of the Art Institute of Chicago I started the BCALLA LQQKS PROJECT -- a Tumblr-based project where every month I created a unique look to showcase. I collaborated with the photographer Fred Attenborough and every month I chose a different model and a different song from various contributing artists.
From there Johnny Sagan picked me up and gave me my first solo show (Lazy Hunters). A bit after that, Contessa Stuto pulled some pieces for Azealia Banks, who then started hiring me to design for her tours. Last season I released a collection titled "Sodomites of Sans Souci" shot by Michael Burk and this season I released "Drawing is Fun" shot by Fred Attenborough with video by Peter Staples.
Lady Gaga performing in BCALLA.
Where have your designs appeared?
The big names supporting BCALLA are Lady Gaga (special shout out to Hayley Pisaturo and Brandon Maxwell) Nicola Formichetti's team and Azealia Banks. My work has appeared in Dazed & Confused, Sang Bleu and Rolling Stone, but the real support comes from my crazy community of underground artists that constantly inspire me and often appear in my work, such as Cakes Da Killa, Big Dipper, Will Sheridan, Love Bailey, Mz. Fitz, Juliana Huxtable and Bailey Stiles -- just to name a few.

What does it mean to to you to be a queer designer? How does your queer identity intersect with your work?
I don't really think I have a choice. To quote my mother, I didn't come out -- I oozed. I grew up a chubby and effeminate child, which of course led to stereotypical bullying and social ostracization. I survived by finding solace in the fantastical worlds of anime and by friending other outcasts, which eventually brought me to punk. Within punk I found the queer community.
To be queer is to be constantly reminded that you are different. This situation can be particularly grating on youth but thankfully I have a brilliantly supportive family who reared me to understand that I can use my unique point of view to my advantage. My parents never tried to change me but rather gave me hope and aspiration by introducing me to aesthetic shapers like Andy Warhol, Lou Reed, Queen, Tennessee Williams and Oscar Wilde. There is power in reveling in your difference -- accepting it and projecting it full force -- you cut your critics at their knees if you can preempt their attack. I think to be queer is to fight; the very first collection I designed was about fashionable street warriors and I think that vibe is really prevalent in my work -- being authentic and brave in the face of a tidal wave of homogenization. These are also the people that inspire me and that my clothing attracts.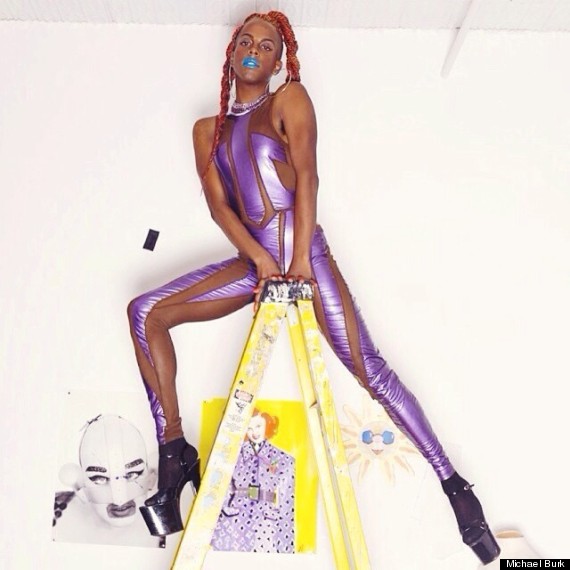 BCALLA is built on collaborations with other dreamers who refuse to see the world the way it is. My freshman year of college all my professors thought I was designing womenswear for men because my fashion illustrations looked like drag queens (In actuality I was just super inspired by Pat Mcgrath for Galliano, whom I adored). After hearing this critique I started heavily researching queer theory focusing on the trans community. It was through this research that it dawned on me that as a cognitive person you are able to choose your own identity. I find those who are seriously devoted to this ideology to be extremely inspiring and these are the people I want to wear BCALLA. There is something extremely romantic and satisfying about not only being a part of someone's fantasies but aiding in bringing them to life.
Historically the fashion world has been extremely queer friendly -- what role do you think the fashion world has played within mainstream acceptance of LGBT identity?
I think it has played a huge role. For me, I moved to San Diego when I was 13 and started living openly gay by 14. Thankfully this was at the height of "Queer Eye for the Straight Guy" and I was able to use that to survive transitioning from "weird gay kid" to "fashion expert." It not only made my high school years bearable but also gave me the confidence to move forward in the exact direction I wanted to.
But outside of my own experience, the queer aesthetic is certainly a power player in the industry. An example of this would be YSL's "Le Smoking," which is not only a major moment in fashion history but also a huge homage to queer history (Marlene Dietrich). I think moments like that illustrate queerness in the industry that permeate the mainstream.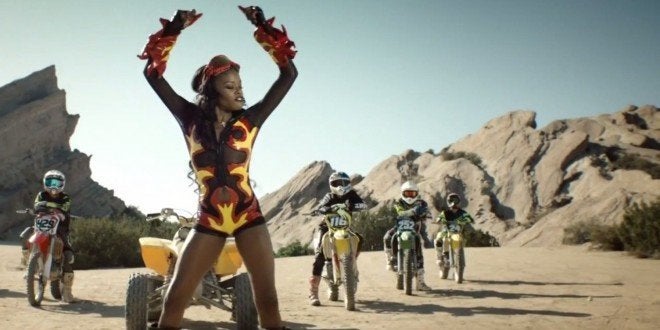 BCALLA
Where did you draw inspiration for your new lookbook? What is your concept?
This season was all about drawing. I was really thinking about how every BCALLA piece starts with a line drawing and then is brought into my technicolor wonderland. I've been making sharpie shirts for a while so it seemed natural to use that technique for the black and white pieces. Then I collaborated with my friend CJ "shruglife" Crouton who airbrushed the colored pieces for the collection. I found Melanie on Instagram and she looks just like one of my fashion drawings -- it was crazy to literally see your drawing in real life right in front of you. As for the location, I've been shooting my looks in my stairwell for a few weeks so it just felt right to stage the look book there. I've gotten really into Instagram and it's helped me reach a much wider audience, so I decided to release the new collection there first -- as that's where most people were keeping up with the brand. Of course, I needed to use video with the Instagram presentation to really see the clothing in action and I had Peter Staples help me with that and Adam Bohemond did the makeup. It was a dream team that produced a serious fantasy.
What's next for BCALLA?
I'm currently working on a web store selling one off BCALLA pieces available at www.bcalla.com.
Want to see more from BCALLA? Head here to check out the designer's Instagram. Missed the previous installments in this series? Check out the slideshow below.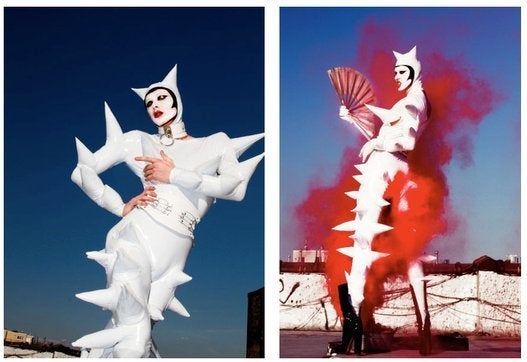 FABRICATIONS
Popular in the Community