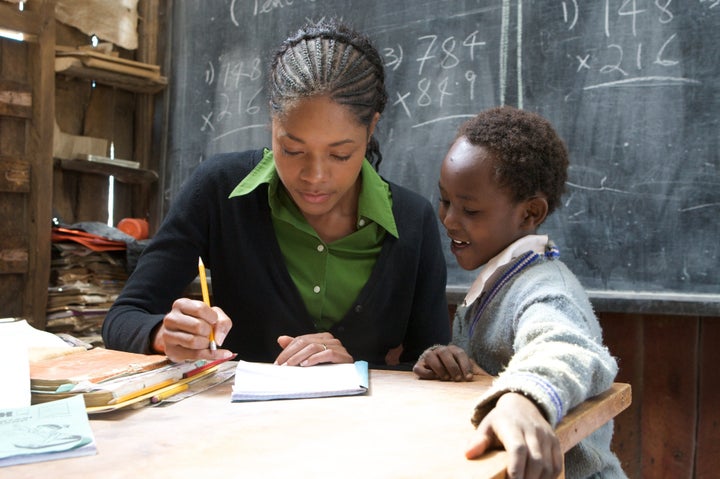 It's every actor's dream to get one of those rare dream jobs where you get to truly stretch yourself, travel to foreign lands, immerse yourself in a different culture, and see the world through someone else's eyes. Justin Chadwick, with his film, The First Grader, gave me one of those rare opportunities. While the thought of making a movie without the most basic comforts (no trailers, a hole in the ground surrounded by corrugated iron for a toilet, a plastic bucket for bathing, and the classroom floor as the only place to rest in between shooting) might not be appealing to many, it certainly was to me.
To play Jane Obinchu, a teacher at a rural primary school in Kenya, was a great honor. This was a complex, determined and inspiring woman, who amidst controversy and opposition from her local community as well as the Kenyan government, supported a man's struggle to learn how to read at the age of 84. A Mau Mau veteran who fought for the liberation of his country, Kimani Ng'ang'a Maruge was desperate to learn how to read -- even if it meant sitting in a classroom alongside 6-year-olds.
Two weeks before cameras started rolling, I traveled to Kenya (having already perfected my Kenyan accent) and was introduced to the students, at the school we would later shoot at, as their new teacher -- "Teacher Jane." And that is how I was known to the students from that point on when I began the hardest job of my life -- teaching. I taught a classroom of 80 children whose ages ranged from 5 to 21.
Initially, when I heard I would not just act the part, but actually be a teacher, I couldn't wait to dive in. I have been around kids all my life, and my stepfather is a teacher, so I was convinced that I could do it. In fact, I was naive enough to think it would be a piece of cake. I soon realized how wrong I was, and what an enormous difference there is between playing a teacher and actually being one.
The children in my packed Kenyan classroom were so different from any I'd encountered before -- so reserved and incredibly respectful. In the Maasai Tribe, children are taught that it is disrespectful to look an adult in the eye, let alone engage in dialogue with them. So when I eagerly introduced myself, they just sat there silently and politely observed me. I thought, "How am I ever going to establish a relationship with these children?" Apart from the reverence afforded adults, and teachers in particular, which made it difficult for them to be anything other than obedient, there was the huge challenge of the language barrier, as English was not the first language for any of the children.
Needless to say, my first week was incredibly tough. I spent my evenings in tears, talking on Skype with my stepfather to get lesson plans for the following day. I felt a sudden and enormous responsibility. I didn't want to fail these children, even if for only these few weeks that I had with them. My stepfather would guide me through lessons I could implement in math and English, which is what the school focused on, and I would spend my free time trying to learn key phrases in Swahili (the language understood by the majority of the children) in order to be able to communicate with them more effectively.
Beyond the technical demands of the job of teacher, there were the emotional. In my class, there was a 21-year-old who had a similar story to the 84-year-old, Maruge. He had been a goat herder and never received the opportunity to learn to read or write. So, although he was 21, he was often unable to understand lessons children half his age found easy.
One of the many challenges for these children is maintaining a focus on education because so many of them are called to work. For young girls especially, it's incredibly important for them to receive an education early on as they're likely to be pulled out of school at 13 or even younger to marry. And in all likelihood, it is these girls who will educate their own children. Those thoughts circled my mind, when the students, like little Susan, who had the most striking eyes I'd ever seen, would gently hold my hand.
Then there was Agnes -- born with a deformity. Her parents had been so ashamed of her birth abnormality that they had kept her locked in their home, until one of the teachers from the school had rescued her and demanded that she be sent to school. When I met Agnes she had a wooden leg, which had not been changed in four years, and it caused her great pain as she walked miles to get to school. (The production established a fund so that Agnes is able to get a new leg fitted every year.) How children living under such stressful living conditions could concentrate in school astounded me.
After some time and a bit of patience on my part, the children slowly began to open up, laugh and reveal their different personalities to me. Seeing this transformation, and the trust we formed, led to one of the most rewarding experiences of my life.
As the days went on, I saw how incredibly motivated these children are to receive an education. Their hunger for knowledge was something I'll never forget. They treat education as a gift and hold a great deal of respect for their teachers. Most of these children get up in the morning, before dawn, and work on their farms and then walk miles to school, work all day, and then go back and work on their farms in the late afternoon. And yet -- they were eager and enthusiastic when they were in the classroom. No toys, video games, televisions -- so this gift of education is all they have and it is cherished.
At the end of my time with them, I'd learned so much more than I could ever teach them. I learned the value of community and what it really means to live in the present moment with faith and gratitude for what is. I also learned that those patient, brave teachers who dedicate themselves to the advancement and well being of children both in Kenya and around the world are true angels. After my experience, I am convinced teaching is the both one of the hardest jobs in the world, as well as being one of the most rewarding. I truly bless those who do it.
For all the basic needs they lacked, the children in Kenya had something that is rare in other more developed parts of the world: a love, respect and appreciation for education. The other problems can be solved with money and will. This love of learning is a value that must be taught and handed down through generations.
Throughout our stay, our director Justin Chadwick and our line producer Trevor Ingham, made it their mission to leave the school better than how it was found and to give back to the community that gave us so much. After we finished filming, running water and electricity were installed in the school. The building was in disrepair, so classrooms were repainted, new floors and windows put in, and the building re-roofed. Three different charities were set up by the cast and crew for on-going sustainability: one for the school, one for another nearby school, and one for the local community.
The issue of education is important in all walks of life and not just in rural countries. To help assist women's further education in the United Kingdom, please visit The Women's Careers Foundation (Girls of the Realm Guild) of which I am the patron.
To make a donation to the charities that support education for girls and young women in Kenya, please visit www.precioussisters.org. Please help where you can.
Related
Popular in the Community