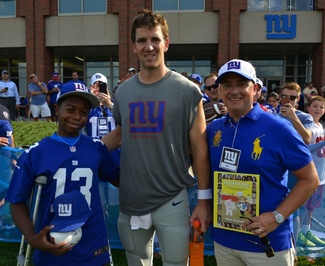 Imagine if 18 time Olympic Gold Medalist Michael Phelps' mother never took him to swimming practice, or if three time Oscar winner Meryl Streep was told not to audition for the school play. What if Hamilton star Lin Manuel Miranda's drama teacher told him that Broadway was too competitive, or Taylor Swift's mentor told her to get a more "secure" job? These superstars, and so many before them, believed in themselves. Others believed in them too, and the result was that their dreams came true.

Last year I was in a meeting with the head of development of a major children's television network. I told him that we need to encourage children to follow their dreams and his response was that this was irresponsible and setting children up for failure. There I was in the plush offices of this children's television leader, with a man responsible for developing television programming messages for our children's young malleable minds, and I couldn't believe what I was hearing.

When I was a child I dreamed of becoming a writer. Had it not been for my Aunt Kay, a National Teacher of the Year, who lived in Scottsdale, Arizona, I may never have pursued my dream. "Never forget your writing," she would say. "Always believe in yourself!"

And so, when I graduated from law school, I worked for a Judge and it inspired me to write a legal thriller titled Crimes of Fire. I thought I was going to be the next John Grisham overnight. While I toured about 10 Barnes and Noble stores with the book, it ended there, and John Grisham I did not become. Years later, I came up with an idea for a children's book character - a fluffy little lamb named Loukoumi that just wants to make the world a better place. Seven children's books later, my dream has come true!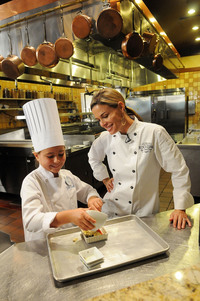 In 2006, I released the second book in the series titled Growing Up With Loukoumi in which Loukoumi explores various careers and learns that she can be anything when she grows up if she works hard and believes in herself. The book also launched the national Loukoumi Dream Day contest where kids submit videos saying: When I grow up I want to be (or "I wanna be" as they often say) a ___________ because...
The winners of the contest get to live a day in their dream career. Our first winner, 10 year-old Sophie, wanted to be a Mars Rover Engineer. To be honest with you I didn't even know what that was and I was secretly hoping she would not win the contest because I did not know how in the world (or in outer space for that matter) I was possibly going to make her dream day come true. Sure enough, our judging panel selected Sophie as our winner and before panicking I called NASA, blindly. I did not know anyone there and after being transferred on the phone to several people I finally got someone responsible for landing the Rovers on the planet Mars.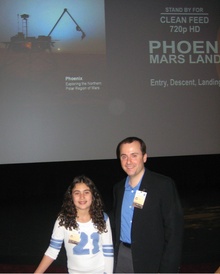 They said they loved the fact that Sophie wanted to be a Mars Rover Engineer and they invited her to their Jet Propulsion Lab in Pasadena, California to watch the Phoenix spaceship land on Mars, Memorial Day Weekend 2008. It was an unbelievably incredible experience watching the Phoenix in real time enter the Mars orbit and actually land on the red planet. I will never forget Sophie's joyful face after the spacecraft landed when she turned to me and said that because of this experience there was no doubt that she wanted to be a Mars Rover Engineer. It was then that I realized that helping kids achieve their dreams was an important part of mine.
Subsequent Loukoumi Dream Day contest winners have played soccer with New York's professional team, The Red Bulls; cooked their favorite recipes with celebrity chef Cat Cora at Disney World; visited New York Giants Training Camp and hung out with players like Eli Manning and Odell Beckham Jr.; met and received acting tips at Lincoln Center from their favorite Nickelodeon actress, Nathalia Ramos; spent the day with the NYPD riding in a patrol car, driving a police boat and visiting the K-9 unit; visited Rachael Ray on the set of her show and cooked on television with CBS food host Tony Tantillo; and 11 year-old Sophia lived her dream of being a Broadway star by very appropriately singing the Journey anthem Don't Stop Believin' from the Rock of Ages stage with Tony Nominee Constantine Maroulis. Sophia's dream experience was featured in our Make A Difference with Loukoumi TV Special on FOX, and now she is energized to audition for Broadway plays.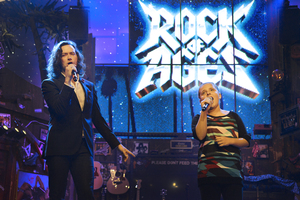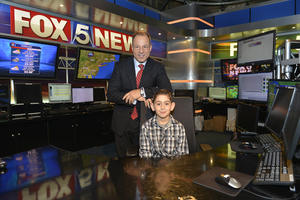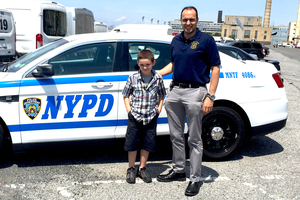 Last week was our latest Dream Day winner Panagioti's turn. He wants to be a meteorologist and chase storms one day. We brought him to the FOX-5 studios in Manhattan where he got to shadow legendary meteorologist Nick Gregory. Watching this almost 8 year old, or any of these kids for that matter, actually live their dreams is pure magic! Their eyes light up, their speech quickens and you can almost see their hearts beating as they all of a sudden come to the realization that their dreams ARE possible.
Unfortunately, not everyone is fortunate enough to receive encouraging career advice from Eli Manning, Rachael Ray or Nick Gregory. In fact, too many children are discouraged today from pursuing their dreams. That is why it is incumbent on us as parents, educators and mentors to listen to our children. We need to hear the voices that are in their souls - the voices that one day could sing from the Broadway stage, or cheer after scoring the winning touchdown. It is our responsibility to nurture these dreams and help these children blossom because if by contrast they are taught not to pursue their dreams, what a shame it would be for a promising superstar to spend the rest of their lives wondering what might have been.

What I always tell a child with a dream is that they should follow their passion with everything they've got, work hard, believe in themselves and their dreams can come true.

I realize that not all dreams work out the way we plan, but by pursuing your dream it opens up a whole new world, and you may stumble across a variation of your dream that you may not have otherwise thought about. If you want to be a baseball player, along the path to the World Series you may realize that you don't want to be a player, but instead you could be a coach, or an announcer, or work on the business side of a professional team. If you want to be an actor, along the road to Hollywood you may realize that instead you might want to be a screenwriter, or a director, or a make-up artist.

The path to your dream could take you to another magical place that you may never have dreamed of before. When I was a kid, never in my wildest dreams did I ever think that my passion to become a writer would take me to a book series about a fluffy little lamb named Loukoumi. And now that path continues with the Loukoumi Make A Difference Foundation where we encourage children to make a difference in their lives and the lives of others. To all you dreamers out there: Don't let anyone, TV Producer or otherwise, tell you that you can't follow your dream. Work hard, believe in yourselves and along the way, your dream, in one form or another, can come true too!
The Loukoumi Make A Difference Foundation is now accepting entries for its 2016 Loukoumi Dream Day Contest. Simply have your child (ages 5 to 14) submit a cell phone video, 30 seconds or less, stating: Hi, my name is ___________ and when I grow up I want to be __________ because....... Email all entries to Loukoumi@aol.com by May 1. The winner will live their dream career for a day! For more on the Loukoumi Foundation please visit www.LoukoumiFoundation.org
Photos from top: Jordan lives his dream day at NY Giants training camp pictured with Eli Manning and Nick Katsoris (photo by Jillian Nelson), Grace lives her dream day with Cat Cora, Sophie lives her dream day at NASA's Jet Propulsion Lab pictured with Nick Katsoris, Sophia lives her Broadway dream day with Constantine Maroulis (photo by Jillian Nelson), Panagioti lives his dream day with Nick Gregory (photo by Jillian Nelson), and Evan lives his dream day with the NYPD.