Ben & Jerry's is notorious for coming up with some of the most creative ice cream flavors we've ever seen. From pop culture references to modern twists on old favorites, they've cycled through quite a few incredibly successful flavors -- and, inevitably, a few flops.
Consequently, not all flavors can become promoted to full-time Ben & Jerry's staples, and some end up getting discontinued. Ben & Jerry's even has a 'Flavor Graveyard' (both at their headquarters and on their website) to make sure these former flavors are properly laid to rest.
But we think some of these discontinued flavors suffered an untimely death -- there may have even been some foul play involved (how else can Ben & Jerry's explain axing these favorites?!). The HuffPost Taste editors chose the 8 flavors we miss the most, and now we want you to vote for the departed flavor that you most wish would come back. Ben & Jerry's, beware the wrath of wronged ice cream enthusiasts.
Here's how the Discontinued Ben & Jerry's Flavor Deathmatch will happen:
Round One voting opens October 9 -- vote right now!
Thursday, October 10 at 12:00am Eastern, Round Two opens.
Friday, October 11 at 12:00am Eastern, you'll be able to vote in Round Three.
Saturday morning, October 12, we'll announce which flavor is the most missed.
CONTEST: Want a year's supply of Ben & Jerry's? First, vote below! Then, in one tweet, mention @benandjerrys and @HuffPostTaste and let us know why you voted for that flavor. If your flavor ends up winning the Deathmatch, you'll be entered into a random drawing where one lucky fan will win 52 free pint coupons, or one pint per week for a year!
For a reminder of what these flavors were made of:
Oatmeal Cookie Chunk: Sweet cream cinnamon ice cream with chunks of oatmeal cookies & fudge
Tennessee Mud: Coffee ice cream with amaretto, Jack Daniels Tennessee whiskey, and roasted slivered almonds
Dave Matthews Band's Magic Brownies: Vanilla ice cream, fudge brownies & chocolate raspberry swirls
The Gobfather: Chocolate ice cream with fudge-covered almonds & a nougat swirl
Monkey Wrench: A wacky whirl of banana ice cream & peanut butter ice cream mixed with fudge chunks, walnuts & peanut butter cups
Rainforest Crunch: Our French vanilla ice cream with chunks of rainforest crunch, a cashew and brazil nut buttercrunch
Bovinity Divinity: Milk chocolate ice cream and white chocolate cows swirled with white chocolate ice cream and dark fudge cows
Wavy Gravy: Caramel and cashew brazil nut ice cream with a chocolate hazelnut fudge swirl and roasted almonds
Related
Before You Go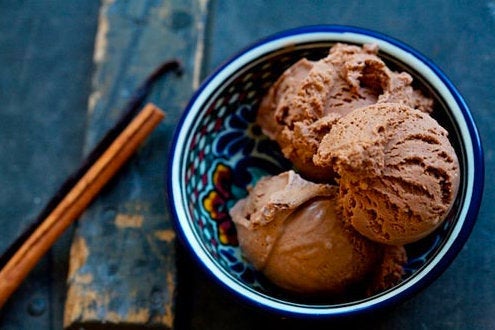 Ice Cream Recipes