WASHINGTON -- Responding to a poll showing him surging in Iowa, Democratic presidential contender Sen. Bernie Sanders (I-Vt.) argued on Sunday that his supporters are "not necessarily anti-Hillary Clinton."
"I think the gains that we are seeing, and the enthusiasm and the huge crowds that we are seeing, this is not anti-Hillary Clinton. This is pro-Bernie Sanders and pro a message that says enough is enough. This country and our government belong to all of us, not just a handful of very wealthy people," he told ABC's Martha Raddatz.
A Des Moines Register/Bloomberg Politics poll released Saturday showed Sanders just 7 points behind Democratic front-runner Hillary Clinton, another in a series of polls from Iowa and New Hampshire showing him within reach or even ahead of Clinton.
Many of those polls do not indicate that Sanders, seen as a progressive alternative to Clinton, is taking support away from the former secretary of state. For example, in Saturday's poll, 96 percent of those who supported Sanders said they did so because of his ideas, while 2 percent said they back him mostly because they do not support Clinton.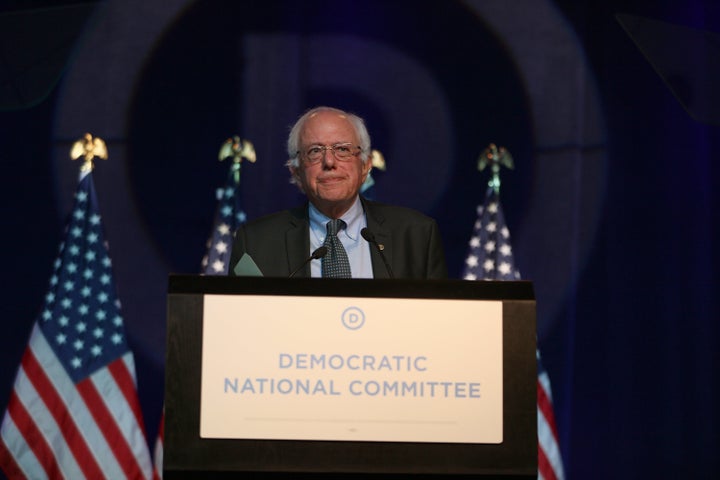 Although the poll results will likely buoy the spirits of Sanders supporters and cast more doubt on Clinton's viability as the front-runner, it is still too early to place much stock in primary polling. In addition, Sanders continues to trail Clinton by more than 20 points nationally, according to HuffPost Pollster's aggregate of national polling.
But Sanders believes that unlike Clinton, he is the candidate with an engaging message for Democratic voters. On Sunday, he reiterated an argument he made on Friday in a speech to the Democratic National Committee, saying that Democrats took a shellacking in last year's midterm elections because they did not do enough to energize the party's voters.
"Democratic leaders are not dumb. What they want and what I want is to make sure that we do not see a Republican gain control over the White House," he said on Sunday. "And I think as these leaders look around the country and see the kind of energy and see the kind of huge turnouts we're getting, seeing the kind of young people who, for the first time, are getting involved in the political process, see the kind of working people who are coming out to our events, I think what these leaders -- maybe not today but in a couple months will say, you know, we want to win."
Popular in the Community