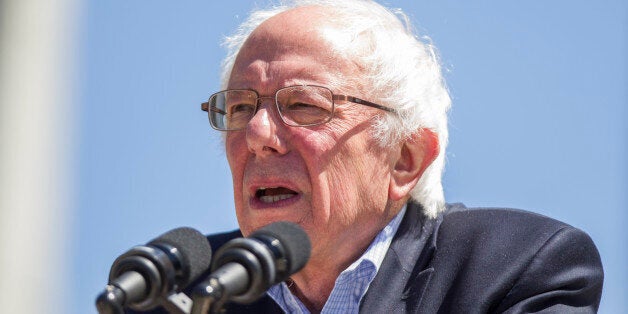 I love the Bern. I even feel the Bern occasionally. But I'm afraid he unwittingly stumbled into a sticky Big Soda trap last week when he declined to support the soda tax that Philadelphia's popular mayor Jim Kenney is fighting for.
"It would be regressive and hurt poor people," Bernie said, ignoring the fact that sugary beverages themselves disproportionately hurt low-income, predominantly minority communities. The beverage industry has made a fortune enticing impressionable young children to become literally addicted to their products before they're old enough to realize that drinking the stuff is putting them on the fast track to obesity and diabetes.
One 16 ounce serving of Coke contains 12 teaspoons of sugar -- as much as a child should consume in three days! -- but the beverage industry shamelessly encourages kids to form the soda habit at the expense of their own health, and they'll attack any city that dares to confront this epidemic.
Mayor Kenney feels no one should "side with greedy beverage corporations who have spent millions in advertising for decades to target low income minority communities." The revenues from Mayor Kenney's proposed 3-cents-per-ounce soda tax would benefit Philadelphia's poorest residents by funding universal pre-K programs, restoring recreation centers and libraries, and buying the city's police and firefighters new equipment. Additionally, the tax will be levied on soda distributors--big corporations that try to distort the facts while targeting their harmful products to our most vulnerable communities. Finally, Bernie suggested Mayor Kenney tax wealthier Philadelphians for the programs -- clearly not aware that the taxing authority for that would lie with Pennsylvania's Republican-dominated state legislature. If only a staffer had explained those nuances to Bernie, I think he would have handily agreed with Mayor Kenney and Hillary Clinton, who supports the tax.
Philadelphia has a 26% poverty rate, the highest of any large American city, and Mayor Kenney, who grew up in South Philly, is determined to tackle the challenges facing his beloved hometown: the chronically underfunded schools; the decaying rec centers and libraries; the working-class families facing high rates of diet-related diseases.
To Mayor Kenney, it seems only fair that the corporations who've siphoned so much money out of his city's poorest neighborhoods should funnel some of it back into those struggling communities. As he said at a recent rally to explain his proposal, "what we're looking to do is to take some of that profit, to put it back into the neighborhoods that have been their biggest customers, to improve the lives and opportunities for the people who live there."
The American Beverage Association, which represents Coke, Pepsi, Dr. Pepper Snapple Group and others, has spent insane amounts of money campaigning against grassroots soda tax initiatives. As NPR reported, the ABA spent more than $9 million dollars trying to defeat the 1-cent-per-ounce soda tax that Berkeley, California successfully passed in 2014.
The soda manufacturers know a soda tax inevitably reduces consumption (as it did in Mexico), and of course they don't want kids drinking less soda or Gatorade. They don't care that this will be the first generation whose life expectancy is shorter than their parents because of diet-related diseases. Healthy kids? Early childhood education? Revitalized neighborhood gyms and libraries? Not on their agenda.
What is on their agenda is to halt the declining sales of a product we now know can be deadly.The soda lobby is so deceitful that it creates phony front groups to conceal its tactics in the soda tax wars. In the Philly case, it's called Philadelphians Against the Grocery Tax, and they parrot the tried, true and oh-so-tired tobacco playbook of "jobs," "nanny state," and "grocery tax" to make their morally bankrupt case. Hopefully, Americans are getting familiar -- and annoyed -- with these misrepresentations.
Mayor Kenney remarked on this directly in a recent press conference, saying, "You're going to hear a lot from Big Soda -- there's going to be an air war, there's going to be a ground war, and there's going to be lobbyists up the wazoo."
"These are my lobbyists," Kenney said, gesturing to the constituents behind him. "I don't think I can fail, based on the people who are standing behind me, because they are Philadelphia. They're not corporate America, they're not Big Soda, and this is not personal toward Big Soda, but there's a lot of money being made off the backs of poor people."
Soda is the tobacco of the food industry. Sugar is the killer. Time for a tax.
Popular in the Community