For the past year, Food52.com readers have been voting in weekly showdowns of reader-submitted recipes on a given theme. The winning recipes of each week will end up in Food52's upcoming cookbook, along with bios of the people who submitted them (Food52 explains the process in simple detail here).
Food52 and its co-founders Amanda Hesser and Merrill Stubbs have invited HuffPost Food readers to vote on week 25's contest (of the second year, and the second book).
This week's showdown is for the best recipe with citrus and olives.
Check the finalists out below, and vote for your favorite here.
* * *
Coconut Cajeta & Chocolate Fondue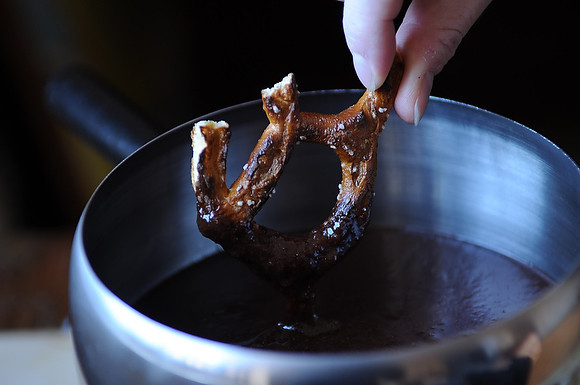 Photo: Sarah Shatz
Amanda and Merrill's notes on Coconut Cajeta & Chocolate Fondue on Food52.com:
We loved the idea of fondue made with chocolate and cajeta (a close cousin of dulce de leche), and when we saw that hardlikearmour used coconut milk to make her cajeta, well -- there was no holding us back. Her fondue is silken and almost custardy, punctuated with rum and vanilla and generously salted, the way we like caramel to be. Not surprisingly, it is quite rich and sweet, and we found our favorite dipping instrument ended up being salty, extra-dark pretzels. We highly recommend you try the combination. - A&M
View the Coconut Cajeta & Chocolate Fondue recipe here.
* * *
Traditional Fondue Fribourgeois - Legendary and Original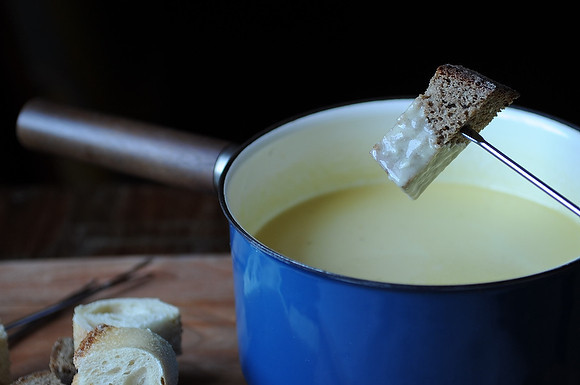 Photo: Sarah Shatz
Amanda and Merrill's notes on Traditional Fondue Fribourgeois on Food52.com:
Rabino's fondue adheres strictly to tradition, proving that newer doesn't always mean better. His classic Swiss recipe calls for a blend of Gruyere (fondue's dutiful workhorse) and the more pungent, creamier Vacherin Fribourgeois. (If you can't find Vacherin, you can use just use twice the amount of Gruyere, or sub in something semi-soft and a little stinky, like a good Fontina.) Rabino's fastidious technique is the soul of his recipe: he starts by having you rub the inside of the pot with a crushed garlic clove, add and warm white wine and then gradually work in the cheese so you get a smooth texture. Nutmeg, pepper, lemon juice (a first for us), and a shot of Kirsch bring the molten cheese and wine to life, and a touch of cornstarch thickens the mixture and keeps it from breaking. This is a loose fondue, clinging gently to whatever you dip in it; if you like yours more substantial, just stir in a little extra cornstarch, thinned with a few drops of water. - A&M
View the Traditional Fondue Fribourgeois recipe here.
REAL LIFE. REAL NEWS. REAL VOICES.
Help us tell more of the stories that matter from voices that too often remain unheard.