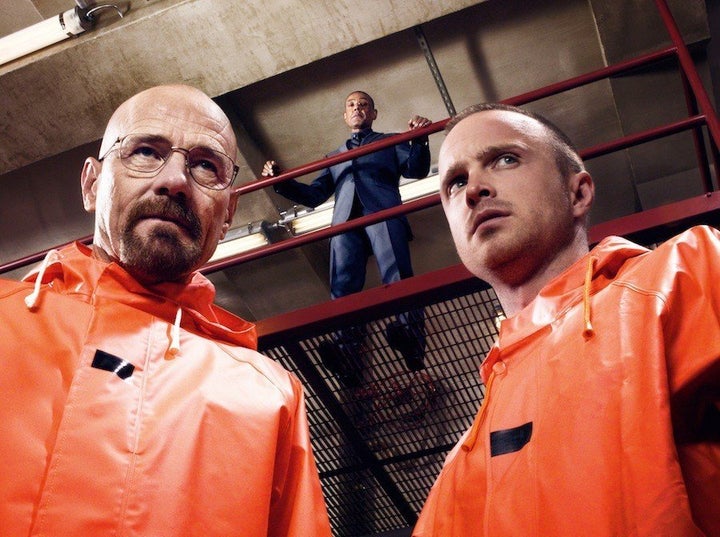 The weirdest thing about my list of the best television shows of the year is that "Mad Men" is not on it. This December, it feels odd not to be writing about the exploits of Don Draper and his fellow ad men and women. But the good news is that 2011 was a very good year for television, even without Roger Sterling's witticisms and Don's flings and existential crises.
I don't want to blather too much before getting to my list of 11 favorites, but a few notes are in order. First of all, yes, there are 11 shows on this list as opposed to my usual 10. AOL and The Huffington Post are highlighting various "Top 11 in '11" lists, and I was more than happy to be given one more slot by that company-wide initiative.
Secondly, per my usual policy, once I make my final list of favorites, I do not rank shows within that list. As a lister and sorter of Things That Are Great in Very Different Ways, whacking my list down to 11 pushes me to my television-loving limits; beyond that I cannot go.
So what's below is an alphabetical roster of my 11 favorite TV shows of 2011. Below that are my "Best of the Rest" and "Must Mentions."
Regarding what didn't make my Top Shows of 2011 list, I will adapt a line from critic James Poniewozik's Best of 2011 post and say that if a program is not on my roster, that's no knock on that show, I just "didn't want to remove any of these 11 shows to make room for it, period."
"Awkward.," MTV: Much was written in 2011 about comedies made by women, but this gem, created by Lauren Iungerich, seems to have gotten a little lost in the year-end shuffle. Consider the inclusion of "Awkward." in this list as a small attempt to bring more notice to the MTV comedy, which featured raunchy yet hilarious dialogue and a surprisingly thoughtful, generous heart. Sure, some of the supporting characters were a little weak, especially early in the show's debut season, but "Awkward." deserves kudos for offering a fresh take on a frequently clichéd subject -- those painfully embarrassing high school years -- and an acerbic young heroine who was smart and personable, but whose self-sabotage was entirely believable.
"Breaking Bad," AMC: As I said, I don't rank my annual Top 10 (or Top 11) list, but let's face it, no other drama came close to having the kind of year that "Breaking Bad" did, and it ended a close-to-perfect run of 2011 episodes with one of the greatest season finales of all time. In its fourth year, "Breaking Bad" was at the height of its considerable powers; the dependably stellar cast outdid itself once again (especially Giancarlo Esposito, who quietly made Gus Fring a TV legend), the spare yet gorgeous aesthetic offered a visual feast and the show's writers gave a master class on how to create and sustain tension. Yet the most impressive thing about "Breaking Bad" was the way it walked a moral razor's edge: It invited us to judge the reprehensible actions of Walter White (Bryan Cranston) even as it made us even more fully understand (and even identify with) his desire to be "the one who knocks."
"Community," NBC: Better late than never, right? Having sampled the first two seasons of this show and found it a little off-puttingly arch, I didn't fully catch "Community" fever until Season 3's "Remedial Chaos Theory," which scored a direct hit on the pleasure centers of my brain. Going back to watch the rest of 2011's episodes was a delightful homework assignment. Though I'll freely admit that not every episode works for me, the "Community" outings that combine astute emotional observations with giddily ambitious concepts and witty cultural references make the whole Greendale enterprise an ongoing delight.
"Downton Abbey," Masterpiece on PBS: Some people enjoy mixed martial arts tournaments: I prefer combatants who are wearing corsets and three-piece suits. Yes, I've always been a sucker for costume dramas -- especially those that give Maggie Smith multiple opportunities to demonstrate her awesomeness -- but Julian Fellowes' Edwardian drama wasn't just an excuse to haul out the waistcoats and fancy silver. The first season of "Downton Abbey" made astute observations about a social order that seemed as solid as Lord Grantham's stately home, but was, in fact, under a great deal of pressure and primed to break apart. All that sly social commentary and several well played love stories made "Downton Abbey" even more enjoyable than hot scones and a nice cup of tea.
"Friday Night Lights," NBC: I have nothing against film, but "Friday Night Lights" is the kind of show that makes me glad to be a television critic. Over five seasons, we got to know the residents of Dillon so deeply and so well that saying goodbye to this show inevitably led to tears and lingering homesickness. We can feel homesick for a place that never existed because five seasons was long enough to make that place seem absolutely real. The "FNL" writers, cast, directors and production crew made Dillon real, as real as "The Shield's" Barn, as real as Tony Soprano's McMansion, as real as Pawnee's City Hall. We shed tears with the residents of Dillon, we shared in their triumphs, we knew their hopes and dreams and we got glimpses of the darker corners of their hearts. "FNL" made us better for having known these people. Full hearts.
"Game of Thrones," HBO: After a somewhat lumbering start, this fantasy epic kicked into high gear about midway through its first season and became a transfixing chronicle of flawed, complicated people attempting to keep themselves and their families alive during desperate times. Though its vistas were grand and its look was often exotic, "Game of Thrones" wisely kept its focus on a core group of characters who learned heartbreaking lessons about when to compromise and when to fight. Whether they were nobles or street fighters, nothing came easy for these people, and that's what made their lives so relatable, no matter what kind of problems they faced.
"Homeland," Showtime: "Homeland," the best new drama of the year, gave us the war on terror not as an avenging fantasy, but as a cautionary tale. Stars (and future award winners) Damien Lewis and Claire Danes provided sensational depictions of characters consumed by the ideas of protection and vengeance. The thriller aspects of "Homeland" could be quite satisfying, but the show was at its best when Lewis, Danes and co-star Mandy Patinkin were allowed to explore the difficult, confusing lives of these brilliant yet damaged people. The title is a quiet irony: None of them has a peaceful home or place to land, not while their minds are so fixed on the tragedies they've known and the ones they hope to avert. This compelling drama never offered the prospect of easy catharsis because what Nicholas Brody and Carrie Mathison lost can never be regained.

"Justified," FX: There's something pleasingly retro about "Justified," but why is that? Is it because Raylan Givens reeks of the kind of easy masculinity last seen in stars like Gary Cooper and Robert Mitchum? Is it because even characters who are on the wrong side of the law usually have a devout belief in concepts like honor, loyalty and hard work? Or is it because the show itself clearly has an old-fashioned work ethic? "Justified" clearly works hard to satisfy its loyal audience in ways small and large, but this smooth concoction never makes a dumb move or appears to break a sweat. "Justified" is a lot of things -- including a showcase for some of the best acting and dialogue on TV -- but one of the main things it does is disprove the notion that the very best cable dramas have to be depressing as hell. In fact, recalling Margo Martindale's unbelievable guest turn in Season 2 is bringing a smile to my face right now.
"Louie," FX: It's hard to describe what "Louie" is; it's almost more descriptive to say what it isn't. It isn't your typical situation comedy ("Louie" time isn't particularly linear and, aside from the frequent presence of actresses playing the comic's daughters, the cast of characters changes a lot). "Louie" also isn't your typical cable comedy; those usually sells themselves as edgy, but are often merely self-indulgent. Louie C.K.'s FX show is never that, despite the fact that it is a compendium of things that he is interested in and wants to explore. It's a diary of an intelligent, fiercely funny man's curiosity, and part of the delight comes from wondering where Louie's mind will range next. The comic deserves major praise for creating something that's not just gut-bustingly funny, thoughtful and relentlessly honest, but also unique on the TV scene, and refreshingly sincere as well.
"Men of a Certain Age," TNT: Why is a canceled show on this list? To get you to find it and see what you missed, and to give further recognition to one of the most underrated dramas of the last few years. Like another show on this list, "Friday Night Lights," "Men of a Certain Age" explored the small triumphs and daily heartbreaks that make up so much of everyday life, and the TNT show did all that with grace, insight and a trio of stunningly subtle and wonderful performances from Ray Romano, Andre Braugher and Scott Bakula. It was a wise, funny, rewarding and wonderfully rueful show for men and women of all ages.
"Parks and Recreation," NBC: Critic Alan Sepinwall recently compared the detailed community of "Parks and Recreation" to that of "The Wire" (and observed that the NBC show draws vastly different conclusions about the individual's ability to effect change in his or her world). Last week, Time's James Poniewozik compared "Parks and Rec" to "Friday Night Lights," which also depicted webs of complex relationships in a tight-knit community. That tempts me to up the critical ante by comparing "Parks and Rec" to "Deadwood," but it's hard not to become distracted by the idea of the greatest potential TV crossover of all time (ideally, it'd feature an old-fashioned prairie drink-off between Ron Swanson and Al Swearengen). In all seriousness, there is a parallel to be made: The HBO Western was about a group of disparate people who found that, in spite of their fiercely independent personalities, they had become a kind of family, one that would band together to defend itself from malign outside forces and those who didn't respect or understand their ways. Like "Deadwood," "Parks and Rec" comedy quietly makes the case that even when bad things happen, there's still something to hope for and strive for, and that discord and cynicism are real, but so are love and altruism. I'll put aside the comparisons to observe that the show leaves me feeling good at the end of most episodes because it celebrates the idea that, no matter what political, social or cultural differences they have, people can party together, fall in love and even do good things in this world. In the wrong hands, "Parks and Rec's" optimism and Leslie Knope's ferocious positivity could be unbearable. In the hands of the "Parks and Rec" writers and cast, those things are the sources of some of the most demented, incisive and wonderful comedy on TV.
The Best of the Rest (Shows I enjoyed a lot, but didn't make the list above for one reason or another): "Cougar Town," "The Good Wife," "Revenge," "Happy Endings," "Spartacus: Gods of the Arena," "Doctor Who," "Case Histories," "Alphas," "New Girl," "Chuck," "Burn Notice," "The Hour," "The Good Wife," "Archer," "Parenthood," "Prime Suspect," the royal wedding, "Page Eight," "Regular Show," "Appropriate Adult" and "Portlandia."
The Must Mentions (Though I have conflicted feelings about the following shows -- which I've explored in past reviews or will delineate in future pieces -- I feel the following programs must be at least mentioned. They all had problems, some of them bigger than others, but they also gave me some moments of real pleasure in their most recent seasons): "The Walking Dead," "Luther," "Modern Family," "Fringe" and "Sons of Anarchy."
For more discussion of 2011's best shows, check out this week's installment of the Talking TV with Ryan and Ryan podcast, which features Mo and TV critic Ryan McGee talking about many of the finest programs of the year. You can find it on iTunes or on the Talking TV site.
Popular in the Community