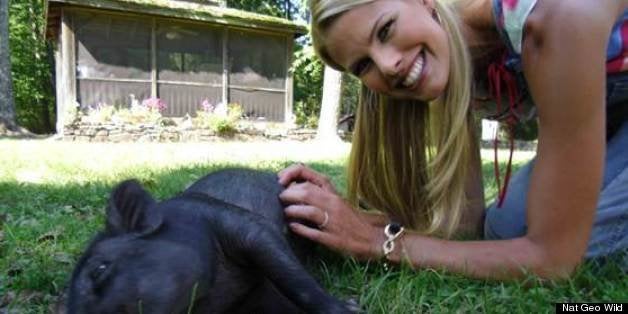 These days, our knowledge of celebrities too often originates with paparazzi images and snarky quotes by anonymous "insiders." After a while, it's easy to forget that stars are real people. That's why HuffPost Celebrity decided to launch its all-new #nofilter quick-fire question-and-answer series. Because how well do you know someone until they've shared their guiltiest pleasures?
If there are two things Beth Stern loves in this world, it's her husband, outspoken radio personality Howard Stern, and animals. She's sharing her love for the latter with the world on the new show "Spoiled Rotten Pets," which premieres Saturday, April 20, on Nat Geo Wild. She's sharing her love for her hubby with The Huffington Post, speculating on Howard's rumored late-night possibilities and how the couple incorporates "Fifty Shades of Grey" into their lives. The 40-year-old actress, model and animal advocate took our #nofilter challenge and gave herself a "B" on it.
How did the show come about, and specifically how did you get tied to it?
Well, I think that pretty much people in my world or in my husband's world know my passion and love for animals, and I go regularly on morning shows and do adoption segments for the North Shore Animal League, and Nat Geo Wild actually approached me. They thought they were headed in the direction of doing this show called "Spoiled Rotten Pets" and they thought I would be a good fit, so they called and just pretty much asked me if I'd be interested. And to me, hosting "Spoiled Rotten Pets" is a dream come true for me. It's not work at all. It was so fantastic and fabulous for me to be around people who love their pets.
So is it like the standard reality-show format of cameras being embedded nonstop for three days, that sort of thing?
I would say we really highlight –- each situation, there are very specific things that the families do to spoil. For instance, there were two potbelly pigs named Wilma and Pebbles that we visited, and we went to their home and the backstory was that the couple treats these pigs like they're children, which I can completely relate to because that's how I am with my pets. But this couple hadn't taken a vacation in eight years because they didn't want to leave their pigs for a night. So I show up at their house and I spend a day just getting the feel of how they are with their pigs, and these pigs are treated better than most human children that I know. And I convinced them to leave the pigs in my hands while I bring them to a pig spa, and I said, "I want you to spend the night –- the two of you –- away from the pigs."
What city is this all taking place in?
Where were the pigs? I think the pigs were in Pennsylvania. It was a drive; it was a couple of hours away. And then there was a pig spa -– yeah, it was Pennsylvania -– where all of these rescue pigs or pigs that needed to be boarded if their owners were on vacation.
I didn't even know such a thing existed.
It was pig heaven. I've never had so much fun. I took Wilma and Pebbles and I spent the entire day with them, and I even tucked them to bed at night. And we gave them facials –- well, there was a pigtician there and she let me give facials to both of the girls. And I set them up with the chef that they have on site, and I cooked for them. The girls, we call them the girls. And so I'm watching what this spa does on a regular basis and I was able to do it with Wilma and Pebbles. And the next morning I had the owners show up to pick up the girls, so it was just a good three days of quality time with the pigs. First seeing how they live and then giving them the opportunity to spend a night away from the girls. Certainly the bottom line is, they spend the whole night worrying about their pigs.
Shifting gears to some of the more political underpinnings to it all, PETA has recently spoken out against Kim Kardashian for wearing fur while she's pregnant and kind of setting a bad example. How do you feel about that? What sort of image do you think that she or anyone who wears fur portrays as far as animal advocacy goes?
It makes me really sad. I personally do not wear fur. I don't understand someone who I know has been educated on it. I know her sister was a poster child for PETA. I don't watch the Kardashians; I'm very aware of them, but I do know that the sister was involved, so of course that entire family would know what goes on, what happens to animals when they're wearing a fur coat. So I just don't understand someone in the public eye that a lot of girls love and adore who would continue to wear fur when you can buy fake fur that I think looks just fine. I don't know, it's not for me and I don't want to pass judgment, but it just really makes my skin crawl when I see anybody wear fur, not just them. You go outside and you always see a fur coat walking the streets of New York, and it just makes me sad for all the animals.
Let's talk about Howard for a few minutes. There are rumors circulating right now that he is being groomed to take Jimmy Fallon's job in this whole shuffle that's about to happen. Do you have any opinions or thoughts on whether that might play out, or whether you'd want to see it play out?
Well, my husband has two very demanding jobs right now: He has a Sirius satellite radio show every morning as well as being a judge on "America's Got Talent." I can't even imagine that he would have time for late night, but I've always thought he's the best interviewer out there, and I've always said it would be a perfect fit. I definitely believe in him and that he would do an awesome job, but I can't imagine there's time for him to be doing that anytime soon.
What were your parents' first reaction to Howard? He's so notorious. How did that play out?
Well, I have two brothers, and both my brothers and my father were huge fans of Howard growing up. I remember my father getting my husband's books for Christmas, so he definitely had a presence in our house. I did not listen to him, my mother did not listen to him. My mother's very, very religious -– she's a devout Catholic. I remember it was May when I first met him, gosh, I think it's going on 13 and a half years, or maybe 14 years coming up this May – and I met him at a dinner party and I rushed home and I called my mom and I said I think I met –- "I know," I didn't say "I think" -– I met the man I'm gonna spend the rest of my life with. ... And she literally hung up the phone on me and didn't talk to me for two weeks and rushed to church. So two weeks later, she took my phone call, we invited her to New York, she met him in person and it's been a love fest since then.
What's one thing that is surprising about Howard in his personal life? Maybe something we don't already know about him, since we do know so much?
Well, I think that people think our lives at home are really filled with a lot of fun. We do have fun at home, but it's just the two of us. We rarely socialize. When we do, we probably have one or two other couples that we hang out with, and if we're invited to dinner, we're always the first ones there and we're always the first ones to leave, too. We're in bed by 8, and I'm talking about weekends as well. There's nothing crazy going on in our lives.
Have you read "Fifty Shades of Grey"?
Yes.
What'd you think?
I shared certain chapters with my husband, and we had a lot of fun with it.
Do you have any tattoos?
I do. When I got married, I had an "H" on my inner left wrist. And I have the name of my dog that recently passed on my right wrist, Bianca.
What New Year's resolution are you never able to keep?
Wine. I need a glass of wine every single night.
If you could give advice to a younger version of yourself, what would it be?
Never mind the mean girls.
Have you ever lied on a job application?
Yes, I was modeling in Germany -– it wasn't an actual application –- but my agent called and said, "Are you a snow skier?" And I said, "Why do you ask?" And my booker said, "Because there's a 10-day trip in the Swiss Alps for skiwear and they need you to ski," and I said that I skied and I had never skied before.
So how did that play out?
The cover of the catalog is me -- I jumped. They wanted a girl jumping in the skigear and I was able to do it. I cannot believe that I pulled that one off.
What movie could you watch over and over?
"Pretty Woman."
What's your guiltiest pleasure?
I guess it's a tie: online shopping for bargains or my tall soy no-water chai latte from Starbucks. Please don't ever research and tell me how many calories are in there.
What is always on your DVR?
"The Bachelor," "Locked Up Abroad," which is really compelling, one of the "Housewives," we watch New York "Housewives" -- wow, really deep viewing, huh? Oh, and "60 Minutes." That balances it out.
What is your dating deal-breaker?
If someone doesn't love animals, I will never love them.
What is your go-to excuse?
"Howard has to get up early in the morning, so we can't go."
What's one thing from your childhood wardrobe that you wish you could wear right now?
My basketball high-tops that I used to wear. My most comfortable shoes, and they looked really cool with jeans.
What's on your nightstand?
Earplugs, because my husband snores.
What's one item that's always in your refrigerator?
A block of cheddar cheese.
If you could ask Kim Kardashian any one question, what would it be?
Why wear fur?

Before You Go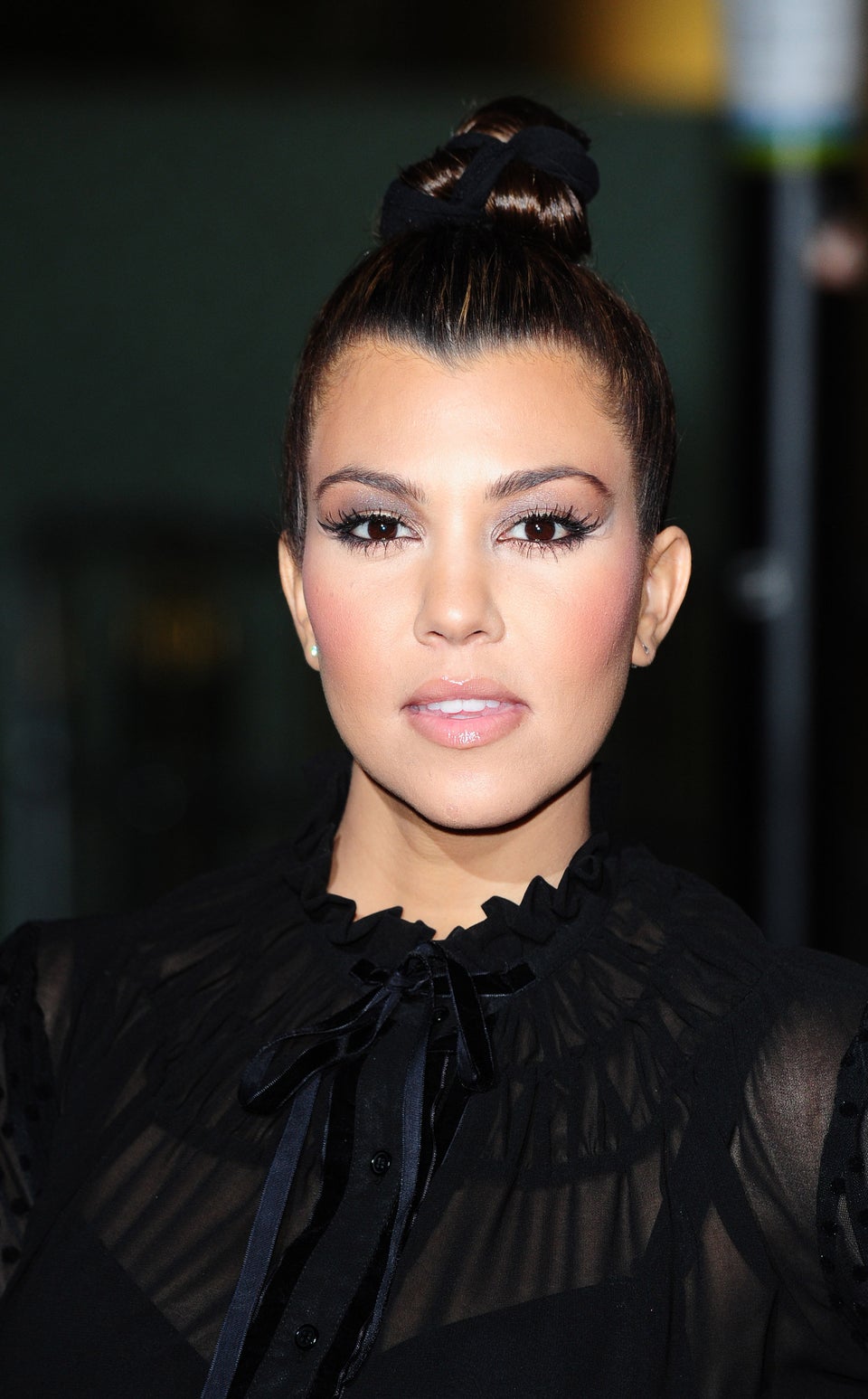 They said WHAT? #nofilter
Popular in the Community