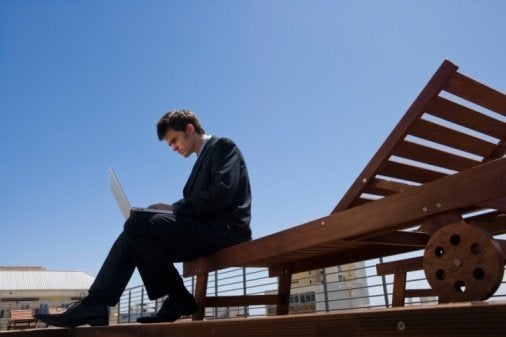 Last week, we began our conversation with Joel Solomon - President and CEO of Vancouver-based Renewal Partners, a collection of organizations using the powerful tools of business and philanthropy in support of long-term societal solutions. We talked about Renewal's 500-year vision, 50-year strategy, and the early years.
Julia Moulden: You and Carol [Newell, his partner] have been working on a number of fronts for nearly 20 years, Joel. Before we get into the specifics, tell me why you chose this multi-dimensional approach. And why you decided to focus on one region.
Joel Solomon: We had this idea to work in a number of streams at the same time - for profit, not for profit, leadership, and public service - because we wanted to apply a whole-system approach to change. We wanted to help in a direct way, but also to create the environment that would support long-term sustainable change. And concentrating our efforts in one place allowed us to amplify the relatively small amount of money we had to invest. But we weren't insular in any way - we see ourselves as one node in a global network.
JM: Let's talk a little bit about each piece, beginning with Renewal Partners.
JS: Renewal Partners was designed to make lots of small investments in early-stage businesses such as Happy Planet Foods. Our long-term thinking allowed us to invest "patient capital" - we weren't looking for the rapid growth and quick exit that traditional investors are, and which can have such a destructive impact on communities. In just over a decade, we made more than 100 investments, the last one not long ago. Renewal's annualized rate of return was 12.2 percent and two thirds of the organizations we invested in are still operating, still creating jobs.
The second piece was TIDES, the largest congregator of progressive philanthropic financial assets in North America (of course, there are much bigger foundations, but I'm talking about things that people can participate in). TIDES was founded in the U.S., and we helped bring it into Canada, where it is now one of the larger grant makers in the country.
And then there is Hollyhock, an education, networking, and retreat centre whose mission is to inspire and support people who are making the world better. It's based on a unique idea - that education is not just an intellectual process, but also a psychological, spiritual, and physical one.
Most recently, we've been working with others on Vision Vancouver, a new political party. Mayor Gregor Robertson had a landslide victory - just days after Obama's win - on a progressive platform: greenest city in the world, end homelessness, a creative and entrepreneurial economy. The election of Mayor Robertson is the result of creating conditions where these things could take hold. Nearly 20 years of moving in a purposeful direction.
JM: You've worked with Gregor before.
JS: That's right. His company was one of the first businesses Renewal Partners invested in many years ago. He was an organic farmer who founded a juice business designed to support local farms and get really good, clean food into people. He eventually grew frustrated with what he could accomplish in business and ran for a seat in the provincial legislature. Before his term was up, he was recruited to run for Vision Vancouver.
JM: Interesting timing, given that Vancouver was about to host the Winter Olympics.
JS: It did not pass our notice (he laughs). This was an opportunity to express vision and values to a very, very large audience. [Vancouver is part of the Green Capital Global Challenge launched by Richard Branson.]
JM: What's next for you and Renewal, Joel?
JS: We have a new fund - Renewal2 - that will give people a portfolio of triple-bottom-line companies.
JM: Which categories - and can you share one example?
JS: We're going to invest in basic human needs categories, such as organic food and green products. Right now, we're looking at a company that has designed a solar collector for cell phones. This is a major carrier operating in the southern hemisphere, and they'll offer a very low-cost cell phone with a very low-cost solar charger that also has an LED lamp and flashlight - ideal for people without easy access to electricity.
JM: Is Renewal2 open to everyone?
JS: It's for high-net-worth individuals. [Minimum investment is $250,000.] We closed the first round of $18 million about a year ago, money that was raised in the thick of the recession. We're heading toward our goal of $30 million, and the fund closes at the end of May. Most of our investors are individuals, about half of them Canadians.
JM: What about people who just have a little money to invest?
JS: As far as I know, there are not yet any financial products for people wanting to invest at the, say, $10,000 level. There are lots of smaller opportunities, like micro-lending and community loan funds, but little for the middle category. But there is a huge (he emphasizes "huge") industry rolling out. I think of it as comparable to where organic food was 30 years ago. One clear signal that things are changing - whenever Renewal does a conference call for the investment community, large mainstream financial organizations sit in on the call. Another sign is the global impact investing network that Rockefeller and others have anchored [more on that in a future post]. We're in the midst of a long period of invention and experimentation and I'm confident you're soon going to see more ways to move money toward values.
JM: Joel, you know that lots of people reading this column are interested in becoming New Radicals, what would you say to them? [New Radicals are people who've found ways to leverage the skills acquired in their careers and put them to work on the world's greatest challenges. For more, please see archived articles.]
JS: I'm constantly approached by people wanting to career shift or young people eager to choose a different path. In fact, demand is greater than supply, which is why entrepreneurship is such an important part of this movement. People need to create their own work and, in turn, they'll be creating new jobs for other people to step into. I also tell people to work on the practical side, for sure - like the MBAs in Sustainability that are popping up - but also on your inner life. You need emotional and spiritual capital if you are going to do this work because you're effectively standing outside the existing system.
JM: Any final thoughts, Joel?
JS: One wants to be careful about claiming impact on a grand scale. I share all this simply to show our intention and let people draw their own conclusions. And I want to share some personal good news - one of the founders of Hollyhock gave me her kidney in 2009 [as a young man, Joel was diagnosed with the kidney disease that runs in his family]. The operation went really well and I'm feeling great.
When Joel and I last spoke, he was sitting in his garden looking out at the ocean. Some geese flew overhead. Their familiar honking sound came back to me as I was writing and, since I began the first post about Joel and Renewal with a poem, I'll end with one, too. This one was written by American poet Mary Oliver.
Wild Geese
You do not have to be good.
You do not have to walk on your knees
for a hundred miles through the desert repenting.
You only have to let the soft animal of your body
love what it loves.
Tell me about despair, yours, and I will tell you mine.
Meanwhile the world goes on.
Meanwhile the sun and the clear pebbles of the rain
are moving across the landscapes,
over the prairies and the deep trees,
the mountains and the rivers.
Meanwhile the wild geese, high in the clean blue air,
are heading home again.
Whoever you are, no matter how lonely,
the world offers itself to your imagination,
calls to you like the wild geese, harsh and exciting --
over and over announcing your place
in the family of things.