 Introducing Elka, the baby orangutan named after Betty White's "Hot In Cleveland" character. The baby Elka's naming comes as an end to the Greater Los Angeles Zoo Association's celebrations in honor of White, its co-chairman. White has been working with GLAZA for 50 years and the naming is part of a partnership with TV Land.
According to a statement, the cable network went with the name "because they are both so adorable and cuddly!"
"How appropriate that the most beautiful baby orangutan ever is named for my 'Hot in Cleveland' character Elka Ostrovsky," White said in a statement. "I'm truly thrilled that TV Land's generous contribution is supporting my beloved Los Angeles Zoo."
Get to know baby Elka (thanks to GLAZA) and see a full image below!
Elka, a Bornean orangutan, is the second baby for the Zoo's female Bornean orangutan, Kalim and father Minyak, one of two orangutan males at the Zoo. Orangutans are native to the Indonesian islands of Borneo and Sumatra. In the Malay language orang means person and utan means forest. Decked out in long, shaggy, orange-red hair, orangutans are the largest tree-dwelling mammals. Bornean orangutans are endangered and Sumatran orangutans are critically endangered. In the last 60 years, it's estimated that there has been more than a 50 percent decline in the orangutan population. This decline is primarily attributed to habitat loss.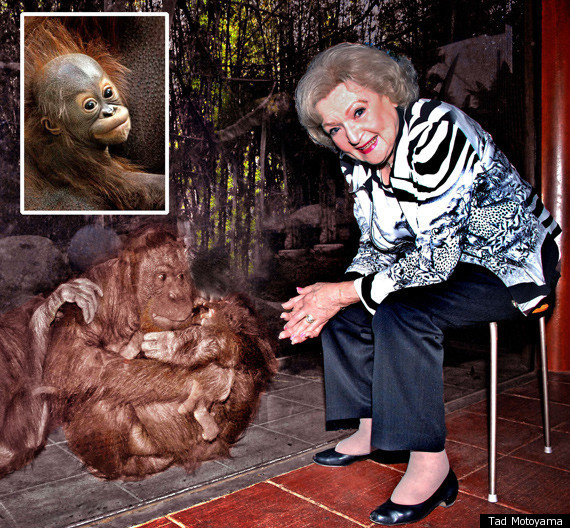 REAL LIFE. REAL NEWS. REAL VOICES.
Help us tell more of the stories that matter from voices that too often remain unheard.
BEFORE YOU GO