"I've borne witness to women dying in pregnancy, it's an awful thing." -Bill Callaghan, CDC chief of Maternal & Infant Health
The woman sitting across from me on her living room floor proudly shows me a photo of herself taken last year. She was standing in front of the vegetable stand she used to operate before her high-risk pregnancy forced her to close it down. Faty (Fuh-TEE) looked cheerful and confident in the photo. Now, eight months pregnant and dressed in a bright green traditional gown, there are flashes of the same smile, but she is somber.
Another visitor asks to take a picture of the photo. Yes, Faty says, please do, then perhaps you will remember me if I am not here the next time you come to this house.
She spills out the contents of her handbag on the floor between us, and together we sort through her doctor receipts, prescriptions and even a sonogram of her apparently healthy daughter. A high risk pregnancy is frightening, but Faty does have access to prenatal care, a vital advantage often not available in more rural areas. The hospital is distant from her impoverished neighborhood on the outskirts of Dakar and she struggles to pay the taxi fare, but she knows the visits are very important. Delivering her child with a provider who knows her risks prior to labor vastly improves her chances of a good outcome.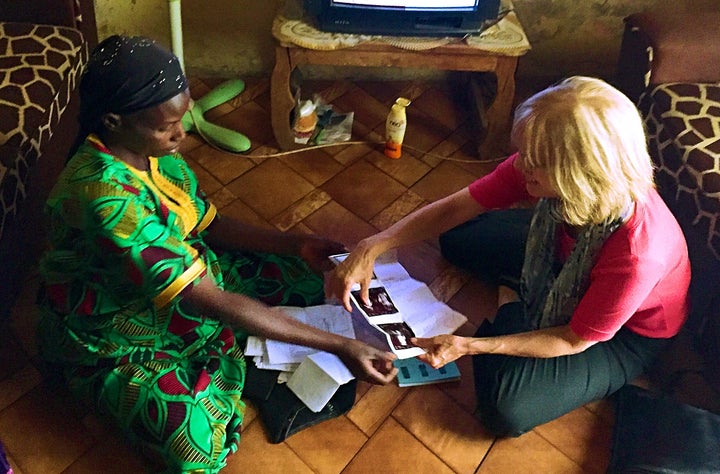 Mortality rates in rural southern regions are as high as 21%. Although Senegal has made significant progress reducing maternal and infant mortality over the last couple of decades, the rural, remote regions pose greater challenges. Government health posts exist in the south, but women often don't have a prenatal visit until their seventh month (the World Health Organization recommends a minimum of four visits beginning early in pregnancy). Many ultimately give birth at home without a skilled attendant.
To bring healthcare to southern Senegal, our pilot project is preparing mobile medical units to travel to the weekly markets in the southern regions of Kolda and Sedhiou – bringing pre- and post-natal care to the places that are an integral part of women's routines. This part of the project aims to reach 43,200 women in the southern region over the next three years. Pregnancy complications can be identified early by the midwifes in the mobile unit, who will also help women develop a plan for a safer delivery at a health post. Recognizing transportation difficulties in the region, we have put together an initiative to organize vehicles for women in labor. We will offer family planning information and products, and provide other services such as vaccinations and nutritional care for infants, for 45,000 women.
No one thinks this will be easy. The list of "defis" (challenges) discussed in our planning sessions is long, but the essential tools for success are in place: The project is being developed with the global expertise of PSI (Population Services, International) and its Senegalese partner agency, ADEMAS. We have sought and received very strong support from the Minister of Health herself, Madame Coll-Seck, and from the local health directors in the southern regions. We are coordinating with organizations already working on related issues in the region. Most importantly, we are working in consultation with local stakeholders, and especially, the women we hope will benefit from our services. We don't assume we know what will work best for them; at every step of the way, we ask.
Once the project has launched we will be looking - as PSI says - to "fail fast": identify what isn't working and swiftly make course corrections. Succeed, leverage, and scale – that's our hope.
During my time in Senegal, I was frequently asked why I care about maternal mortality. I often mention that I was influenced by studying generations of my own family's history and noting the increased survival of women and children over time. But in truth, it comes down to something simpler: I am a woman who twice went into labor with every confidence that my child and I would survive, though both my pregnancies were labeled "high risk." Every woman deserves the care that gives her the best chance to go home to her family with a healthy baby in her arms.
The results of this two-year program are expected to include 45,000 women receiving information about reproductive, maternal, and child health (RH and MCH) 43,200 women and children receiving reproductive health and MCH services creating two mobile clinics each with two midwives, and a nurse to provide quality reproductive health and MCH services. A medical doctor will be acting as field project manager, supervisor of these mobile clinic teams and also ensures coordination with the local health and administrative
authorities at the regional and national levels. This intervention will generate an estimated 20,693 couple-years of protection (CYPs). CYP is the estimated protection provided by contraceptive methods during a one-year period. CYPs in this program represent 20,693 women protected against pregnancy for 12 months each in practice, however, it may refer to 10,346women being protected for 24 months each. In addition, this project is estimated to avert 9,476 disability-adjusted life years (DALY). One DALY represents one year of healthy life that was lost due to illness or death.
Related
Popular in the Community