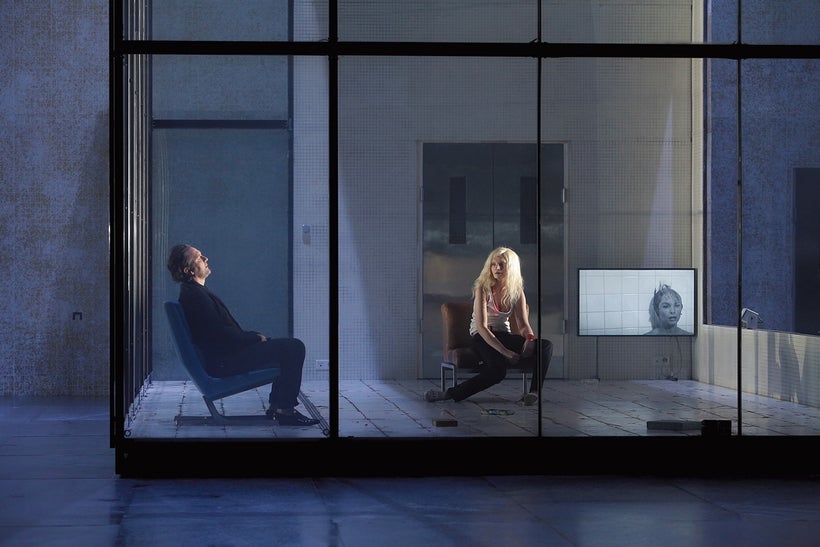 Though the ability to play multiple roles is essential to the art of acting, there's something uncanny about seeing the switch happen before us. Even when we know there's some presentational trickery involved, as when separate performances by Tatiana Maslany are composited into a single scene on the BBC America drama Orphan Black, we're beguiled by it. (This year, Emmy voters were too, giving Maslany the award for outstanding lead actress in a drama series.) The Peter Brook approach to A Midsummer Night's Dream, first presented in 1970, in which many of the players of the court scenes also take on characters in the forest scenes, wins us over in part for thematic reasons but in part for purely theatrical reasons—this is a form of magic, especially appropriate to that play, but increasingly popular in other productions. Multicasting is part of the very idea of small companies such as New York's Theatre Bedlam, which is currently using it in an adaptation of Sense and Sensibility. Whether this means something I'll leave to others to decide, but I can't help noticing that these theatrical demonstrations of multiple selves seem to have become more common during the last half century, roughly the same period in which our concern with authenticity has grown.
A recent presentation at the Brooklyn Academy of Music, which originated at Paris's Odéon-Théâtre de l'Europe and had an undeservedly short run at the Harvey Theater, underscored this issue of unity versus multiplicity in a number of ways, beginning with its very title. As if it couldn't decide whether its central concern was with one character or many, the show was called Phaedra(s), and it gave us three takes on the mythical queen who couldn't resist her own stepson, drawn from texts by playwrights Wajdi Mouawad and Sarah Kane and novelist J. M. Coetzee. The draw, depending on your point of view, was seeing myth made flesh, the ancient made modern, three refractions of a single idea, a small handful of players enacting multiple roles, or simply this: a chance to witness the singular actress Isabelle Huppert.
Phaedra(s) began with music—the food of love, as Orsino terms it in Twelfth Night—in the form of an untranslated song (in Arabic, I believe) delivered by a vocalist and a guitarist, accompanied by a sinuous but deliberately somewhat stagey strip-club-like dance. It was as if these two familiar forms of seduction—music and movement—were being framed, fractured, or abstracted somehow, and for the duration of the three-hour-plus evening, the kaleidoscopic effect, the sense of mechanisms at work, continued to tantalize us. (The night I attended, one of the literal stage mechanisms got stuck for a while, as if to prove that seduction may come unbidden, as happens to Phaedra, but cannot always be willed, as she also finds.)
Lust, longing, and love were everywhere and nowhere in this show, which was directed (and presumably conceived) by Krzysztof Warlikowski. "I am still the desire of the world," said Huppert in the character of Aphrodite early on; "I see…a universe ruled by desire," said Huppert in the character of Elizabeth Costello near the end. Throughout, as Mouawad's poetic and somewhat symbolic treatment was followed by Kane's relentlessly earthy, brutal approach and then by Coetzee's discursive, ideational angle, desire was a subject, a subtext, and as much as anything else a fate. We needed neither Wagner's "Liebestod" nor anything from Freud to suggest the link between Eros and Thanatos; here, to be fated with desire was always in some way to be freighted with death. But, in case you're wondering, that is the shower scene from Psycho running on the monitor in the photo above.
Given that the run of Phaedra(s) has now ended, I'll say only a little more about it. Something about the show felt elusive as I watched; it took days for it to clarify and settle in my mind. But it very quickly put me in awe, not in the vague, chirpy way in which we express approval by labeling something "awesome" but carrying the full weight of fear and wonder. As I already indicated, Isabelle Huppert was not the only performer given multiple parts—Gaël Kamilindi, for instance, enacted Mouawad's version of Hippolytus and also, in the same piece, a dog—but hers were, so to speak, the "wow" roles. She spoke with an imperious chatter as Aphrodite in the first piece, adopted a frighteningly subdued tone as Phaedra in the second, and became a voluble, hand-waving academic in the third, but that was nothing compared to the physical range she covered, which, in a reverse of the male librarian fantasy, went from writhing-on-the-ground sensuality as Aphrodite to the hair-up, glasses-wearing, sit-and-talk brainy type as Elizabeth Costello. British reviews quoted in BAM's press materials praised Huppert's "physical abandon" and "uninhibited physicality," but to speak of abandonment, while it fits what we saw in her Aphrodite, doesn't go far enough. Huppert's performances here reminded me of some of the New York stage work by Elizabeth Marvel; from each I get the impression that there's little she can't or won't do—and I think it's a matter of both ability and courage. Huppert also displays, no matter what she's doing, authority and a guiding intelligence, which may be emotional and may even be physical, as one often sees in Sigourney Weaver. Huppert's characters in Phaedra(s) were always overmatched, but Huppert herself was a model of mastery.
REAL LIFE. REAL NEWS. REAL VOICES.
Help us tell more of the stories that matter from voices that too often remain unheard.
This post was published on the now-closed HuffPost Contributor platform. Contributors control their own work and posted freely to our site. If you need to flag this entry as abusive,
send us an email
.