"I Am Pasta Fierce" isn't what Beyonce says when she's hungry, but it is an entree you can order at a New York restaurant that's offering an entire Beyonce-themed menu for Valentine's Day.
On Feb. 14, Brucie NYC, a hip little Italian spot in Brooklyn's Cobble Hill neighborhood, will be serving dishes such as "Pink Is The Flavor" (scallop, monkfish torchon, grapefruit, beet, breakfast radish) and "Breastiny's Child" (veal breast braciole, pickled fig, sopresatta, goat yogurt), as well as a few Jay-Z inspired choices. (Oysters Rocafella, anyone? How about some Jay-Ziti?)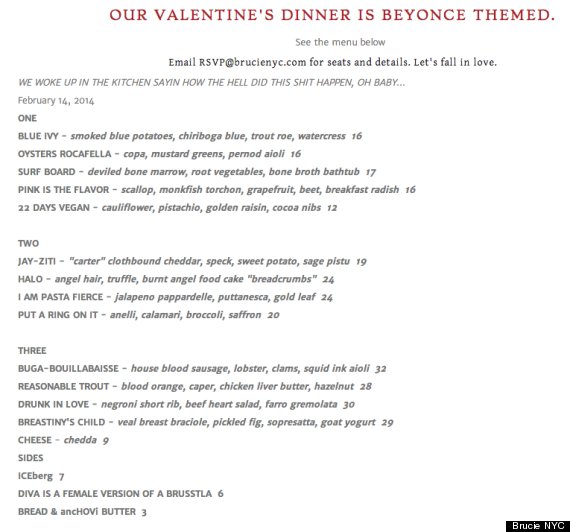 "We were trying to think of what to do for Valentine's Day," the restaurant's owner and executive chef Zahra Tangorra told The Huffington Post. "And I'm turned off by the whole, 'We have a price fix, you can get a crab cake' or whatever."
"We thought, everyone loves Beyonce. Especially us," she said. "So me and my staff worked really hard to make fabulous dishes based on those titles."