Recently we ran a story about a busty woman's struggle to find clothes that fit her figure. We were deluged with comments from readers who had fought similar issues. Here, Claire Dumican of Butterflycollection.ca tells us what she did in response.
"I sympathize with the author of 'I Think My Breasts Are Too Big.' Trying to find clothing -- let alone bras -- when you're slim but busty is like searching for Atlantis. It may sound like a nice problem to have, but naturally busty-yet-slender women quickly learn to feel very out of place, and even worse, embarrassed, by their figures.
Busty women everywhere know what it's like to go bra shopping, try on a gorgeous little satin number and watch as your two boobs multiply into four or even six squished ones. After the ninth store, with the same results, you're ready to wave the white flag of defeat.
When I moved from the England to Canada eight years ago, I expected to find the 32GG range I'd been used to back home. Sadly, my first bra shopping experience in Vancouver was a horrified department store bra fitter who said in hushed tones, 'We don't keep anything here over a D cup.' I almost laughed, what did she think that the D+bras were going to do -– smother the B cups?
I quickly came to realize that big boobs are a no-go in North America and that women across the US and Canada have come to believe that there is something wrong with their bodies, when in fact, the problem lies with the lingerie industry. Coming from a long line of opinionated, busty women, I decided this simply wasn't good enough, and set about creating an online store that would give the physical and emotional support that busty North American women need.
The two common misconceptions about big boobs are: Either you are big all over or you must be an adult entertainer –- both are equally ridiculous. My customers are regular women between the ages of 18 and 70. Most of them used to wear department store bras that crippled them emotionally and physically before they went on the hunt for better options.
The reason so many women are in the wrong bra is because most stores only carry a third of the available bra sizes. To get busty women into such a limited size range many sales associates will offer a bra with a huge band to accomodate their circumference, but the cup size is too small. For instance, a D cup will cover, but it won't lift or support. Some unscrupulous stores have left my 32GG bust languishing in a 38C and even a 40B. The most common band sizes we sell are 30 and 32 in cups D through K, but most women don't even know these options exist.
Many ladies struggle to come to terms with being a smaller band size and bigger cup size, but if you can get past the mental block your life can literally open up. When a customer emails me to say she played sports for the first time in a decade or she wore a form-fitting dress because she felt great about her figure again, I know I did the right thing making Butterfly Collection a big boobs only boutique."
Claire is offering Stylelist readers an exclusive 20 percent off with the code HUFF20. Get shopping!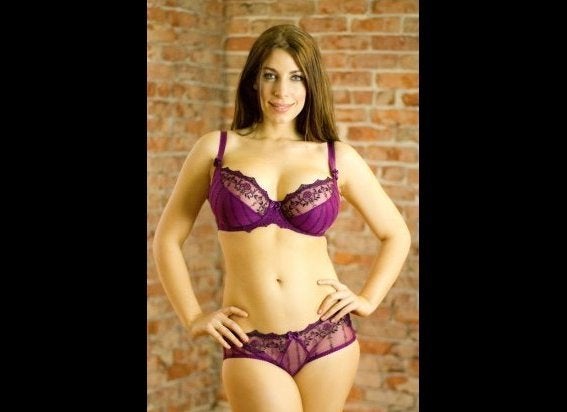 Site of the Week: Butterfly Collection
Popular in the Community