 It's not everyday Billy Corgan plays a carefully crafted, hand-picked acoustic set with just a few of his closest friends and fans surrounding him, all tucked into an intimate, meticulously decorated space that's nestled in Highland Park, an affluent suburb on Chicago's North Shore. But those lucky enough to score standing-room space, and those who were even luckier to snag a coveted table on Sept. 13 in the Smashing Pumpkins' frontman's new tea salon -- Madame ZuZu's -- were treated to a memorable six-song acoustic performance that included an eclectic mix of songs like the obscure gem "Jesus Is the Sun," to the Siamese Dream hit "Today" -- for the latter and last song of his first set, Corgan performed with childhood friend, Greg Bates, who, he mentioned, used to write songs with him in his dad's basement back in the mid-'80s. With iPhones raised in the air and smartphone flashes lighting up the Chinoise-inspired tea house, all eyes and camera lenses were cast on the Corgan for the 30-minute set. Even the less lucky fans who were lined up outside the front door hoping to get in, had their faces and iPhones pressed against the glass, watching and Instagram-ing through the window and hoping to catch a glimpse of the famed alt-rocker unplugged.
I met up with Corgan before his second set at 4 p.m. to talk about why he decided to open Madame ZuZu's, what he had planned for the space, his prized Bösendorfer upright piano he had shipped from Finland and what he's learned about social media.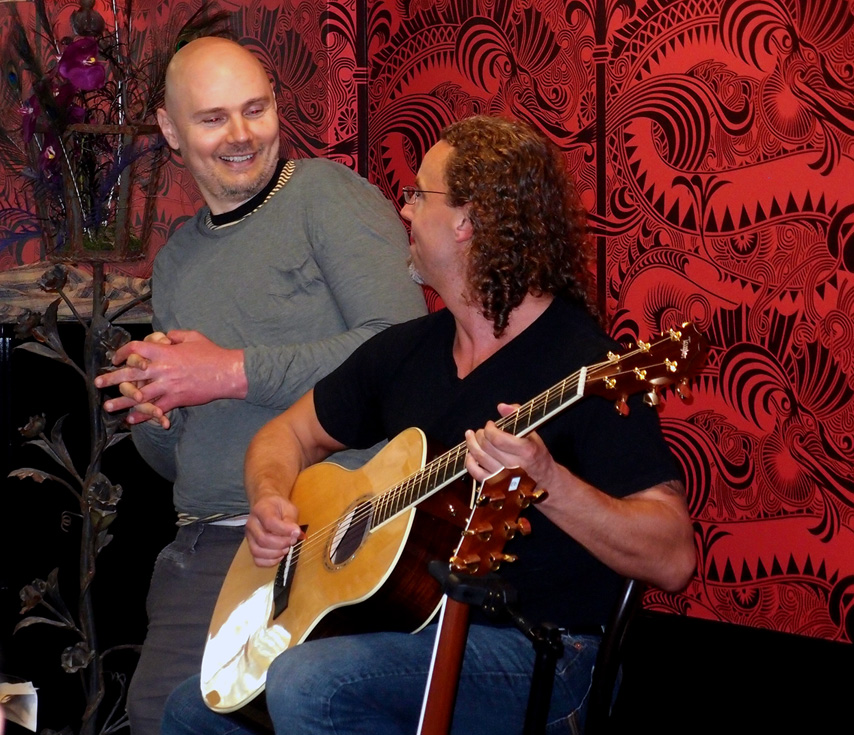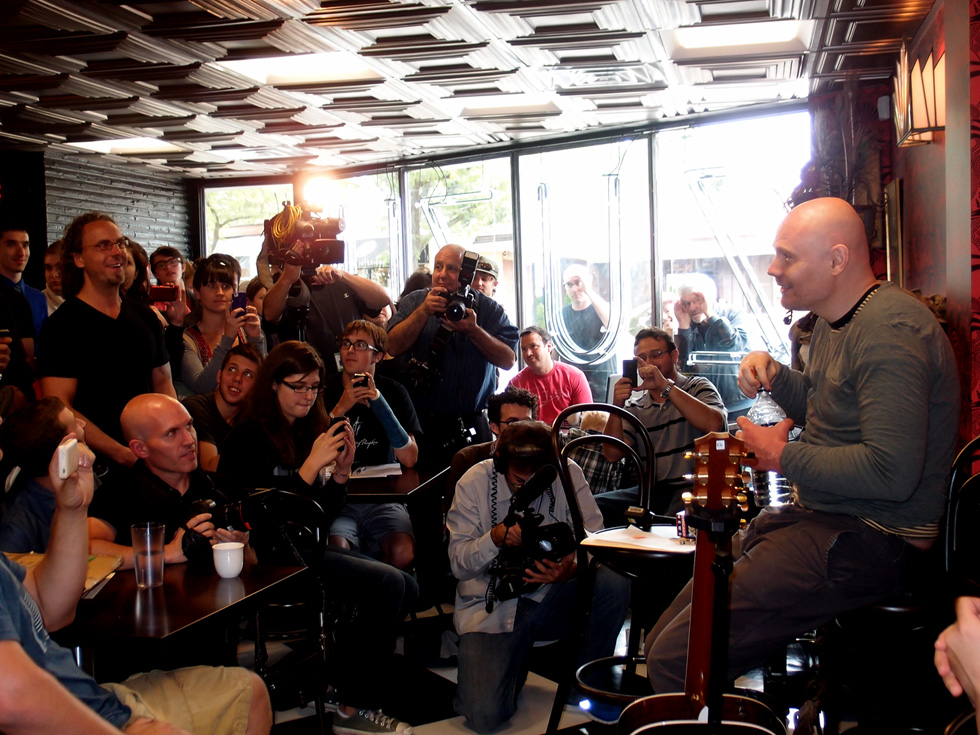 You've been a resident of Highland Park since 2003. You mention that you've always wanted to open a tea salon like this for the community to enjoy. Why did you decide to open up the tea shop now and what sparked the idea originally?
Well, I always wanted to create an artists' space for about a decade, just a place where people could show their work, you know, in kind of a non-political way because usually those things are extremely political and having had that experience, I thought I could lend a different sensitivity to it maybe, particularly for musicians and photographers and stuff like that. This space opened up across the street from the Ravinia Wine Shop where my friends are and so we just said, 'Maybe we can open something.' But it's one of those things where the dream's really good, you know what I mean (laughs), but once you get into the reality of the city and the codes, it's been an interesting walk.
Oh I'm sure. So is that why you chose Highland Park, because you live here and maybe there's nothing in the community like it right now?
Absolutely. I can't think of anything like this, particularly once we get it going as an arts space. We have a multi-tier approach; you know, we want to encourage kids to come after school because it will be kind of a place to connect with art in a different way and also display their own art, and so it starts there. And, of course, we want a comfortable atmosphere for seniors when they come in during the day. I'm not trying to do the cool, 'my version' of it and 'it's only for me,' and 'if you like it you like it,' it's very much community minded.
For the opening, you played a great set (at 1 p.m.). I know you're playing another one at 4 p.m. Is this something you plan to continue and are you booking other acts in the tea shop to play acoustically?
We will book other acts. No, I don't necessarily think I'll be playing here a lot, although I have been coming in here working on new songs on the piano because I had to be in here a lot answering questions. I'm sure on slow days I'll just come hang out and just come play the piano.
What's the story behind that piano? It's gorgeous.
I was in Finland and it's this fairly rare piano and I came across it and in a moment of excess, I picked up the phone and said, 'Can you ship this piano from Finland to New York?' and then it went to New York and then it was supposed to come into my apartment in New York and they couldn't get it through the door and then the moving people broke it and then it ended up having to go into storage for awhile and then, by the time it was fixed, I had moved out of New York and so it ended up in Chicago back in storage, so it's been in storage a long time.
The design gives the space a very intimate feel. Did you have a hand in the aesthetic details?
Oh yeah. Sharon [Mackin-Norberg] my partner and I worked on everything together and picked all of the materials together.
What types of teas are you featuring? Did you handpick the teas that you wanted?
I had picked all of the teas. We want a rotating menu of teas from around the world. We kind of want coming in here to be sort of a central experience. It's a little bit more of a destination spot than just like your normal coffee house. If this just gets into being a normal coffee house, I don't find that very interesting.
Only vegan-pastries, correct?
Sugar-free vegan pastries.
Anything else you want to tell me about your new place?
We want to set it up so that people feel that they can make submissions if they want to do interesting things here. It could be multimedia. I know I want to do old radio plays here. I saw somebody do that; I thought it was fascinating. You get old radio scripts and you just get people to play the characters. So, we'll have old radio play night. We've got Richard Shay right there (points) and his father, Art, to come in and talk to locals about everything from how-to take a good picture to how-to clean your camera and anything like that. We have a lot of resources locally and so we just want to encourage everyone to use the space.
You might offer different workshops here?
Oh, absolutely. We've already talked to different people in the community about doing workshops. The tea shop sort of is just an excuse, really. I think if you just had an open space and you call it the arts space, everyone would go, 'Well, what the hell is it?' But the tea shop is sort of the cover for what we're really trying to do. So, hopefully we can run a successful business and that to keep the door open, but the real goal is to create and foster an artistic atmosphere.
No wrestling or Resistance Pro ventures in here?
No, that's not true. Actually, we have Resistance Pro talent coming up here later and I've been trying to guilt some fans into coming to the show tomorrow. I don't know, we'll see. I mean, look, we could have Resistance Pro Day up here once a month and some of the talent could come up and just meet with the kids. That's what I'm saying, it's an adaptable, multi-use space. I don't have a particular bone to pick. I want it to be fun and I want it to be dynamic and that would be the success for me. If it's about me, you know, I think that's really boring. Today's obviously got to do with me because it helps generate the interest in it, but after today, it's ultimately going to survive on whether it's a good idea.
You've been doing so many great things, raising awareness for your brother with Resistance Pro and now this space for the community.
Yeah, I think I've had about 15 years of the myth of social media where, you know, it sort of gets into this weird thing of either you're telling your story or you're trying to beat somebody else telling the wrong version of your story and I think ultimately what I realized is the real story in social media is doing things that matter. You can dress yourself up and take a really cool picture with your phone like that, but then everybody does that. If we actually do things with substance, that's what drives social media more than gimmicks and shallow things.
Madame ZuZu's tea shop is located at 582 Roger Williams Ave., Highland Park, IL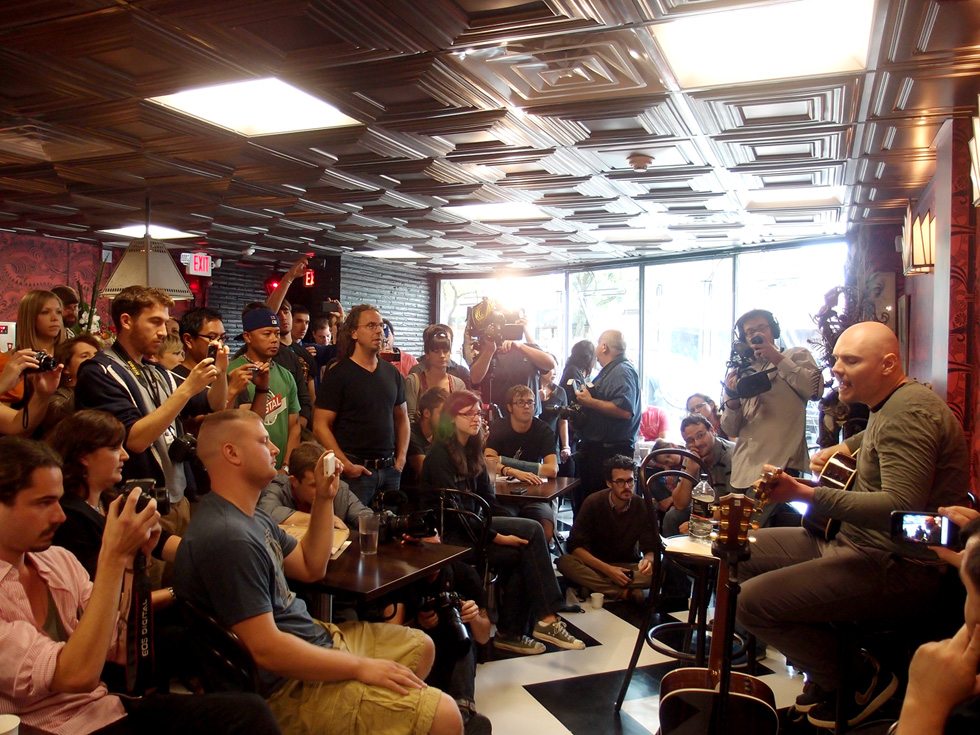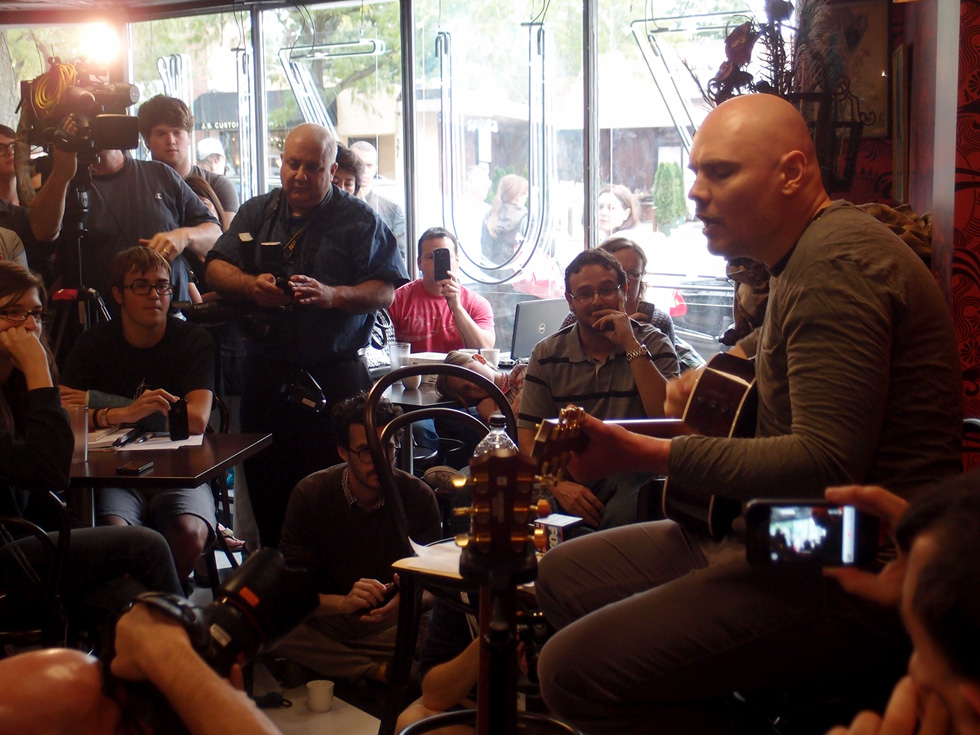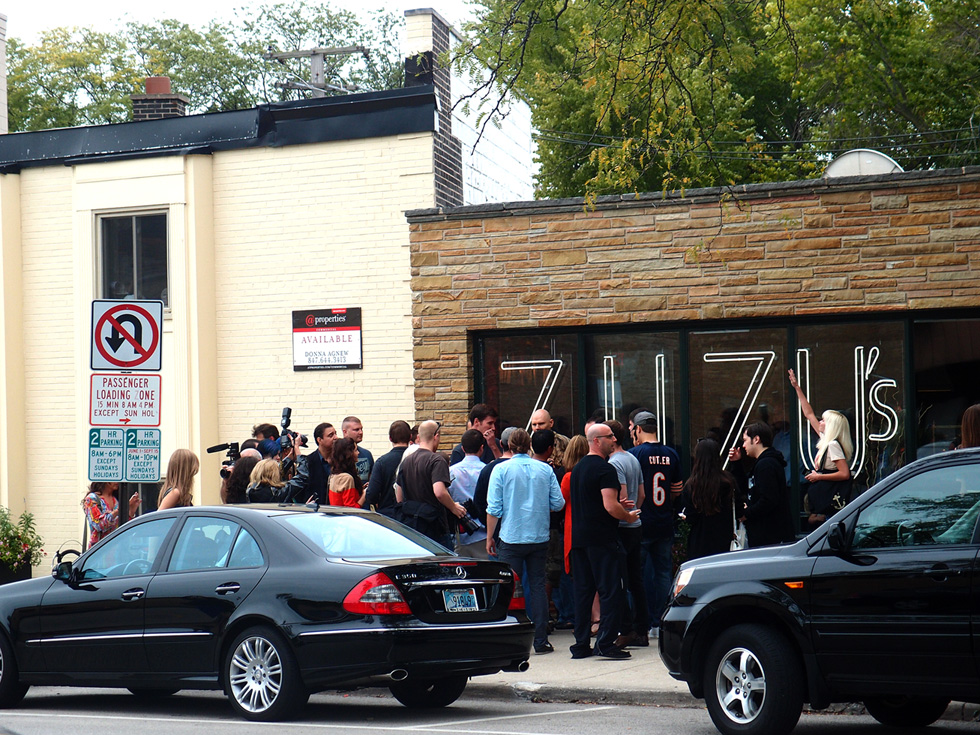 All photos by Lauren Drell
REAL LIFE. REAL NEWS. REAL VOICES.
Help us tell more of the stories that matter from voices that too often remain unheard.