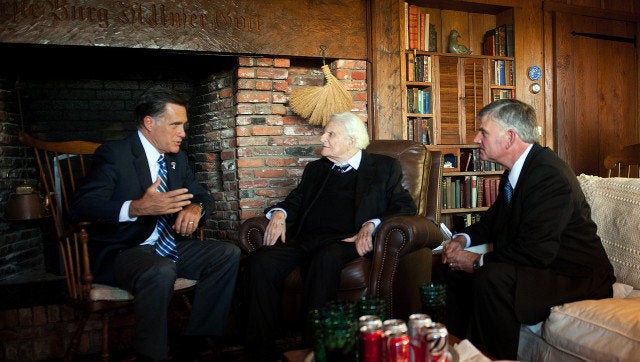 Just a week after meeting and nearly endorsing Republican presidential candidate Mitt Romney at his Montreat, N.C., home, an ailing Rev. Billy Graham is encouraging votes for candidates supporting "biblical values" that include opposition to gay marriage.
In full-page ads that will appear in more than a dozen national and battleground state newspapers before Nov. 6, Graham, 93, appeals to voters to "pray with me that America will remain one nation under God."
"I realize this election could be my last. I believe it is vitally important that we cast our ballots for candidates who base their decisions on biblical principles and support the nation of Israel. I urge you to vote for those who protect the biblical definition of marriage between a man and a woman," says a full-page ad that will appear Friday in USA Today and that ran Thursday in The Wall Street Journal.
Last week, Romney met with Graham and his son, Franklin, who leads the Billy Graham Evangelistic Association. The elder Graham stopped short of an endorsement, but told Romney that he would do "all I can to help you."
Franklin Graham first met Romney in 2006, when he was mulling his first presidential run. His organization bought the ads using donations from "a number of friends who support the ministry," according to a statement.
A spokesman for Graham said that the meeting with Romney and the ad campaign does not represent an endorsement of the candidate, though Romney is the only major presidential candidate who does not support same-sex marriage. Obama declared his support of same-sex marriage earlier this year; the president met Graham once in April 2010.
"This ad is consistent with both the mission of the [Billy Graham Evangelistic Association] and Billy Graham's personal methodology to diligently and consistently remain politically neutral and non-partisan throughout his public ministry," said the spokesman, A. Larry Ross. "Against the backdrop of moral decline and a cultural shift in our nation that reflects timely issues, Mr. Graham's quotation in the ad is an extension of his faithful preaching of a timeless message and strong stand on biblical values for more than six decades."
Franklin Graham, president and CEO of the Billy Graham Evangelistic Association, made headlines in February after questioning Obama's Christianity and alluding to Obama possibly being a Muslim, and has been less discreet about his political support than his father. He wrote in a recent op-ed that Obama plans to rebuild America in what could amount to creating a "new nation without God or perhaps under many Gods."
But in a statement, a Billy Graham Evangelistic Association spokesman emphasized that "the ads intentionally do not mention any candidate, political party, or contest, urging instead for readers to cast votes for candidates -- at all levels -- based on their support for biblical values."
Graham rarely appears in public and speaks largely through written statements. He is ailing and has had several hospital stays in recent years. He remains an elder statesman among Christian evangelists in the U.S. Meeting with Graham has become almost a requirement for presidents or aspiring presidents, and he has met or prayed with every president since Harry Truman.
The meeting with Romney was particularly important, as the candidate's Mormon faith has turned off some evangelicals and Christian pastors. While the majority of Mormons identify as Christian, most Christians, including evangelicals, view them differently. After Romney met with Graham, the Billy Graham Evangelistic Association removed a page from its website that called Mormonism as a "cult," along with Unitarians, Jehovah's Witnesses, Scientologists, Spiritists and people in the Unification Church.
Click through the slideshow to see most and least Christian states in the United States: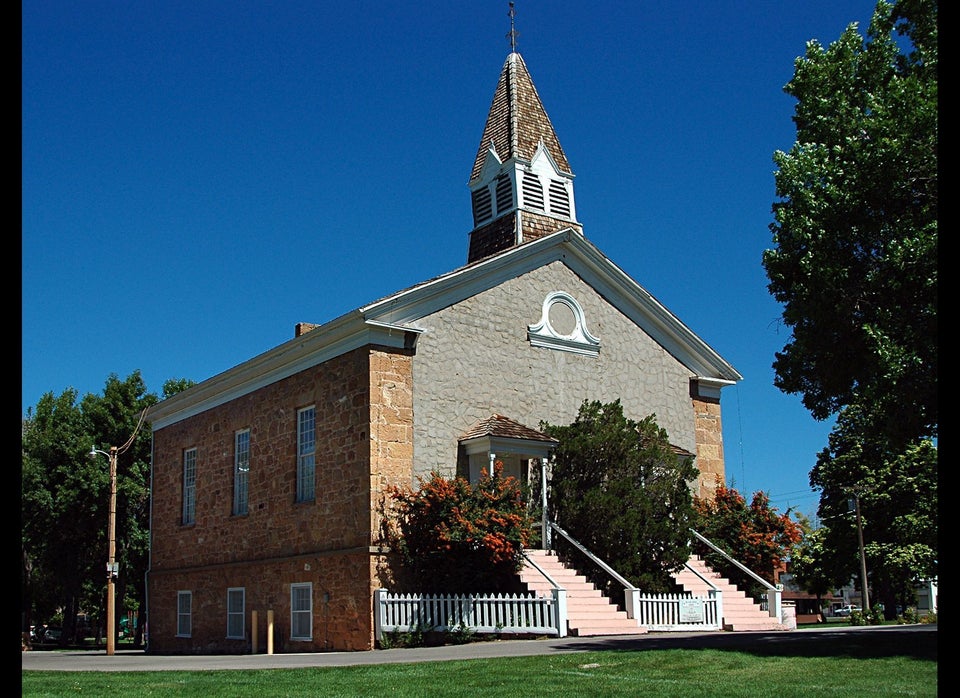 Most and Least Christian States
Related
Popular in the Community