I'm just a fashion editor. And while we may not be the first to spot a good liar, we sure can spot good style. And no one, but no one, makes a stronger style statement than Bishop Eddie Long. The leader of New Birth Missionary Baptist Church, an Atlanta-area mega-church with over 25,000 members, has a penchant for bad toupee's and good clothes. Really, really good clothes. He's also - allegedly - got a penchant for young men. At least that's what his accusers, all four of them (and counting) are saying.
By now, you know who they are: Maurice Robinson, Anthony Flagg, Jamal Parris and Spencer LeGrande, all of whom have brought civil suits against Long. They assert the preacher seduced them with toys, trips and of course, some pretty pricey threads. But were these the lures of a sexual predator or the rewards of a loving spiritual father?
Based on Long's sermon this past Sunday, that still remains unclear. As he preached to a packed house, all Long would say in direct reference to the case was, "I have never in my life portrayed myself as a perfect man. But I am not the man that's being portrayed on the television." But if Long's verbal message was vague, his sartorial one was crystal clear.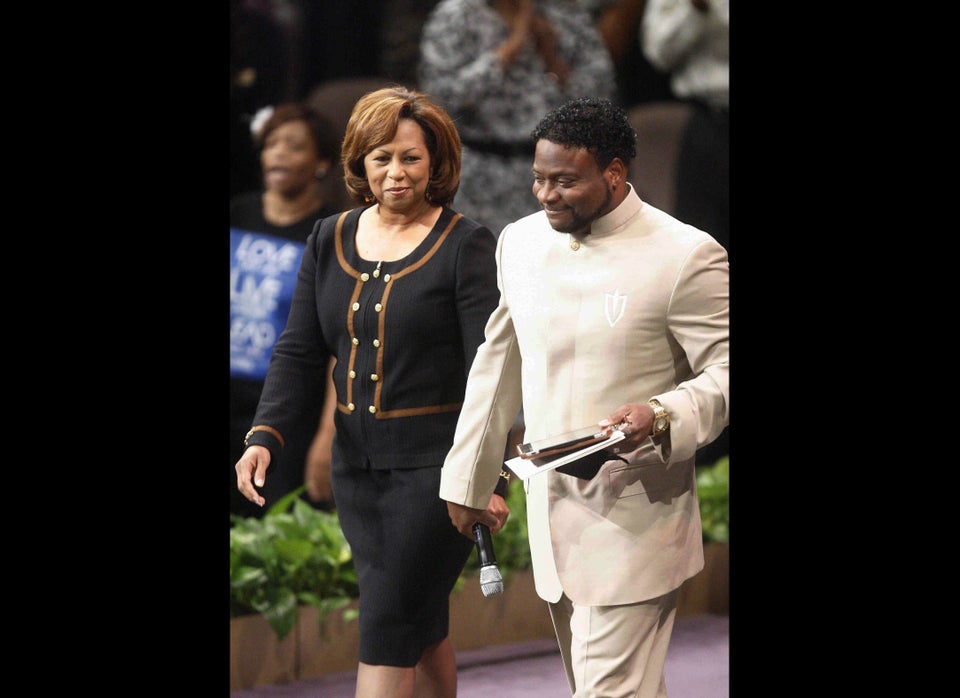 Dressed in a pristine, floor skimming, figure hugging, light-hued pastoral gown, Long looked every inch the part of a strong and pure man of God. The ensemble, from cut to color, was a classic one in Long's formal wear line up. From professional milestones (officiating the funeral of Coretta Scott King, with three former and one sitting president in the audience) to personal ones (a commemorative portrait of Long and his wife) he clearly favors pastel tones and formal shapes.
On any given Sunday though, Long opts for different colors: rich browns, deep navy's or bold black's. His most signature color though is in fact, a print: a wide pinstripe similar to the flamboyant Zoot suits favored during the Harlem Renaissance.
No matter the color, Long seems to be keen on a standard cut: jackets that are wide and loose in the shoulders, cinched in the waist that hit mid-thigh. On the bottom, he loves suit pants that are roomy, but still retain a dignified shape. Almost every piece is accented with a vest, Oxford or pocket square as crisp in color as they are in cut.
To further underscore the importance of his suits, look no further than his minimal accessories: lux watches and shoes which, while befitting a man who drives a $350,000 Bentley, are never flashy affairs that compete with his apparel.
If his wardrobe in the pulpit is predictable, his sartorial choices outside of it aren't. In the few photos of of a more casual Long that litter the Internet, it is very apparent that he is an exercise buff. A news clip of him in a tracksuit hint that he might have a workout wardrobe as collated -- and curated -- as his preaching one.
That hint was proven true when suggestive, self-portraits of a remarkably buff Bishop surfaced. They showed Long, primping and preening in flimsy muscle shirts that hugged every ripple in the fifty-seven year-old's startlingly chiseled physique. Clearly he makes room in his closet for bold pops of color and silhouette's that are more street-wear, or as a critic has described, "homo-thug" inspired.
The cumulative weight of these individual style choices amass to a man who knows how to manipulate his wardrobe -- if not little boys and an entire congregation. His choices are carefully curated to craft the image he wants in each moment: innocent man of God one day, built, sexual symbol the next.
But boxy silhouettes, fancy fabrics and smart color choices aside, Long's style choices ascribe to him one surprising attribute: modesty. Ultimately, he is a man who at times shows off, but generally camouflages an amazing -- if top-heavy -- physique. He's learned what the best dressers of our time know: clothes can play up your best features -- or hide a multitude of sins.
Zandile Blay is founder of The Blay Report. Read her daily blog posts online.
Related