In the early days of the sexual revolution, it was commonplace to encounter prudes who flinched at the mere mention of a word like "Fuck." Even if one demonstrated that, by saying the word 50-100 times in a row ("Fuck, fuck, fuck, fuck, fuck, fuck, fuck," etc.) it lost its power to shock, the next time someone said "Fuck" in front of that person it still left a bitter taste in their mouth.
Can a word lose its power to shock and offend? Some minority groups have reclaimed long-time slurs ("nigger," "faggot", "queer") as a way of owning them and, in some cases, redefining them. The word "bitch" has become overused in recent years, not only losing much of its power but also losing a great deal of the elegance and wit formerly associated with its use.
"Bitch" is no longer exclusively uttered in reference to a woman. For veterinarians, of course, the meaning of the word remains crystal clear. But in 1997, Kander and Ebb wrote a song for their ill-fated musical, Steel Pier, which cast a libidinous, aggressive woman in a new light.
In other situations, why rely on the word "bitch" when one can deliver an impressive display of bitchiness?
Few performers could match Bea Arthur when it came to the art of the slow burn. Jack Benny could roll his eyes, inspect his fingernails, and shift his posture, but Arthur would stand rigidly onstage, glowering at one of her colleagues until the precise moment to strike had arrived. My favorite memory of Bea Arthur doing a slow burn comes from Act II of 1966's hit musical Mame, in which she played Vera Charles opposite Angela Lansbury's Tony award-winning portrayal of Auntie Mame.
Having returned from secretarial school (where she learned how to record a person's dictation in shorthand in order to help Auntie Mame write a book), the homely Agnes Gooch unexpectedly becomes Mame's latest makeover project. As Mame's Japanese houseboy, Ito, whisks Agnes up the spiral staircase to try on one of her employer's sexy new outfits from Paris, the following dialogue takes place.

VERA
"I've patiently watched you for years with these asinine projects of yours.
From orphans to health foods, you've searched for a niche."
MAME
"I feel that my search will be over the moment I finish my book.
I'll write about us, and who is the bitchier bitch!"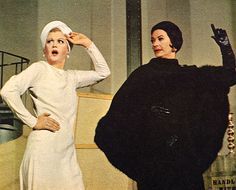 Angela Lansbury and Bea Arthur performing "Bosom Buddies" in Mame
Lansbury then proceeded to milk a huge, extended laugh from the audience as she opened up a compact, checked her makeup in the mirror, and then folded it up and tucked it away in her purse before looking at Vera with a triumphant sense of self-satisfaction. Bea Arthur just kept glowering at Lansbury as she waited for the audience's laughter to subside. Then, in that wonderfully deep voice of hers, she brought down the house with two words: "I concede."
Two classic bitches recently held center stage in productions new to San Francisco audiences. One featured an angry young bitch with a shitload of emotional baggage. The other was often dominated by the icy presence of a caustic, elderly bitch with severe control issues.
In recent years, my encounters with the work of the gifted playwright and actor, Allison Page, revealed a stunning comedic streak and the ability to cripple an audience with laughter with the slightest change of her facial expression. In her new play, Hilarity, Page shows a different side of her talent by mining the part of comedy that comes from deep hurt and long years of anguish and accumulated pain. Presented by DIVAfest at the EXIT Theatre, her two-act play bridges a wide range of temper tantrums and cynical stand-up comedy while painting a horrifying portrait of a self-destructive woman who is her own worst enemy. As the playwright explains:
This play came about from a love of some things and a fear of others. On the love side: comedians, snarky comebacks, pastrami sandwiches, chaos, and complex relationships. On the fear side: manipulators, enablers, violence, lack of self control, misplaced rage, codependency, substance abuse, and complex relationships. So it's a big bunch of fun -- sometimes. Cyd is often a nightmare version of myself; the things I fear I could do or become if given the exact wrong set of opportunities. I think we all have nightmare selves. Hopefully, yours doesn't make any of the decisions Cyd makes, but if they do I won't hold it against you. Everyone's got some chaos in them somewhere.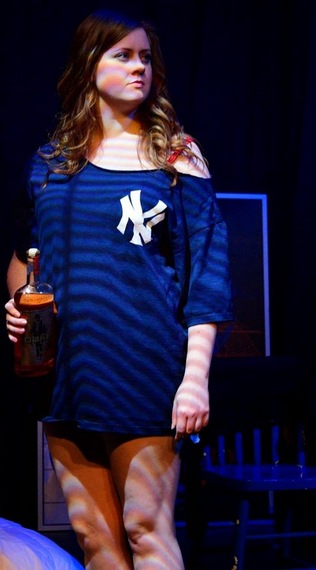 Allison Page as Cyd in Hilarity
(Photo by: Claire Rice)
Hilarity begins with Cyd passed out on a mattress on the floor of her apartment, surrounded by empty packs of cigarettes, numerous bottles of booze, and the kind of godawful mess one might expect from an alcoholic who is close to bottoming out. Although Cyd has the undying support of her closest friend, Liz (Heather Kellogg), and her manager, Sandy (Jennie Brick), her motivation has dried up and been replaced with the kind of rancid bitterness that can destroy any friendship.
One night, while drunkenly attempting to perform standup at a comedy club, she is heckled by Some Guy (Jason Pienkowski), whom she proceeds to drag up on stage and attempt to humiliate before taking him home for a conveniently anonymous fuck. When he starts to rough her up, Cyd punches back and eventually scares him into leaving.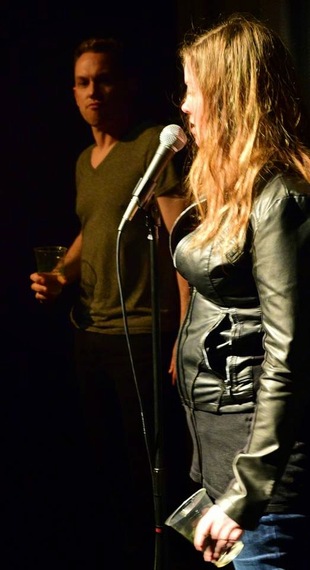 Some Guy (Jason Pienkowski) heckles
Cyd (Allison Page)during her stand-up act in
Hilarity (Photo by: Claire Rice)
Several months later, after Cyd manages to get sober and (thanks to the steady support of Sandy and Liz) begins to revive her career with a crucial booking on a television talk show, she is horrified to discover that the abusive guy she dragged home from a comedy club is, in fact, Liz's new boyfriend, Clark. Her rage at having been abused by him and her fear for Liz's safety propel Cyd into a twisted scenario in which she forces Liz to choose between Cyd (her oldest and best friend) and Clark.
Needless to say, everyone loses.
Just when she is struggling to stay sober and control her rage, Cyd receives a surprise visit from her alcoholic mother, Deb (Marie O'Donnell), who boasts that her new boyfriend "looks" like he should ride a motorcycle.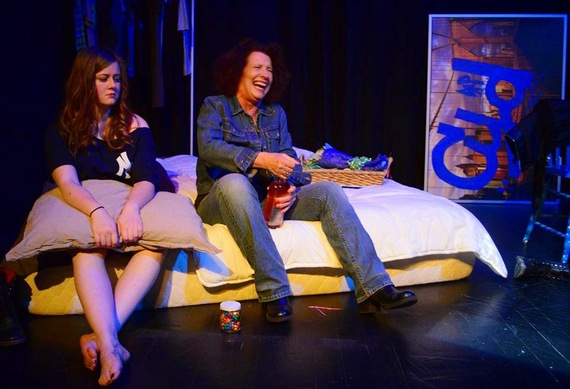 A sober Cyd (Allison Page) is visited by her drunk mother, Deb
(Marie O'Donnell) in a scene from Hilarity (Photo by: Claire Rice)
Claire Rice has done a powerful job of bringing Page's script to life in the claustrophobic confines of the EXIT Theatre's studio space as her five-actor ensemble acts up a storm. But it is Allison Page's writing which makes the deepest impression.
This is an exceptionally talented playwright who knows how to blend the most acidic bitchiness with the genuine pain of a woman suffering from low self esteem while struggling to keep her head above the water. If, in the end, the only way to survive and stay sober is for Cyd to find herself some new friends, well, that's just one more lesson from the school of hard knocks.
Over at the New Conservatory Theatre Center, Arturo Catricala has directed a poignant production of Other Desert Cities (the play which made Jon Robin Baitz a finalist for the 2012 Pulitzer Prize for Drama). I first saw Baitz's dramedy during the summer of 2013. Seeing it again brought some remarkable surprises.
Often, when one sees a straight play again (especially a whodunit or mystery play), a second viewing can be a bit of a letdown because one already knows the secret plot twist. Instead, I found myself admiring Baitz's craft even more than the first time around.
Much to my surprise, I felt more sympathetic for the wealthy, aging conservative parents who have been forced to live a lie ever since their oldest child became persona non grata. As NCTC's artistic director, Ed Decker, notes:
"Jon Robin Baitz is one of the most prolific openly gay writers in our orbit. Whether writing for the stage or screen, his work is distinct, unique, unconventional, and subversively sublime. Other Desert Cities is a well-crafted story that sings with scrupulousness while whispering a tauntingly rich subtext from start to finish. Listen carefully and you will find that which is unspoken sounding off rather loudly in this story about a family whose secrets are stuffed deep within the closets of the past (a circumstance that I find to be noticeably queer and another good reason to produce this brilliant play)."
Over the years, Lyman Wyeth and his tart-tongued wife have socialized with the Reagans, the Annenbergs, and others of their ilk. Lyman (Geoffrey Colton) was once a successful screen actor while Polly (Michaela Greeley) and her younger sister, Silda (Cheryl Smith), enjoyed artistic and commercial success writing romantic comedies for MGM. Unlike Polly and Lyman, Silda has always had liberal leanings. Since leaving rehab, she's been living with her older sister and brother-in-law on an indefinite guest basis.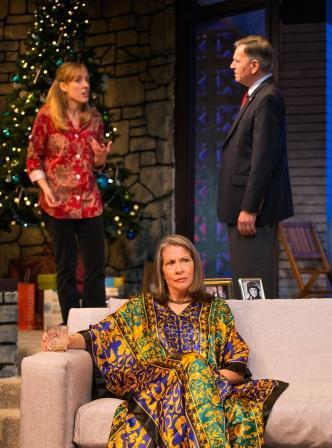 Brooke Wyeth (Melissa Keith) with her parents, Polly
(Michaela Greeley) and Lyman (Geoffrey Colton) in a scene
from Other Desert Cities (Photo by: Lois Tema)
Set in Palm Springs (where wealthy Republican dinosaurs retire without the slightest interest in attending the White Party), Baitz's play begins at Christmas 2004, a time when the United States was fighting wars in both Iraq and Afghanistan, Neocons had taken over the Republican party, and the social and political power of the Wyeths and their friends had been sharply diminished. It's also the first time in six years that Polly's adult children will be home for Christmas.
Well, not all of her children. Trip (Paul Collins) is a womanizing television executive who produces game shows and only seems interested in having a good time. His older sister, Brooke (Melissa Keith), has flown in from her home in Sag Harbor, New York following her recent hospitalization for depression. Their oldest son, Henry, committed suicide many years ago after his involvement in a radical underground movement protesting the Vietnam War led to some unintentional deaths.
The big news is that Brooke has penned a tell-all memoir which she wants her parents to read before it is published in a few months (with a pre-release excerpt scheduled to appear in The New Yorker). Proud to have used the writing process as a therapeutic tool with which to relate how Henry's death impacted her life (he died when they were both teenagers), she's sure that the details of her personal life will be of interest to readers of her first novel. However, Brooke doesn't know the real story of how and why Henry (her best friend when she was very young) disappeared.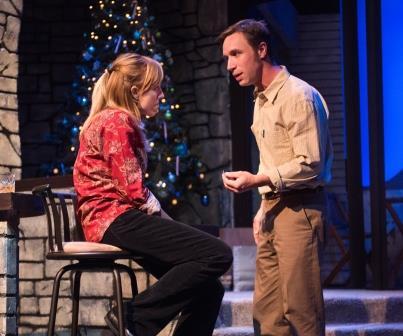 Brooke (Melissa Keith) and her brother, Trip (Paul Collins)
in a scene from Other Desert Cities (Photo by: Lois Tema)
Part of the problem with the Wyeth family is that Brooke has always seen her control freak of a mother as a stereotypical Republican ice queen, unable to show any emotion or be truly supportive of her daughter's writing. Brooke's father has always seemed weak and ineffectual. Perhaps that's why 3,000 miles has been such a healthy distance to keep between herself and her parents. With the house next door up for sale, Brooke's parents are pressuring her to let them buy it so she can live close to home.
After Polly warns that publishing a tell-all memoir could cause a severe rupture within the Wyeth family, she reads Brooke's manuscript and realizes that she and Lyman have no choice but to tell their daughter the ugly truth. In all honesty, they had meant to tell Brooke what happened to Henry when she reached an age where she could better understand the unfortunate events of the past but, somehow, that moment never seemed to materialize. Faced with a February publishing deadline, Polly and Lyman suddenly find themselves without any wiggle room.
Surprisingly, it is Lyman (who simply can't bear the strain of continuing to live another day under the weight of such a heinous family secret) who forces the truth out into the open. With her usual cynical self-control, Polly tells Brooke to sit down before she details what happened to her errant son, quietly marveling at how easy it was for her to use her privileged status as a wealthy white woman to pull off Henry's disappearing act.
Polly's shocking revelations are handled with the kind of masterful storytelling that Baitz used to keep fans of Brothers & Sisters glued to their television sets. Yet, because of his rare sensitivity, the final scene (in which Brooke finds a personal grace and redemption of sorts) is exquisitely written.
While some may see Baitz's drama as a tug-of-war between a family's generations (or between two sisters of politically opposite persuasions), the bottom line is that Other Desert Cities is about the emotional and psychological toll suffered by people who choose to live a lie. Anyone who has spent years in the closet will find the way Baitz has shaped an older generation's hypocrisy to be of particular interest,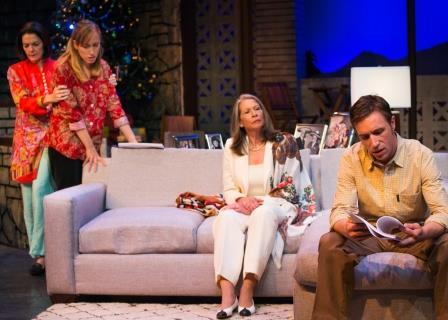 Cheryl Smith, Melissa Keith, Michaela Greeley, and Paul Collins
in a scene from Other Desert Cities (Photo by: Lois Tema)
Working on a unit set designed by Kuo-Hao Lo (with costumes by Keri Fitch), NCTC's cast does Baitz's script proud. While Melissa Keith delivers an impassioned portrayal of Brooke and Geoffrey Colton is appealing as a fading Hollywood star who knows how to act out a death scene, the evening really belongs to Michaela Greeley, who tackles the role of Polly Wyeth like a dog that won't let go of a bone. In recent years Greeley has delivered one powerhouse performance after another -- Polly may be one of her finest characterizations yet.
Paul Collins and Cheryl Smith lend sturdy support as Trip and Silda (both of whom are extremely sympathetic to Brooke). But in the final analysis, the two prime reasons to see this production are the brilliance of Baitz's writing and the frigid ferocity of Greeley's acting.
REAL LIFE. REAL NEWS. REAL VOICES.
Help us tell more of the stories that matter from voices that too often remain unheard.