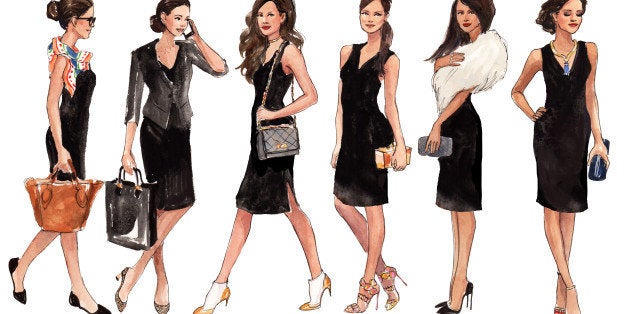 Rules were meant to be broken. That's how we feel about fashion and especially about dress codes.
With wedding season and event season almost upon us, chances are your inbox is soon going to be overflowing with invites, all with different clothing requirements. If you're stumped, you might attempt to Google (or ask your mother), "What do I wear to a black tie party?" You'll likely come across antiquated answers that include long gowns and quite possibly, white gloves.
But instead of buying a new dress for every single event, dust off your trusty LBD and just add accessories. To prove our point, we asked New York City-based fashion illustrator Inslee Fariss to draw the same black dress, styled for six totally different dress codes. Who wants to be spending all their money on gowns only to wear them once? Not us. Get inspired with the six illustrations below.
Business Casual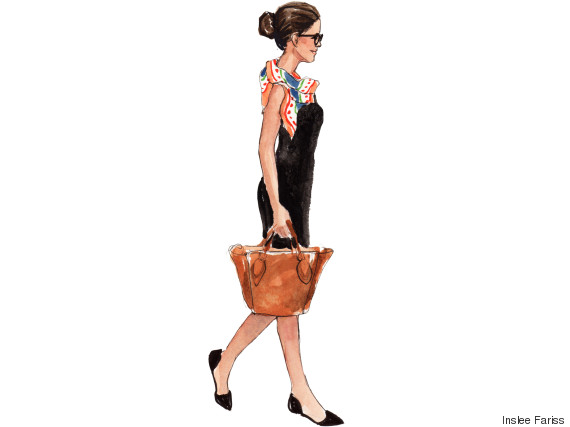 While you always want to look professional at the office, a business casual dress code offers quite a bit of wiggle room. Leave your blazer at home and add some personality to your LBD by throwing on a printed silk scarf, a pair of thick frames and your cutest flats.
Business Formal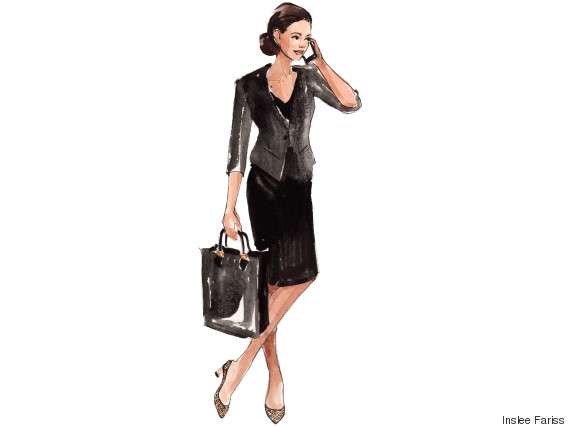 Business formal does not have to translate to power suit. Just throw a blazer over your LBD and elevate your outfit with a pair of low, chunky heels and a tote big enough to carry your laptop.
Semi-Formal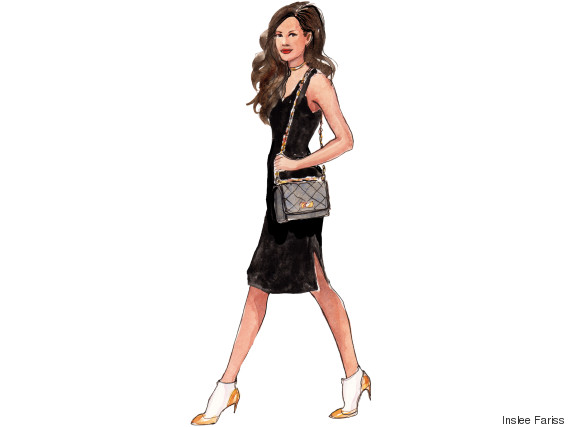 Arguably the most fun and least strict dress code, the sky really is the limit when it comes to a semi-formal event. Unlike more formal occasions, you can wear an over-the-shoulder bag and even try out trends that might be a little much for fancier affairs. So grab that choker, toss on a pair of socks with your kitten heels and head out the door.
Cocktail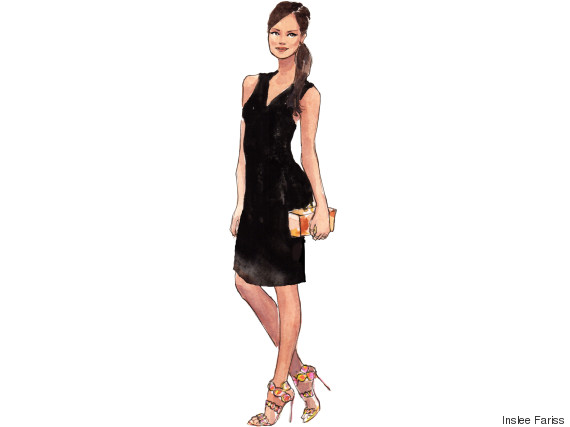 Usually a cocktail party calls for a short number, but there is no reason you can't make your work-appropriate dress function, all it takes is a little finessing. By adding a fun, quirky pair of heels, a cat-eye and a brightly-colored clutch, you'll fit right in (or stand out, depending on how you look at it).
Black Tie Optional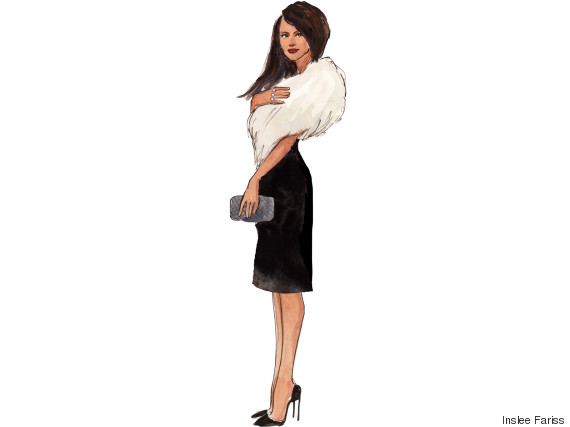 It's time to go wild, because black tie optional means anything goes (well, sort of). If you want to show your more opulent side, wear a fur (or faux-fur) stole or a big cocktail ring. The world is your oyster, just make sure your footwear, hair and makeup look polished.
Black Tie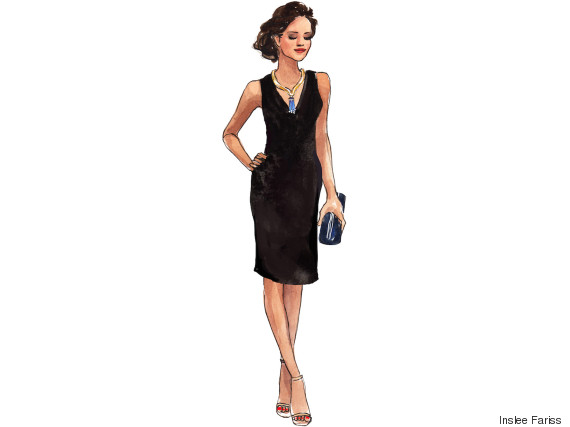 Traditionally speaking, black tie events call for long evening gowns, but in this day and age, you can absolutely get away with wearing a shorter hemline. However, if are going to choose a short frock, every other aspect of your outfit needs to be very dressed-up. Opt for high, strappy heels, small, delicate clutches, professional looking updos and an amazing, eye-catching piece of jewelry -- a statement necklace or a pair of sparkly earrings will do wonders to amp up your look.
Related
Before You Go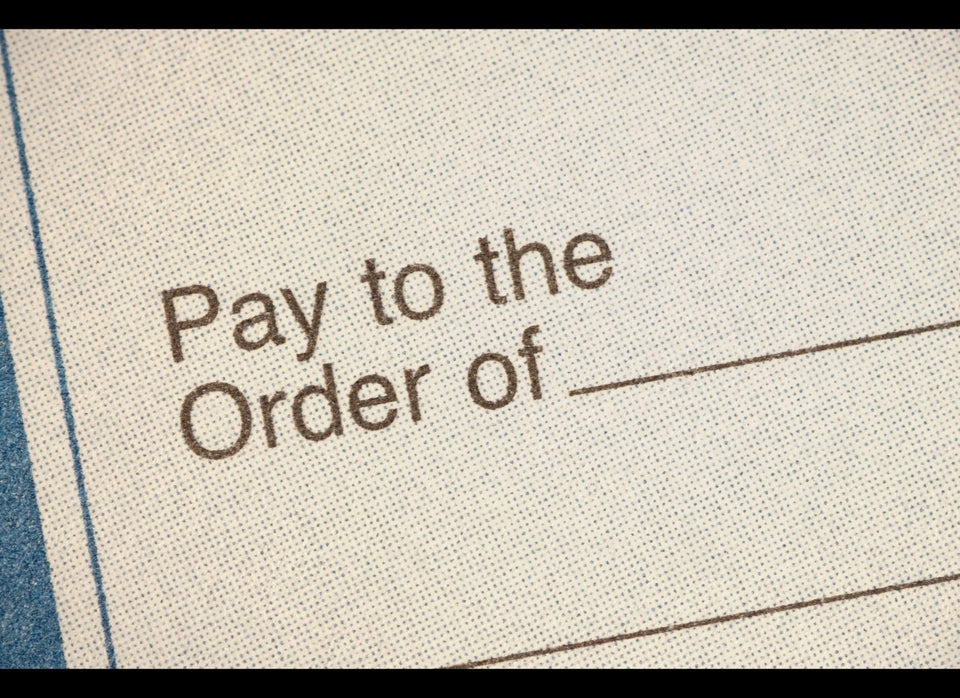 Wedding Etiquette Rules You Can Break