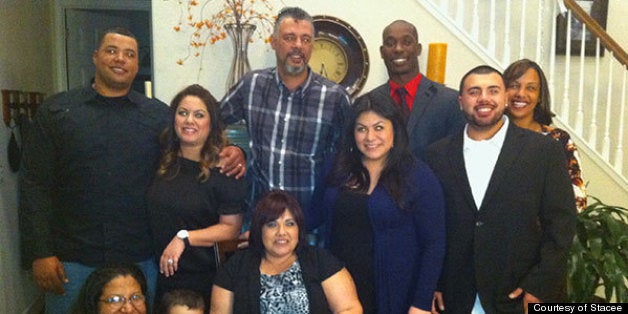 As part of our Blended Family Friday series, each week we're spotlighting a different stepfamily to learn how they successfully blended their two families together. Our hope is that by telling their stories, we'll bring you closer to blended family bliss in your own life!
Every blended family's story is different, but all of the families we've featured in this series share a few important attributes: love, compassion and a sense of compromise.
Today's featured family is no different, though their story is a bit more complicated. As the family's only daughter Stacee explained, her blended family came together years after her parents' divorce, when her mother invited her father's girlfriend (and the couple's two boys) to live with them after her father left his second family. As Stacee tells it, the two moms raised all of the kids under one roof and stressed that there were "no steps, no halves, just family."
Below, Stacee, who is now 33, talks about what it was like growing up in her family and the lessons she learned from her two moms now that she has a soon-to-be stepdaughter of her own.
Thanks so much for sharing your story with us, Stacee. Can you talk a little bit about your mom's decision to take in your father's former girlfriend, Robin, and her kids? What were those early days living together like?
At a very young age my parents divorced. I was four when my dad (Roland) left my mom (Stefenee) for another woman (Robin). My mom was pregnant with my brother Roland (Bub) at the time. My dad never married Robin but they had two kids together, my brothers Roland (Goonie) and Mikey.
During the time Robin was with my father, she and my mom became close. My mom respected the fact that Robin took such good care of us. Once my father and Robin separated, our moms decided it was in our best interest to raise us together. Robin had fallen on hard times and my mom knew how important our brothers were to us, so she let Robin and my brothers move in!
Both of my dad's exes and all the kids lived under one roof. My brothers and I were raised as siblings -- not half siblings but just siblings -- and we had two moms (although Goonie and Mikey call my mom auntie). On the weekends, dad only had to make one stop to pick up all his kids!
What is everyone's relationship like today? Is your dad still a part of everyone's life?
Yes, he is very much a part of our lives. Both our moms found love again and remarried. Although we haven't lived under the same roof in years, we all get together during holidays and special occasions as one big family. Moms, dads, siblings, in-laws. No steps, no halves, just family.
You are engaged to a man who has a daughter from a previous marriage. How has growing up in a blended family -- and your moms' example -- impacted you as a soon-to-be stepparent?
Both of my moms set such a wonderful example of how to make a very difficult situation work, and many of the lessons I learned from them I now apply in my life. I love my fiancé's daughter as my own and we all work as a team to raise her so that she can feel the same love I felt growing up. That's the most significant lesson I learned and the reason I decided to share, in hopes of our family being featured and inspiring that same love in others.
What were some of the biggest challenges of blended family life?
As a I kid I remember praying to God that my parents would get back together. I couldn't understand why my friends had both their parents and I didn't. Once Robin came into our lives, it all made sense. Now I realize how difficult it must have been for our parents, but they made sacrifices so that we could be loved.
What's the best thing about being part of a blended family as big as yours?
The special bond that I share with my family. We have been through so much but we are all very close. Even though I live on the other side of the country, we all have each other's back no matter what.
What makes you proudest of your family?
It meant the world to me that my moms made selfless decisions in the best interest of the kids. They loved us that much.
What advice do you have for other blended families who feel like a peaceful family dynamic is out of reach?
Think about the kids! They notice everything and will grow up to follow the example you set. The greatest gift you can give your child is to allow him/her to be loved.
Click through the slideshow the see photos of Stacee's family.
If you'd like your own family to be featured on a Blended Family Friday, please email us at divorce@huffingtonpost.com. We're looking forward to hearing your story!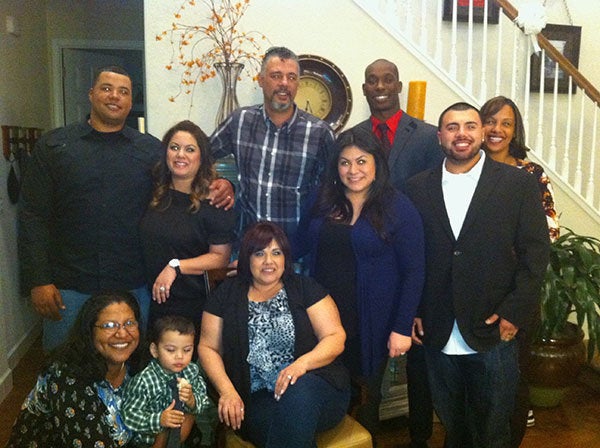 Meet Stacee's Blended Family